Summer Fun (Hardcover)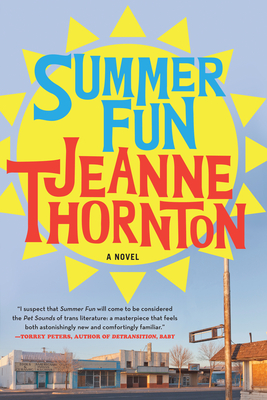 $27.00
Out of Stock - Not Available
Description
---
Winner of the 2022 Lammy Award for Transgender Fiction

From acclaimed author Jeanne Thornton, an epic, singular look at fandom, creativity, longing, and trans identity.

Gala, a young trans woman, works at a hostel in Truth or Consequences, New Mexico. She is obsessed with the Get Happies, the quintessential 1960s Californian band, helmed by its resident genius, B----. Gala needs to know: Why did the band stop making music? Why did they never release their rumored album, Summer Fun?

And so she writes letters to B---- that shed light not only on the Get Happies, but paint an extraordinary portrait of Gala. The parallel narratives of B---- and Gala form a dialogue about creation—of music, identity, self, culture, and counterculture.

Summer Fun is a brilliant and magical work of trans literature that marks Thornton as one of our most exciting and original novelists.
About the Author
---
Jeanne Thornton is the author of the novel The Dream of Doctor Bantam and the collection The Black Emerald, both shortlisted for the Lambda Literary Award. She is the editor, with Tara Madison Avery, of We're Still Here: An All-Trans Comics Anthology, the copublisher of the independent press Instar Books, and the writer and illustrator of the webcomics Bad Mother and The Man Who Hates Fun. Her work has appeared in Wired, n+1, and The Evergreen Review.
Praise For…
---
Praise for Summer Fun

Winner of the 2022 Lammy Award for Transgender Fiction
Finalist for the 2022 Ferro-Grumley Award for LGBTQ Fiction
An Autostraddle Best Queer Book of the Year
Winner of AudioFile Earphones Award

"I anticipated the release of Summer Fun for six years, and now that I finally got to read it, its characters and story will linger with me much longer than that. I suspect it will come to be considered the Pet Sounds of trans literature: a masterpiece that feels both astonishingly new and comfortingly familiar."
—Torrey Peters, author of Detransition, Baby

"There is no way to prepare for Summer Fun; we can only submit to Thornton's surreal, captivating and startlingly sui generis world. Summer Fun is a fully realized vision so strange and compelling that even in writing this blurb I still can't quite shake the sensation of having genuinely known these characters, if only for a short and magical while."
—Jordy Rosenberg, author of Confessions of the Fox

"A beautiful, mesmerizing volcano of a novel that elegantly vibrates with the intimate weight of decades. Thornton's prose is driving, joyous, and steeped with a grace reminiscent of Marilynne Robinson. It all builds to an ending that is no less than perfect. This book made me cry."
—Casey Plett, author of Little Fish

"Jeanne Thornton is a sorceress of a writer and, like the ritual at the heart of this book, Summer Fun is a singular and compassionate act of imaginative magic. A feast of contradictions at once funny and painful, tender and scathing, patriotic and radical, Summer Fun contains generations; our country; a world."
—Rachel Lyon, author of Self-Portrait with Boy

"In Summer Fun, Jeanne Thornton, that slow-burn superstar, has dropped a punk's pop masterpiece—a compulsively readable novel that somehow also reinvigorates the form of the epistolary novel, dives into the deepest reflective waters of fandom, observes trans-cis relations with social-realist precision and generosity, and recovers the trans throughline that was always there. We are so lucky to live now, when we get to read this book."
—Andrea Lawlor, author of Paul Takes the Form of a Mortal Girl

"This epistolary novel, which is Not about The Beach Boys, asks questions about American inheritance, gender, imperialism, abuse and the power of art—and is intimately concerned with how art's impact ripples down in unintended ways. As funny as it is heartbreaking."
—The New York Public Library

"A kooky, delightful read about transformative creation in music, identity, self and culture." 
—The Seattle Times

"Incredible." 
—The Millions

"The vivid characters and their seeking after what's likely unattainable . . . the fraught dynamics of a chart-topping band that's built from family and fractured by genius . . . the weird vibe of the American Southwest and its wind-chased stretches of sand . . . the experience of being transgender in a cis-centric world . . . she language birthed to capture all of this . . . It's some kind of witchcraft, is what it is. It's a parallax whammy of deeply effective conjuring." 
—The Austin Chronicle

"Extraordinary . . . Summer Fun (and I think this is to its credit) never for a moment tries to abstract itself from the inheritance of White American pop culture, in all its violence and ubiquity and obliviousness. But it does (like the record Diane makes) try to keep hope alive. The hope that somewhere in the belly of this beast there might be some small thing that can be salvaged, some little scrap of purity and joy, something that was destroyed and forbidden but which nevertheless survived. What if, it asks, something as pure as transness, as pure as this desire to be a girl that some of us who are told we are boys nevertheless inexplicably and unwarrantedly have, even though being a girl in America is clearly objectively worse, what if something that joyful and gratuitous and innocent were to be found, not on the edges, but actually in the middle of America, buried, lost, suppressed, but still there."
—Strange Horizons

"Summer Fun is about being trans in a tiny desert town, but it is also about American myths, like the stories of Paul Bunyon, and American music icons like Brian Wilson—and how believing in these myths, and the power of fandom, can change your life forever." 
—Logo

"On one level, this remarkable audiobook focuses on Gala, a trans woman who is looking for meaning in contemporary New Mexico. Deeper focus, however, is given to Gala's quasi-biographical fan letters to (and about) B—, the genius behind 1960s surf band the Get Happies. Intensity mounts as Gala's and B—'s experiences of gender and displacement overlap . . . Ably carrying off passages rife with metaphor, mysticism, or trauma, [Thornton] ensures that listeners remain spellbound."
—AudioFile Magazine

"This is no ordinary epistolary novel. Thornton discards convention, choosing instead to use the form to explore the possibilities of cross-generational queer and trans conversations . . . Deliciously weird, it's a sprawling yet intimate story about music, hidden trans histories and the transformative act of creation."
—BookPage, Starred Review

"If you love books with unconventional structures, this inventive, funny, and sharply observant novel is definitely for you . . . an engaging, playful, decidedly weird story about queer and trans identity across generations, what it means to be a fan, and the nature of creativity." 
—Book Riot

"An epistolary novel that is as much mystery as cultural analysis and rewards the reader by never giving us what we expect or what we think we want . . . The way Thornton is able to construct the limited embodiment and connection that surviving abuse and a violent cis culture puts on the body is one of the greatest hauntings in the text." 
—The Brooklyn Rail

"A moving, ambitious work of fiction."
—Vol. 1 Brooklyn

"A compelling portrait of fandom, trans identity, and the sheer power of music." 
—Aquarium Drunkard

"Captivating and magical, Jeanne Thornton's latest is an original yet nostalgic tale of music, identity and creation that is not to be missed."
—Ms. Magazine

"Gala is spiritual, chaotic, and impossibly endearing — and she needs to believe not only in the possibility of more music, but also in the magic she's drawing upon to make it happen. But as much as the letters are about the Get Happies, they are also, despite her insistence otherwise, about Gala herself. With intimacy and yearning, Thornton captures the intensity of fandom and self-discovery, of our relationships with art and each other, and the transcendent joy of truly being seen."
—Buzzfeed

"A fascinating look at fandom and the people we obsess over."
—All the Books!, Book Riot

"The epistolary form lends itself well to the theme of extreme fandom and the soulful self-discovery of transgender identity . . . Thornton wrings a great deal of heart and soul from this earnest confessional."
—Publishers Weekly

"Wildly imaginative . . . Thornton's writing is as rich as her ideas and spiked with wit . . . Like the mysterious album of the title, a messy, mesmerizing, and deeply personal work of art."
—Kirkus Reviews

Praise for Jeanne Thornton

"Dr. Bantam is pure Americana, cinematic and idly mean. It's lush and trashy. I guess it's the most graphic-novelly feeling book about loss I can think of. It's all punk heart, messily thudding."
—Eileen Myles, author of Chelsea Girls

"The gorgeousness of Thornton's writings help sustain the worlds she creates . . . That's the kind of seductiveness these stories have. In reading them, you become strange and dreamy in the same way they are."
—Torrey Peters, author of Detransition, Baby

"Jeanne has this way of writing self-consciousness inside these perfect, self-contained worlds with signifiers that make them seem like they are the world we live in but if that world were . . . I don't even know exactly. Mystifying and uncomfortable and bulging with complicated, contradictory feeling just below the surface of everything."
—Imogen Binnie, author of Nevada