A Botanist's Guide to Parties and Poisons (A Saffron Everleigh Mystery #1) (Paperback)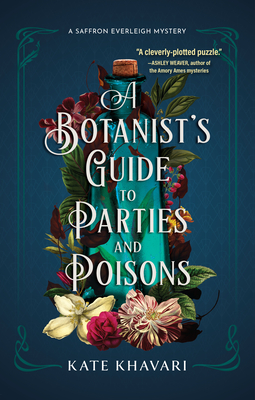 $17.99

Available from our distributor; usually Ships in 1-5 Days
Other Books in Series
This is book number 1 in the A Saffron Everleigh Mystery series.
Description
---
The Lost Apothecary meets Dead Dead Girls in this fast-paced, STEMinist adventure.

Debut author Kate Khavari deftly entwines a pulse-pounding mystery with the struggles of a woman in a male-dominated field in 1923 London.

Newly minted research assistant Saffron Everleigh is determined to blaze a new trail at the University College London, but with her colleagues' beliefs about women's academic inabilities and not-so-subtle hints that her deceased father's reputation paved her way into the botany department, she feels stymied at every turn.

When she attends a dinner party for the school, she expects to engage in conversations about the university's large expedition to the Amazon. What she doesn't expect is for Mrs. Henry, one of the professors' wives, to drop to the floor, poisoned by an unknown toxin.

Dr. Maxwell, Saffron's mentor, is the main suspect and evidence quickly mounts. Joined by fellow researcher--and potential romantic interest--Alexander Ashton, Saffron uses her knowledge of botany as she explores steamy greenhouses, dark gardens, and deadly poisons to clear Maxwell's name.

Will she be able to uncover the truth, or will her investigation land her on the murderer's list, in this entertaining examination of society's expectations?
About the Author
---
Kate Khavari is the author of fiction ranging from historical mysteries to high fantasy epics. She has her parents to thank for her fascination for historical mysteries, as she spent the majority of her childhood memorizing Sherlock Holmes's and Poirot's greatest quips. A former teacher, Kate has a deep appreciation for research and creativity, not to mention the multitasking ability she now relies on as an author and stay at home mother to her toddler son. She lives in the Dallas-Fort Worth area of Texas with her husband, her son, and a lovely garden that contains absolutely no poisonous plants.
Praise For…
---
Praise for A Botanist's Guide to Parties and Poisons:
"An exciting debut with a determined protagonist whose future is sure to contain romance and mystery."
—Kirkus

"Khavari is off to a promising start."
—Publishers Weekly

"Intelligent, witty, and brave . . . Khavari has created a fast-paced, interesting mystery."
—Bookpage

"[A] delightful new novel . . . Perfect for fans of Miss Fisher's Murder Mysteries."
—CrimeReads

"Inherently entertaining . . . 'whodunnit' mystery that showcases the author's complete mastery of the mystery and suspense genre."
—Midwest Book Review

"Kate Khavari creates the winning combination of an intriguing mystery and a resourceful and engaging heroine."
—Frances Brody, author of the Kate Shackleton mysteries

"Kate Khavari has created a charming mystery, full of twists that are as intriguing and deadly as the plants her characters love. Saffron Everleigh is clever and determined, the sort of sleuth that readers will be eager to make space for on their bookshelves. I'm already looking forward to her next adventure!"
—Katharine Schellman, author of the Lily Adler Mysteries

"I love Saffron Everleigh! In A Botanist's Guide to Parties and Poisons Kate Khavari gives us a gutsy ingenious heroine, academic intrigue, a scientifically suspenseful mystery and a Christie-like cast of characters. This is historical mystery—with a 21st century sensibility—at its best."
—M. L. Huie, author of the Livy Nash mysteries 

"A Botanist's Guide to Parties and Poisons combines all the things I love most in a mystery: a smart and charming heroine, a cleverly-plotted puzzle, and a hint of romance. Well-researched and brimming with the dangers of scientific intrigue, it's sure to keep readers turning pages. I hope to see a lot more of Saffron Everleigh!"
—Ashley Weaver, author of the Amory Ames mysteries 

"Delightful and twisty, A Botanist's Guide to Parties and Poisons will immerse you in 1920s academic London and have you turning pages to the end. Saffron Everleigh is a plucky heroine that readers will want to join for the next adventure. An engaging read!"
—Lydia Kang, author of Opium and Absinthe

"The 1920s university science department setting, feisty female protagonist, and believable chemistry between the main characters make this a sparkling gem of a debut, and will leave fans of historical mystery excited for the next installment."
—Kate Belli, author of the Gilded Gotham Mystery series