Striving for Justice: A Black Sheriff in the Deep South (Hardcover)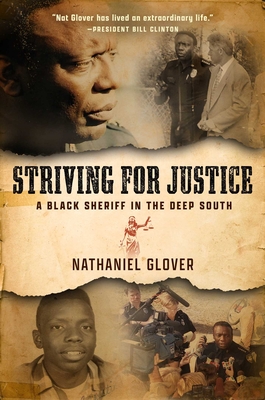 $26.00

Available from our distributor; usually Ships in 1-5 Days
Description
---
On a sweltering day in August 1960, in the segregated Deep South city of Jacksonville, Florida, a seventeen-year-old Black boy finished his dishwashing job at Morrison's Cafeteria, walked out the back door, and found himself in the middle of a nightmare.

Hundreds of white men with ax handles and baseball bats were attacking Black sit-in protestors in Hemming Park. Suddenly surrounded, the young man endured menacing blows and racist taunts. He called for help from a white police officer standing nearby, but no help came. And he felt an unwarranted shame he determined never to feel again.

His name was Nat Glover.

Nat's life could have ended that day, but instead, the ordeal reinforced his plans to become a police officer. His belief in a better world could have faded to cynicism, but instead, it took root in his spirit. His desire to overcome the poverty and racism of his youth could have given in to shame, but instead, Nat resolved to dedicate his life to honoring the dignity of all people.

Nat Glover went on to serve in law enforcement for thirty-seven years, became the first Black sheriff in Jacksonville, Florida, and the first Black sheriff in the state of Florida in over a hundred years post-Reconstruction, and chose—again and again—to do the right thing at the right time for the sake of justice, compassion, and truth.

In Striving for Justice, Nat recounts his history-making years in police reformation, the values that fuel him as a leader and American citizen, and what he believes will move this country forward toward hope and healing just as he once rose again…against all odds.
About the Author
---
Nathaniel Glover was born in 1943 in Jacksonville, Florida, during the time of segregation. At seventeen, he unknowingly headed into an angry white mob, including members of the Ku Klux Klan, which was attacking young black protestors staging a sit-in at a downtown whites-only lunch counter. Known as "Ax Handle Saturday," this harrowing encounter with racism would commit him to his life's path of fighting for justice.

Glover joined the Jacksonville police department in 1966. After rising through the ranks and becoming detective sergeant, he was named Police Officer of the Year four times, each by four different organizations. Glover was then appointed the city's first hostage negotiator. In 1995, Duval County voters elected him the first Black sheriff in Jacksonville, Florida, and the first Black sheriff in Florida in over a hundred years post-Reconstruction. He garnered national recognition for his department's community policing, ban on choke holds, and de-escalation training for officers dealing with mentally challenged individuals. Then-President Bill Clinton and US Attorney General Janet Reno praised his initiatives during a walk-along with Glover on one of his typical neighborhood walks, Jacksonville.

In 2003 Glover ran for mayor of Jacksonville but lost to the Republican candidate John Peyton. Glover proudly served as the twenty-ninth president of his alma mater, Edward Waters University, and was twice nominated for the Historically Black Colleges and Universities Male President of the Year award. Edward Waters University's stadium is named the Nathaniel Glover Community Field and Stadium in honor of his service.

Glover has dedicated his life to serving his community and effectively leading meaningful law enforcement and scholastic initiatives in the city of Jacksonville, earning him the "Great Floridian" designation in 2016. He was inducted into the Florida Law Enforcement Officer's Hall of Fame in 2021.

In conjunction with Florida State College at Jacksonville's Foundation, Glover spearheads the drive to fund scholarships for need-based students through the "Where They Will Shine Scholarship Fund."
Praise For…
---
"Nat Glover's Striving for Justice is the engrossing story of a young Black man who rose from the then-segregated city of Jacksonville, Florida to become one of the nation's most respected law enforcement professionals. I saw the impressive work Nat Glover did as an inspiring leader in his community, and his moving and important book is a powerful testament to one man's commitment to justice, crossing racial divides, and making the world a better place."
— President Bill Clinton, 42nd President of the United States, 1993—2001, Author of My Life and numerous other titles 

"In Striving for Justice Nat Glover takes readers on his lifelong journey. We vividly see both where he came from and where we as a nation came from. He forces us to consider the often-troubling relationship we currently have between law enforcement and people of color and the fragile relationship between government and citizens. Glover's book is thoughtful, provocative, and a fascinating view of race, law, and society through one man's eyes and his journey through life."
— Justin Brooks, Director, California Innocence Project, California Western School of Law, Author of You Might Go to Prison, Even Though You're Innocent

"In Striving for Justice Nat Glover takes readers on his lifelong journey. We vividly see both where he came from and where we as a nation came from. He forces us to consider the often-troubling relationship we currently have between law enforcement and people of color and the fragile relationship between government and citizens. Glover's book is thoughtful, provocative, and a fascinating view of race, law, and society through one man's eyes and his journey through life."
— Justin Brooks, Director, California Innocence Project, California Western School of Law, Author of You Might Go to Prison, Even Though You're Innocent

"In Striving for Justice Nat Glover takes readers on his lifelong journey. We vividly see both where he came from and where we as a nation came from. He forces us to consider the often-troubling relationship we currently have between law enforcement and people of color and the fragile relationship between government and citizens. Glover's book is thoughtful, provocative, and a fascinating view of race, law, and society through one man's eyes and his journey through life."
— Justin Brooks, Director, California Innocence Project, California Western School of Law, Author of You Might Go to Prison, Even Though You're Innocent

"Like so many of our nation's true patriots, Nathaniel Glover's unwavering commitment to public service was grounded in his struggles and triumphs while growing up in a segregated community. As you read his memoir, Striving for Justice, and learn about his amazing rise to becoming one of our nation's most respected and effective sheriffs, you will quickly realize that courage, true grit, and determination were at the center of it all.

"Sheriff Glover knows firsthand that America's greatness is not the product of fear or inaction, but the result of one's willingness to boldly go above and beyond the call of duty.

"As a native of Jacksonville, Florida, and a veteran law enforcement officer who served as Orlando's 36th chief of police, I was blessed to have Sheriff Glover as a mentor, and I am proud to endorse this magnificent work. From his chilling account of Ax Handle Saturday to the day Sheriff Nathaniel Glover stepped up to meet the challenges of keeping his community safe while treating people with dignity, I am grateful Sheriff Glover chose to share his powerful story.

"When we know better, we are supposed to do better, and I believe that each person who reads his story, including those in the law enforcement community, will be inspired to accept nothing less than the best of who we are, and, more importantly, the best of what we can accomplish when we all Strive for Justice."
— Val Demings, former US Representative of Florida's 10th Congressional District and former Chief of the Orlando Police Department

"Rarely do you come across someone who impacts your life in a way that can only be described as divine. Nat Glover is that kind of man. After surviving insurmountable odds, Nat didn't surrender to justifiable excuses. He decided to persevere with love, demonstrating that a person can be compassionate and forgiving even in the face of adversity.

"Nat has dedicated his life to finding ways to help others see and believe in their potential and to trust that the impossible can be possible. His memoir underlines the redeeming value for anyone to realize that while the challenges they see in front of them may seem larger than life itself, trusting in God's plan will open their hearts to receiving and achieving what is divinely intended for them.

"Nat uses his experiences to paint a vivid picture of the obstacles he had to overcome and how instead of claiming defeat, they became the very situations that propelled him into becoming the first Black sheriff in Jacksonville, Florida and the first Black sheriff in the state of Florida in over a hundred years. His tenacity, compassion, collaboration, and desire to succeed forged a leadership style that garnered both great support and great opposition, the inevitable reality in law enforcement.

"This memoir is a must-read for law enforcement professionals, particularly those in any leadership capacity. Using our strength, knowledge, experience, and expertise, along with Nat's wisdom, can catapult lasting and effective change within and beyond our sphere of influence."
— Steve Casey, Executive Director, Florida Sheriffs Association

"I first met the legendary Nathaniel Glover in the late 1980s at the annual National Preventing Crime in the Black Community Conference. At the time, I was an Orlando police sergeant and I remember the buzz when both division chiefs Glover and Jerome Spates made appearances. I saw them as role models and remember conversations about their rise in rank.

"I celebrated when I heard the news about Nat Glover's election as the first Black Florida sheriff in 1995. His rise was inspirational to me and served as a catalyst for my own rise in rank as a law enforcement executive and politician. I was appointed as the first Black police chief in Orlando in 1998 and one of the first persons whom I called for advice was Sheriff Glover. In 2008, I was also elected the first Black sheriff in Orange County, Florida, only the third in Florida. I owe a debt of gratitude to Nat for the sage advice he gave me.

"I credit Nat Glover with encouraging me to run for mayor. He offered feedback on pitfalls to avoid based on his own experience. I am completing my fourth year as the fifth elected Orange County mayor, and I am presently seeking reelection. Given the tone of the times in which we are living, I agree with Nat that there is no better time for police reform than now! However, I must say that during my nearly four decades as a law enforcement officer, there were calls for police reform during the entire period. In other words, present-day calls for police reform are nothing new. America remains an imperfect nation but as we strive for perfection, America will change when we focus on our similarities as an ethnically diverse nation, rather than when we focus on our differences."
— Mayor Jerry L. Demings was sworn in on December 4, 2018, as the fifth elected mayor of Orange County and is the first African American to serve in the role. He is married to former US Representative Val Demings

"The Nathaniel Glover story is the story of America, the best and worst aspects of life as a Black man in America. This emotional autobiography is a masterpiece of storytelling that takes its reader on an emotional journey that leads to the pinnacle of law enforcement and a celebrated life and career. The early setbacks in the life of Nathaniel Glover set the stage for a major comeback on a grand level in spite of trials and tribulations that would have stopped an average man dead in his tracks. Every chapter peels back a layer of agony, pain, and triumphs. Nathaniel shares his story without even an ounce of resentment or bitterness, the sign of an extraordinary spirit and a remarkable human being who never gave up on himself or his dreams."
— Alvin Brown, Mayor of Jacksonville, Florida (2011–2015)