Trump 45: America's Greatest President (Hardcover)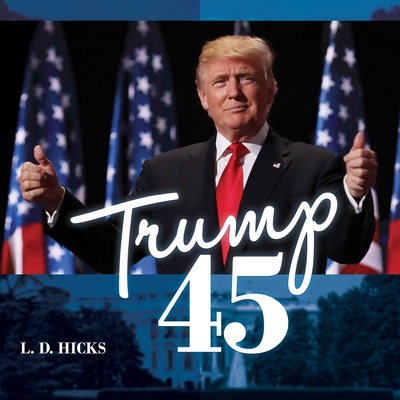 $30.00

Available from our distributor; usually Ships in 1-5 Days
Description
---
Wall Street Journal Bestseller!

A pictorial history of America's greatest president, Donald Trump.

Donald Trump took "the road less traveled" upon his inauguration as America's 45th President. Trump did not go to Washington to get along. He went to work for the American people. The photos between the covers of this book document Donald Trump doing more for this country than any other president in this century. See him negotiate trade deals, speak to Congress, work for every day Americans, make peace with foreign leaders, and bring troops home from overseas. Trump 45: The Greatest American President gives unprecedented access to the man who sacrificed so much for so many people.
About the Author
---
L. D. Hicks is a Texan with a degree in Christian Ministry and Biblical Studies from LeTourneau University in East Texas and a master's degree in American History earned at Norwich University in Vermont. He is also the author of Melania Trump: Elegance in the White House and the children's book, Clarence Thomas: The Things He Learned. Mr. Hicks has a love of southwestern and Texas history, plastic dinosaurs, hiking, electronic music, Pear Red Bulls (they will change your life) and reading anything from the back of soup cans to the works of J.R.R. Tolkien, David J. Weber, T. R. Fehrenbach, and Jean Edward Smith. Mr. Hicks has been with his amazing wife, Lisa, for twenty-seven years and lives in East Texas with Smokey Jack his cat and Lulu his dog.