We Measure the Earth with Our Bodies (Hardcover)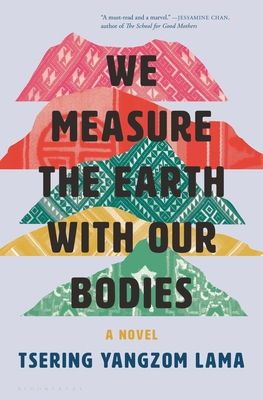 Description
---
International Bestseller
Longlisted for the Center for Fiction First Novel Prize
Shortlisted for the Scotiabank Giller Prize
For readers of Homegoing and The Leavers, a compelling and profound debut novel about a Tibetan family's journey through exile.

In the wake of China's invasion of Tibet throughout the 1950s, Lhamo and her younger sister, Tenkyi, arrive at a refugee camp in Nepal. They survived the dangerous journey across the Himalayas, but their parents did not. As Lhamo—haunted by the loss of her homeland and her mother, a village oracle—tries to rebuild a life amid a shattered community, hope arrives in the form of a young man named Samphel and his uncle, who brings with him the ancient statue of the Nameless Saint—a relic known to vanish and reappear in times of need.

Decades later, the sisters are separated, and Tenkyi is living with Lhamo's daughter, Dolma, in Toronto. While Tenkyi works as a cleaner and struggles with traumatic memories, Dolma vies for a place as a scholar of Tibetan Studies. But when Dolma comes across the Nameless Saint in a collector's vault, she must decide what she is willing to do for her community, even if it means risking her dreams.

Breathtaking in its scope and powerful in its intimacy, We Measure the Earth with Our Bodies is a gorgeously written meditation on colonization, displacement, and the lengths we'll go to remain connected to our families and ancestral lands. Told through the lives of four people over fifty years, this novel provides a nuanced, moving portrait of the little-known world of Tibetan exiles.
About the Author
---
Tsering Yangzom Lama holds an MFA from Columbia University and a BA from the University of British Columbia in creative writing and international relations. She has received grants and residencies from the Canada Council for the Arts, Art Omi, Hedgebrook, Tin House, and the Barbara Deming Memorial Fund, among others. Tsering was born and raised in Nepal, and has since lived in Vancouver, Toronto, and New York City.
Praise For…
---
"Lama's novel spans 50 years and three generations, vividly documenting one family's attempts to stay faithful to time-honored traditions. Lama sets up a particularly searing contrast between the daily experiences of Lhamo, who makes a tenuous living selling trinkets to tourists near Kathmandu, and those of the wealthy art connoisseurs encountered by Lhamo's daughter, Dolma, an aspiring Tibetan scholar who pursues her studies in Canada and lives with her aunt Tenkyi, a former teacher who now cleans hotel rooms. Moving back and forth in time, hinging crucial plot twists to the disappearance (or is it theft?) of a sacred relic, Lama offers an unsentimental account of these Tibetan expatriates' "ugly game" of survival." - New York Times Book Review

"Newly orphaned and stranded in a Nepalese refugee camp after fleeing Chinese invaders, the Tibetan sisters must navigate an unknown world. A mysterious statue of the Nameless Saint, which vanished and reappears in times of needs, brings comfort, and decades later, becomes the catalyst of the sisters' reclamation of their heritage. Lama… brings a personal perspective to the plight of refugees and immigrants as they try to assimilate while honoring their pasts." - Washington Post

"Tsering Lama's wise and devastating debut implores readers to consider what it means to live in exile, what it feels like to never belong. Through the heartbreaking, yet hopeful story of one Tibetan family's struggle to survive and their yearning for liberation, she delivers a stirring love letter to a country and culture. We Measure the Earth with Our Bodies captured my heart and mind. A must-read and a marvel." - Jessamine Chan, New York Times bestselling author of THE SCHOOL FOR GOOD MOTHERS

"We Measure the Earth with Our Bodies showcases a writer of rare talent and uncompromising vision. In these pages that speak of exile and loss, of longing and sorrow, Tsering Lama also manages to remind us – with startling beauty and compassion – how much can still survive. This novel is a testament to a people's resolve to love, no matter what. A triumph." - Maaza Mengiste, author of THE SHADOW KING, shortlisted for the 2020 Booker Prize

"A true polished gem of a novel, every sentence is a revelation. Built out of both myth and history, Tsering Lama's first novel marks the debut of a stunning new voice." - Gary Shteyngart, author of SUPER SAD TRUE LOVE STORY and OUR COUNTRY FRIENDS

"We Measure the Earth with Our Bodies asks what happens when colonialism and cruelty take your homeland. Is it gone forever? What remains in the mind and heart? Can loss be restored? A haunting novel of family and exile, written with beauty, authenticity, and grace." - David Ebershoff, author of THE DANISH GIRL and THE 19TH WIFE

"This wildly beautiful novel, epic in scale, moves back and forth in time and across continents as it traces three generations of a Tibetan family and tells the story of their lives as exiles. The narrative, which begins with China's 1959 invasion of Tibet, is gorgeously structured, the story told with tenderness and with a restrained but felt passion that makes the lives of its characters—their individuality as well as the cultural, historical, and familial bonds that shape their destinies—palpable. This is a magnificently textured and deeply affecting novel." - Jay Neugeboren, Ploughshares

"Born in Nepal to exiled Tibetan parents, Lama beautifully conveys both the harshness of the refugee experience and a people's fierce loyalty to a country that most will never see in their lifetimes . . . At once brutally realistic and threaded through with romance and the supernatural, Lama's tale captures the essence of a deracinated people whose plight is frequently mentioned but never remedied … Lama has packed a whole lot into her tale, sharing with her readers the frightening realities of invasion and flight, the unexpected sweetness of romance and the outrages of cultural appropriation. Mostly we'll remember her primary focus: the tenacious identity of a people forever cast out from home." - Toronto Star

"A moving debut centering the little-known experiences of Tibetan exiles, told through the lives of four people over 50 years." - Ms. Magazine

"[An] achingly beautiful debut." - Booklist, Starred Review

"[A] heartfelt and magical saga of a Tibetan family's love, sacrifice, and heritage … Lama imbues this mesmerizing tale—informed by her own family fleeing Tibet for Nepal in the 1960s—with a rich sense of history, mysticism, and ritual." - Publishers Weekly

"Evocative and often hauntingly poetic." - California Review of Books

"The novel thrives as a story about sisterhood, parenthood, and the heart-piercing feeling of exile … A smart, sweeping story about the abuse and transformation of a culture stripped of its country." - Kirkus Reviews

"Tsering Yangzom Lama's debut announces a thrilling new talent in global literature. We Measure The Earth With Our Bodies is a gorgeous, thoughtful novel, one that wrestles with history and culpability in ways that feel moving and profound." - Victor LaValle, author of THE CHANGELING

"In chapters that toggle back and forth across time and between continents, the narrative structure makes for a richly textured read. It also echoes the experience of displacement, in which the memory of belonging is not confined to some distant past, but rather endures as a pressing absence that shapes the present with both loss and profound love." - BOMB Magazine

"This is the new piece of fiction that belongs on your summer reading list." - Tricycle: The Buddhist Review

"This symphonic novel sweeps like a long wave to its transcendent, devastating conclusion. A story about the violence of exile, but also about the bright threads of love that tie these characters to their culture, their ancestral land, and each other: an intelligent, adaptable love that offers them their survival. Sentence by sentence, Lama builds an unforgettable world, sharpened by the force of her characters' longing. You must hand your heart over to this astonishing novel—it will be better for the breaking." - Shruti Swamy, author of THE ARCHER and A HOUSE IS A BODY

"A beautiful and necessary book that tells of how displacement and colonialism can be internalized in the body, and fought with for decades, if not centuries. Tsering Yangzom Lama's writing is beautifully eerie. Her characters are haunted by the ghosts of those who lost their lives when their home was invaded and contain the land - the mountains, valleys, lakes - they were forced to leave behind. They travel out of Tibet with very little, but their baggage is a lot; Lama handles her difficult subject with such artfulness and tenderness. There's lightness, love, humour - but all of this exists in the shadow of inescapable loss. Lama writes with a deep and intimate understanding of injustice on a scale most of us will never in our lives have to experience ourselves. This is an important book, and Lama is an incredible new voice in literature. We are lucky to have her." - Claire Kohda, author of WOMAN, EATING

"This coming-of-age tale within the larger narrative lends greater perspective on alienation and agency, and is refreshing in its refusal of tropes about discovering identity, especially in unfamiliar worlds." -David Chau, Quill & Quire