All My Puny Sorrows (Paperback)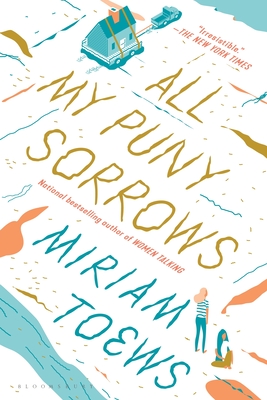 $16.00

Available from our distributor; usually Ships in 1-5 Days
Staff Reviews
---
"After Fight Night I went down a Miriam Toews rabbit hole because wow. Now that I've read her whole oeuvre, I feel like Amy March after her trip to Europe, when she can't paint anymore because she's too aware of what's already been done. In All My Puny Sorrows, all my spiraling thoughts find words. Yolandi, empathetic but tired of following what feels like an expected script, struggles to express herself and her love in her own terms. Her inner voice is so kind and she gives real thought even to ideas that cause her unbearable pain, but she also fights and screams and demands to be considered in return. All My Puny Sorrows is autobiographical and drawn from a period of deep grief, and so requires almost every content warning out there, especially for its themes of suicide and eating disorders."
— From
Aly
Description
---
From the bestselling author of Women Talking, a "wrenchingly honest, darkly funny novel" (Entertainment Weekly).


Elf and Yoli are sisters. While on the surface Elfrieda's life is enviable (she's a world-renowned pianist, glamorous, wealthy, and happily married) and Yolandi's a mess (she's divorced and broke, with two teenagers growing up too quickly), they are fiercely close-raised in a Mennonite household and sharing the hardship of Elf's desire to end her life. After Elf's latest attempt, Yoli must quickly determine how to keep her family from falling apart while facing a profound question: what do you do for a loved one who truly wants to die?

All My Puny Sorrows is a deeply personal story that is as much comedy as it is tragedy, a goodbye grin from the friend who taught you how to live.
About the Author
---
Miriam Toews is the author of seven bestselling novels, All My Puny Sorrows, Summer of My Amazing Luck, A Boy of Good Breeding, A Complicated Kindness, The Flying Troutmans, Irma Voth, and Women Talking and one work of nonfiction, Swing Low: A Life. She is winner of the Governor General's Award for Fiction, the Libris Award for Fiction Book of the Year, the Rogers Writers' Trust Fiction Prize, and the Writers' Trust Engel/Findley Award. She lives in Toronto.
Praise For…
---
"Irresistible… its intelligence, its honesty and, above all, its compassion provide a kind of existential balm-a comfort not unlike the sort you might find by opening a bottle of wine and having a long conversation with (yes, really) a true friend." —Curtis Sittenfeld, The New York Times Book Review

"In the crucible of [Miriam Toews'] genius, tears and laughter are ground into some magical elixir that seems like the essence of life." —Ron Charles, The Washington Post

"[A] wrenchingly honest, darkly funny novel. (Grade: A)" —Entertainment Weekly

"Bold, brash and big-hearted.... Toews writes from the point of view of Yoli, whose interior monologue reads like a cross between David Foster Wallace and Robin Williams if both were, in fact, a 40-something Mennonite woman with authority issues. She's a smart aleck with heart, a philosopher with a comic's timing." —The Dallas Morning News

"Toews (Irma Voth) does a wonderful job with her characters, none of whom are perfect, which makes them all the more real. It requires a talented author to take a serious subject and write such an engaging, enjoyable work." —Library Journal (starred)

"Touching and unexpectedly humorous." —Marie Claire

"The novel, which is essentially about complex family relationships, is heartbreaking and ultimately forgiving, as Yolandi wonders what courage is needed to end a life versus the courage it takes to endure. You'll want to call your sister or your mom after finishing." —Bustle

"[A] sad, wise, often funny and very good novel." —Milwaukee Journal Sentinel

"'All My Puny Sorrows' is a bittersweet story about those who survive and those who can't fight the current." —Minneapolis StarTribune

"[A] triumph in its depiction of the love the sisters share." —Publishers Weekly (Starred Review)

"[A] masterful, original investigation into love, loss and survival." —Kirkus (Starred Review)

"All My Puny Sorrows by Miriam Toews: The premise of Toews's sixth novel, released to critical acclaim in Canada earlier this year, is simple and devastating: there are two adult sisters, and one of them wants to die. She's a wildly successful and in-demand concert pianist, but she longs for self-annihilation. It's a premise that could easily be grindingly unbearable, but Toews is a writer of considerable subtlety and grace, with a gift for bringing flashes of lightness, even humor, to the darkest of tales." —The Millions

"Funny and irresistibly warm" —Isaac Fitzgerald, BuzzFeed

"A harrowing and often very funny novel ... Every page yields a surprise, a laugh, or a line that will make your breath catch in your throat." —Dan Kois, Slate

"As jagged and ripped open as a freshly torn heart." —The Boston Globe

"Thanks to the prodigious talent of author Miriam Toews, "All My Puny Sorrows" is an off-kilter, frequently funny and begrudgingly life-affirming romp through, well, death…. a novel with such wincingly painful honesty and mordant humor." —Los Angeles Times