Murder in G Major (Gethsemane Brown Mystery #1) (Paperback)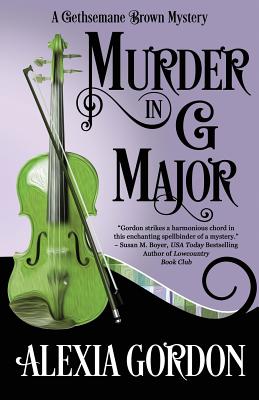 $16.99

Available from our distributor; usually Ships in 1-5 Days
Other Books in Series
This is book number 1 in the Gethsemane Brown Mystery series.
Description
---
"Charming debut." - Kirkus Reviews
"Gordon strikes a harmonious chord in this enchanting spellbinder of a mystery." - Susan M. Boyer, USA Today Bestselling Author of Lowcountry Book Club
"Just when you think you've seen everything, here comes Gethsemane Brown, baton in one hand, bourbon in the other. Stranded in an Irish village where she knows no one (but they all know her), she's got just six weeks to turn a rabblesome orchestra into award-winners and solve a decades-old murder to boot. And only a grumpy ghost to help her. There's charm to spare in this highly original debut." - Catriona McPherson, Agatha Award-Winning Author of The Reek of Red Herrings
"Gordon's debut is delightful: An Irish village full of characters and secrets, whiskey and music-and a ghost Gethsemane Brown is a fast-thinking, fast-talking dynamic sleuth (with a great wardrobe) who is more than a match for the unraveling murders and cover-ups, aided by her various-handsome-allies and her irascible ghost. Can't wait to see what she uncovers next " - Chloe Green, Author of the Dallas O'Connor Mysteries
"A fast-paced drama that kept me engaged in all aspects in the telling of this multi-plot tale that was hard to put down...The windup to the conclusion had me quickly turning the pages as I had to know how this will play out and to the author, I say "bravo" because now I need to read the next book in this captivating series." - Dru's Book Musings
With few other options, African-American classical musician Gethsemane Brown accepts a less-than-ideal position turning a group of rowdy schoolboys into an award-winning orchestra. Stranded without luggage or money in the Irish countryside, she figures any job is better than none. The perk? Housesitting a lovely cliffside cottage. The catch? The ghost of the cottage's murdered owner haunts the place. Falsely accused of killing his wife (and himself), he begs Gethsemane to clear his name so he can rest in peace.
Gethsemane's reluctant investigation provokes a dormant killer and she soon finds herself in grave danger. As Gethsemane races to prevent a deadly encore, will she uncover the truth or star in her own farewell performance?
Related subjects include: cozy mysteries, women sleuths, murder mystery series, whodunit mysteries (whodunnit), British mysteries, book club recommendations, amateur sleuth books, paranormal mysteries, Irish cozies, ghost mysteries, music mysteries.
Books in the Gethsemane Brown Mystery Series:
Part of the Henery Press Mystery Series Collection, if you like one, you'll probably like them all...
Author Bio:
A writer since childhood, Alexia Gordon won her first writing prize in the 6th grade. She continued writing through college but put literary endeavors on hold to finish medical school and Family Medicine residency training. She established her medical career then returned to writing fiction. Raised in the southeast, schooled in the northeast, she relocated to the west where she completed Southern Methodist University's Writer's Path program. She admits Texas brisket is as good as Carolina pulled pork. She practices medicine in El Paso. She enjoys the symphony, art collecting, embroidery, and ghost stories.