Catch the Rabbit (Paperback)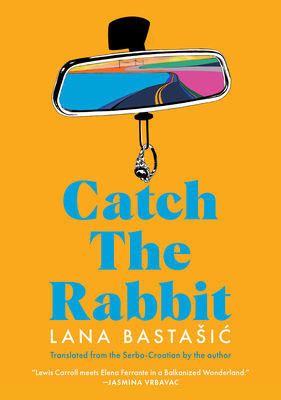 $18.00

Available from our distributor; usually Ships in 1-5 Days
Description
---
Winner of the 2020 European Union Prize for Literature, Lana Bastasic's powerful debut novel Catch the Rabbit is an emotionally rich excavation of the complicated friendship between two women in a fractured, post-war Bosnia as they venture into the treacherous terrain of the Balkan wonderlands and their own history.
It's been twelve years since inseparable childhood friends Lejla and Sara have spoken, but an unexpected phone call thrusts Sara back into a world she left behind, a language she's buried, and painful memories that rise unbidden to the surface. Lejla's magnetic pull hasn't lessened despite the distance between Dublin and Bosnia or the years of silence imposed by a youthful misunderstanding, and Sara finds herself returning home, driven by curiosity and guilt. Embarking on a road trip from Bosnia to Vienna in search of Lejla's exiled brother Armin, the two travel down the rabbit hole of their shared past and question how they've arrived at their present, disparate realities.
As their journey takes them further from their homeland, Sara realizes that she can never truly escape her past or Lejla--the two are intrinsically linked, but perpetually on opposite sides of the looking glass. As they approach their final destination, Sara contends with the chaos of their relationship. Lejla's conflicting memories of their past, further complicated by the divisions brought on by the dissolution of Yugoslavia during their childhoods, forces Sara to reckon with her own perceived reality. Like Elena Ferrante's My Brilliant Friend, Catch the Rabbit lays bare the intricacies of female friendship and all the ways in which two people can hurt, love, disappoint, and misunderstand one another.
About the Author
---
About the Author: Lana Bastasic is a Yugoslav-born writer. Her debut novel Catch the Rabbit was shortlisted for the 2019 NIN award and was awarded the 2020 European Union Prize for Literature. She majored in English and holds a master's degree in cultural studies and currently resides in Barcelona.