Frommer's England and Scotland (Paperback)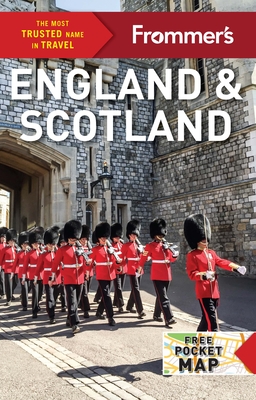 $27.95

Available from our distributor; usually Ships in 1-5 Days
Description
---
Frommer's books aren't written by committee, by A.I., or by travel writers who simply pop in briefly to a destination and then consider the job done. We use seasoned, locally-based journalists like Deborah Collcutt, Katie Featherstone, Samantha Priestley, Simon Willmore, and Donald Strachan, plus part-time residents like Jason Cochran and Stephen Brewer because they are all real experts.
The seven of them spent months
checking out all of England's and Scotland's best hotels, attractions, shops, wineries, and restaurants in person, so they could offer authoritative, candid reviews that will help you find the venues that suit your tastes and budget.
In short, use this book and you'll be eating in the places most tourists don't know about, visiting top attractions at times when the crowds are at their thinnest, and patronizing the bars and clubs Brits and Scots hold dear.
Inside the guide:
Full-color photos and helpful maps, including a detachable foldout mapDetailed itineraries for planning your trip to suit your schedule and interests (and help you avoid lines and crowds)Candid reviews of the best restaurants, historic sights, museums, tours, shops, and experiences―and no-punches-pulled info on the ones not worth your time and moneyAccurate, up-to-date info on transportation, useful websites, telephone numbers, and moreCompelling cultural information so that you'll better understand the history, cuisine, and traditions of both Britain and ScotlandBudget-planning help with the lowdown on prices and ways to save money, whether you're traveling on a shoestring or in the lap of luxury
About Frommer's: There's a reason Frommer's has been the most trusted name in travel for more than 65 years. Arthur Frommer created the best-selling guide series in 1957 to help American servicemen fulfill their dreams of travel in Europe, and since then, we have published thousands of titles, become a household name, and helped millions upon millions of people realize their own dreams of seeing our planet. Travel is easy with Frommer's.
About the Author
---
Stephen Brewer has been focusing on European coverage for magazines and guidebooks for four decades and was a producer of a popular radio travel show for many years. He covers Italy, Greece, and other countries for Frommer's, and he is the author of Beautiful Small Coastal Towns for Rizzoli. Stephen divides his time between Manhattan and Italy. Jason Cochran also wrote the award-winning Frommer's Guide to Orlando, Walt Disney World, and Universal, and he is the author of Here Lies America. He was twice awarded Guide Book of the Year by the Lowell Thomas Awards (Society of American Travel Writers) and once by the North American Travel Journalists Association. He has been writing about travel since the mid-'90s when he wrote one of the world's first travel blogs. He has been a commentator on CBS, the BBC, AOL, and others. For half a decade he co-hosted "The Travel Show" on WABC with Pauline Frommer. He was executive editor of AOL Travel and is editor-in-chief of Frommers.com. Deborah Collcutt has been a travel writer and editor for many years. As group magazine editor at Archant, she wrote and commissioned travel articles on the southwest of England. A round-the-world cyclist who wrote about her travels by bike, she was editor of Conde Nast's London Concierge.com and also wrote for the London Evening Standard. As senior editor at Reach plc, she commissioned several articles. A Dorset devotee, she recently bought a plot of land in the Isle of Purbeck where she is currently building her own home.Katie Featherstone is a freelance writer focusing on Scotland and the Icelandic Highlands. She has written guidebooks, articles, and hiking routes for a range of publications including Bradt Guides, The Guardian, The Independent, Trail Magazine, TGO Magazine, Hidden Europe, Walk Highlands, Scottish Islands Explorer, and Coast Magazine. Samantha Priestley is a travel writer from Sheffield, England. A lover of historic buildings, quirky hotels, woodland walks, and literary trails, Samantha writes about travel and food and drink for publications such as The Independent, Lonely Planet, and Wanderlust. She also is an award-winning author, having written numerous plays, short stories, and novels.Donald Strachan is a Scottish travel writer and journalist whop has lived most of his life "down south" in England. He has written about the country, and wider European travel, for publications all over the world including The Guardian, CNN.com, National Geographic Traveler, and The Sydney Morning Herald. Simon Willmore is a travel writer and editor, with words in Wanderlust, National Geographic, and more. He's worked on books for Frommer's, Rough Guides, and Bradt, made videos for Times Travel, and edits JRNY magazine. He's an editor of The Best British Travel Writing of the 21st Century and was the youngest-ever chair of the British Guild of Travel Writers.