Driving the Future: Combating Climate Change with Cleaner, Smarter Cars (Paperback)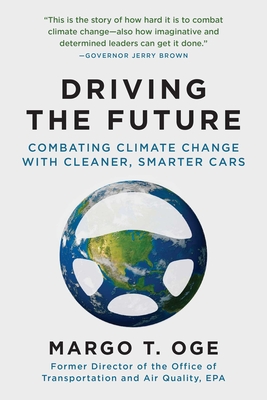 $16.99
Out of Stock - Not Available
Description
---
Now in paperback, with a new foreword by Fred Krupp, an expert's illuminating preview of the cleaner, lighter, smarter cars of the future.

In Driving the Future, Margo T. Oge portrays a future where clean, intelligent vehicles with lighter frames and alternative power trains will produce zero emissions and run at 100+ mpg. With electronic architectures more like those of airplanes, cars will be smarter and safer, will park themselves, and will network with other vehicles on the road to drive themselves. As the director of the EPA's Office of Transportation and Air Quality, Oge was the chief architect behind the Obama administration's landmark 2012 deal with automakers in the US market to double the fuel efficiency of their fleets and to cut greenhouse gas emissions in half by 2025. This was America's first formal climate action using regulation to reduce emissions through innovation in car design.

Offering an insider account of the partnership between federal agencies, California, environmental groups, and car manufacturers that led to the historic deal, Margo discusses the science of climate change, the politics of addressing it, and the lessons learned for policy makers. She also takes the reader through the convergence of macro trends that will drive this innovation over the next forty years and be every bit as transformative as those wrought by Karl Benz and Henry Ford. Driving the Future is for anyone who wants to know what car they'll be driving in ten, twenty, or thirty years—and for everyone concerned about air quality and climate change now.
About the Author
---
Margo Oge retired as director of the Office of Transportation and Air Quality after thirty-two years with the EPA. While at the EPA, she was a chief architect of the most important improvements of air quality from the transportation sector, resulting in the prevention of 40,000 premature deaths and hundreds of thousands of cases of respiratory illness annually. She received Presidential Awards from Presidents Bill Clinton and George W. Bush and numerous environmental and industry awards. In commending her achievements, President Obama wrote, "Under your tireless leadership, we have realized significant environmental achievements in the transportation sector, from making diesel fuels cleaner to finalizing the most aggressive fuel economy standards for cars and trucks out to model year 2025."

Margo is vice-chairman of the board of DeltaWing Technologies, which is creating a new, high-efficiency passenger car based on the DeltaWing race car, and is a board member of the National Academy of Sciences, UCS, ICCT, and ACE. She also sit on a Department of Energy advisory committee on hydrogen and fuel cells and a National Academy of Sciences advisory committee on US global climate change research. Margo has an MS in engineering from the University of Massachusetts–Lowell and attended George Washington and Harvard Universities. She resides in McLean, Virginia.
Praise For…
---
"The author has a vision for the future of the automobile. It's not exactly the flying car of the future, but almost, as it comes with smartphone-synced scheduling, zero-emissions technology, and the ability to park itself. . . . Astute . . . Oge knows her stuff." —Kirkus Reviews

"Enlightening . . . With her firsthand knowledge of the designs and methods the auto industry is using to achieve this milestone, Oge is the perfect person to preview the type of vehicles we will likely be driving over the next several decades. . . . Readers tired of traffic gridlock and expensive gas bills will enjoy this vision of hack-proof, computer-driven, self-parking cars, along with Oge's optimism about halting global warming."—Booklist

"Let's get straight to the dirt: Margo Oge knows where the bodies are buried . . . [and makes] astonishing revelations about exactly how good policy based on science in thwarted by political hacks."—Electric Car Online

"Under your tireless leadership we have realized significant environmental achievements in the transportation sector . . . finalizing the most aggressive efficiency standards for our cars and truck out to model year 2025. . . . You have inspired and challenged with equal measure." —President Barack Obama

"Margo tells the incredible story of how California and then Washington were able to mandate much cleaner cars and light trucks. This is the story of how hard it is to combat climate change—and also how imaginative and determined leaders can get it done." —Governor Jerry Brown

"Margo Oge describes the astounding transformation of cars and trucks in America—cutting pollution by more than 97 percent, and greenhouse gases by more than half—and shows the way to complete this job. It is a compelling story and a great read." —Hal Harvey, CEO of Energy Innovation

"Driving the Future is a testament to the progress that is possible when committed public servants are allowed to follow the scientific evidence where it leads and to envision and then execute ambitious plans for a better technological and environmental future." —Lisa Heinzerling, Justice William J. Brennan, Jr. Professor of Law, Georgetown University Law Center

"Margo Oge provides a riveting insider's account of the people, science, politics, and technologies behind an improbable victory in the battle against global warming. Based on her understanding of how regulation can drive innovation, she depicts a future in which cleaner, lighter, smarter cars will become tools in the fight against climate change rather than contribute to it. Every citizen should read her book and feel proud of what we can accomplish together." —Lisa Jackson, EPA administrator under President Barack Obama

"Drawing upon her experience as an architect of game-changing fuel economy standards, Margo Oge gives us a roadmap to a future world of better and cleaner cars, healthier air, reduced geopolitical conflict, and stronger communities. If we get there, it will be because of visionaries such as Oge." —Ken Kimmel, president, Union of Concerned Scientists

"Margo and her team at the EPA helped craft far-reaching GHG and fuel economy standards for the US that are accelerating the adoption of future automotive technologies like plug-in electric vehicles and fuel cell vehicles. Margo has the credibility and the record for convincingly discussing a carbon free future in her book, a vision we share." —Ulrich Kranz, BMW, senior vice president, Product Line i

"Driving the Future is a real-world story about the policy visionaries, business leaders, and dedicated citizens who are spurring the clean energy revolution—and ushering in a new era of prosperity for our nation and the world." —Fred Krupp, president, Environmental Defense Fund

"Margo has given us a fascinating insider's view of regulatory development and a framework for collaborative rulemaking that literally changed the face—and tailpipes—of an industry, and a thoughtful look forward to future opportunities." —Tom Linebarger, chairman and CEO of Cummins Inc.

"Driving the Future is the story of a dramatic success in a key battle in the fight against global warming—improving the environmental performance of vehicle fleets—with a lucid explanation of how to bridge science and public policy. Reading the book is as pleasant as having a talk with a good friend, and as informative as a full course in public policy." —Mario J. Molina, PhD, professor at the University of California, San Diego, and winner of the 1995 Nobel Prize in Chemistry for his role in elucidating the threat to the earth's ozone layer from chlorofluorocarbon gases

"It's a great story: an insider's account of the unprecedented collaboration of politicians, regulators, and industry that created the world's first standards for low-carbon vehicles and a practical guide to steps that all of us—including consumers—must take to create a global market for vehicles that can take us where we want to go while dodging the worst effects of climate change." —Mary Nichols, chairman of the California Air Resources Board

"Five stars to Margo Oge! She may be a veteran regulator, but she also has the vision thing, the broad historical and conceptual perspective that made her one of EPA's stars in the historic achievement of cleaner cars and in the cause of averting climate change. Not to mention that her writing is fluid, engaging, and makes a complex story hard to put down." —William Reilly, EPA administrator under President George H. W. Bush

"This book should be a must-read for anyone who wants to know how the regulatory process actually works. Margo Oge provides a compelling insider's account about the making of President Obama's landmark vehicle emission rules. She describes how she and her dedicated team at EPA fought political interference under the Bush Administration, formed a crucial partnership with innovative California regulators, and found key allies within the new Obama team."—Congressman Henry Waxman

"Driving the Future describes a success story in bridging science and regulation and provides a creative road map for future cleaner cars. It offers very valuable lessons for building a future blue sky and low carbon society in China and other developing countries. Thanks, Margo Oge!"—Kebin He, dean, School of Environment, Tsinghua University, China

"The author has a vision for the future of the automobile. It's not exactly the flying car of the future, but almost, as it comes with smartphone-synced scheduling, zero-emissions technology, and the ability to park itself. . . . Astute . . . Oge knows her stuff." —Kirkus Reviews

"Enlightening . . . With her firsthand knowledge of the designs and methods the auto industry is using to achieve this milestone, Oge is the perfect person to preview the type of vehicles we will likely be driving over the next several decades. . . . Readers tired of traffic gridlock and expensive gas bills will enjoy this vision of hack-proof, computer-driven, self-parking cars, along with Oge's optimism about halting global warming."—Booklist

"Let's get straight to the dirt: Margo Oge knows where the bodies are buried . . . [and makes] astonishing revelations about exactly how good policy based on science in thwarted by political hacks."—Electric Car Online

"Under your tireless leadership we have realized significant environmental achievements in the transportation sector . . . finalizing the most aggressive efficiency standards for our cars and truck out to model year 2025. . . . You have inspired and challenged with equal measure." —President Barack Obama

"Margo tells the incredible story of how California and then Washington were able to mandate much cleaner cars and light trucks. This is the story of how hard it is to combat climate change—and also how imaginative and determined leaders can get it done." —Governor Jerry Brown

"Margo Oge describes the astounding transformation of cars and trucks in America—cutting pollution by more than 97 percent, and greenhouse gases by more than half—and shows the way to complete this job. It is a compelling story and a great read." —Hal Harvey, CEO of Energy Innovation

"Driving the Future is a testament to the progress that is possible when committed public servants are allowed to follow the scientific evidence where it leads and to envision and then execute ambitious plans for a better technological and environmental future." —Lisa Heinzerling, Justice William J. Brennan, Jr. Professor of Law, Georgetown University Law Center

"Margo Oge provides a riveting insider's account of the people, science, politics, and technologies behind an improbable victory in the battle against global warming. Based on her understanding of how regulation can drive innovation, she depicts a future in which cleaner, lighter, smarter cars will become tools in the fight against climate change rather than contribute to it. Every citizen should read her book and feel proud of what we can accomplish together." —Lisa Jackson, EPA administrator under President Barack Obama

"Drawing upon her experience as an architect of game-changing fuel economy standards, Margo Oge gives us a roadmap to a future world of better and cleaner cars, healthier air, reduced geopolitical conflict, and stronger communities. If we get there, it will be because of visionaries such as Oge." —Ken Kimmel, president, Union of Concerned Scientists

"Margo and her team at the EPA helped craft far-reaching GHG and fuel economy standards for the US that are accelerating the adoption of future automotive technologies like plug-in electric vehicles and fuel cell vehicles. Margo has the credibility and the record for convincingly discussing a carbon free future in her book, a vision we share." —Ulrich Kranz, BMW, senior vice president, Product Line i

"Driving the Future is a real-world story about the policy visionaries, business leaders, and dedicated citizens who are spurring the clean energy revolution—and ushering in a new era of prosperity for our nation and the world." —Fred Krupp, president, Environmental Defense Fund

"Margo has given us a fascinating insider's view of regulatory development and a framework for collaborative rulemaking that literally changed the face—and tailpipes—of an industry, and a thoughtful look forward to future opportunities." —Tom Linebarger, chairman and CEO of Cummins Inc.

"Driving the Future is the story of a dramatic success in a key battle in the fight against global warming—improving the environmental performance of vehicle fleets—with a lucid explanation of how to bridge science and public policy. Reading the book is as pleasant as having a talk with a good friend, and as informative as a full course in public policy." —Mario J. Molina, PhD, professor at the University of California, San Diego, and winner of the 1995 Nobel Prize in Chemistry for his role in elucidating the threat to the earth's ozone layer from chlorofluorocarbon gases

"It's a great story: an insider's account of the unprecedented collaboration of politicians, regulators, and industry that created the world's first standards for low-carbon vehicles and a practical guide to steps that all of us—including consumers—must take to create a global market for vehicles that can take us where we want to go while dodging the worst effects of climate change." —Mary Nichols, chairman of the California Air Resources Board

"Five stars to Margo Oge! She may be a veteran regulator, but she also has the vision thing, the broad historical and conceptual perspective that made her one of EPA's stars in the historic achievement of cleaner cars and in the cause of averting climate change. Not to mention that her writing is fluid, engaging, and makes a complex story hard to put down." —William Reilly, EPA administrator under President George H. W. Bush

"This book should be a must-read for anyone who wants to know how the regulatory process actually works. Margo Oge provides a compelling insider's account about the making of President Obama's landmark vehicle emission rules. She describes how she and her dedicated team at EPA fought political interference under the Bush Administration, formed a crucial partnership with innovative California regulators, and found key allies within the new Obama team."—Congressman Henry Waxman

"Driving the Future describes a success story in bridging science and regulation and provides a creative road map for future cleaner cars. It offers very valuable lessons for building a future blue sky and low carbon society in China and other developing countries. Thanks, Margo Oge!"—Kebin He, dean, School of Environment, Tsinghua University, China