Wombat (Hardcover)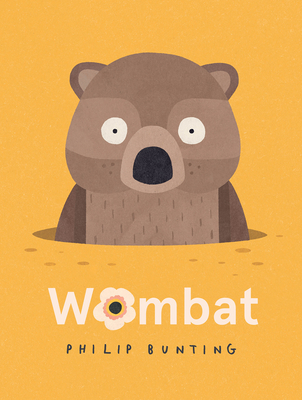 $17.99

Available from our distributor; usually Ships in 1-5 Days
July/August 2023 Kids Indie Next List
---
"An adorable picture book reminiscent of classics like One Fish, Two Fish, Red Fish, Blue Fish but filled with wombats! Philip Bunting's hilarious wordplay and cute illustrations are sure to make this a read-aloud favorite."
— Caleb Masters, Bookmarks, Winston-Salem, NC
Description
---
Fans of You Loves Ewe's witty wordplay and Jon Klassen's wry illustrations will love this playful picture book packed with wombats, twobats, threebats, and morebats!

From wombat to squarebat to roundbat, and longbat—no bat is left out in this silly and sweet marsupial love story. Quirky, playful text paired with simple, humorous illustrations makes for a hilarious repeat read that both kids and parents can enjoy.

A perfect story time selection, Wombat will leave littlebats, middlebats, and whopperbats alike giggling and begging for . . . morebats!
About the Author
---
Philip Bunting is an author and illustrator with a soft spot for creating picture books for sleep-deprived, time-poor, raisin-encrusted parents (and their children). He has written and illustrated many books for children, including How Did I Get Here?: Your Story from the Big Bang to Your Birthday and The World's Most Pointless Animals. Philip's work deliberately encourages playful interaction, creating a platform for genuine engagement and fun. Philip's books have been translated into multiple languages and published in over 30 countries around the world.
Praise For…
---
Fall in love with wombats.

Bunting's digitally rendered, cut-paper cartoon art depicts an adorable, squat brown animal who peers out at readers on the first page. Each page contains a simple but playful illustration of one or more wombats, set against a solidly colored background, and a short, pun-based description beneath. A daring and darling wombat does a handstand on a ball ("Acrobat"), while two others talk on cellphones ("Chit." "Chat"). Some wombats are just plain silly, like the one eating a doughnut ("Om-nom-nombat") or the "Fallendownaholebat" (accompanied by an illustration of the creature on its back), but others introduce basic skills. There are wombats to count ("Wombat. Twobats. Threebats. Morebats"), shapes to name ("Squarebat. Roundbat. Longbat"), and primary colors to recognize ("Redbat. Yellowbat. Bluebat"). More advanced concepts include emotions ("Happybat. Grumpybat") and directions ("Leftbat. Rightbat"). Making the read-aloud even more fun are some internal rhymes later in the book ("Wrongbat. Songbat"). There is some potty humor—a close-up of a wombat posterior and some freshly deposited droppings ("Stinkbat")—and adults might need to explain what a cricket bat is. A string of images at the very end of the book depicting two lovestruck wombats who form a family is especially clever and heartwarming ("Likebat. Lovebat. Thisbat. Thatbat. Madeanotherwombat"). 

Readers will go batty for this one. (Picture book. 2-5)

—Kirkus Reviews