How Music Dies (or Lives): Field Recording and the Battle for Democracy in the Arts (Paperback)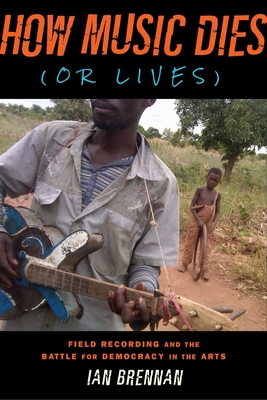 Description
---
All recordings document life, arising from a specific time and place, and if that place is artificial, the results will be as well. Culled from a lifetime of learning through failure and designed to provoke thought and inspiration for artists in every medium, How Music Dies (or Lives) is a virtual how-to manual for those on a quest for authenticity in an age of airbrushed and Auto-Tuned so-called "artists." Author and Grammy-winning producer Ian Brennan chronicles his own journeys to find new and ancient sounds, textured voices, and nonmalleable songs, and he presents readers with an intricate look at our technological society. His concise prose covers topics such as:

•The damages of colonization in generalizing distinctive variations
•The need for imperfection
•The gaps between manufacturing and invention
•The saturation of music in everyday life

This guide serves those who ask themselves, "What's wrong with our culture?" Along with possible answers are lessons in using the microphone as a telescope, hearing the earth as an echo, and appreciating the value of democratizing voices.

Allworth Press, an imprint of Skyhorse Publishing, publishes a broad range of books on the visual and performing arts, with emphasis on the business of art. Our titles cover subjects such as graphic design, theater, branding, fine art, photography, interior design, writing, acting, film, how to start careers, business and legal forms, business practices, and more. While we don't aspire to publish a New York Times bestseller or a national bestseller, we are deeply committed to quality books that help creative professionals succeed and thrive. We often publish in areas overlooked by other publishers and welcome the author whose expertise can help our audience of readers.
About the Author
---
Ian Brennan, a Grammy-winning record producer (Ramblin' Jack Elliott, Bill Frisell), travels the globe in search of music. Since 1993, he has lectured internationally over one hundred times a year regarding violence prevention and is the author of two books on the subject, Anger Antidotes and Hate-less. A native of San Francisco, he is currently based in northern Italy.
Praise For…
---
"A hefty, bracing tome overstuffed with trenchant observations and anecdotes on the homogenization of music and the democratization of art." —Booklist

"In a time when popular music may sound sonically filling, but leaves your ears feeling spiritually undernourished, How Music Dies (or Lives) shines some much-needed light on where things have gone wrong." —Joe Lally (Fugazi)

"A sometimes funny, often perplexing, highly original treatise on the outer edges of music acceptability. . . . I loved it!" —John Waters, filmmaker and author (Pink Flamingos, Hairspray, Serial Mom)

"Insightful and provocative. Ian Brennan has truly 'been there' and has now written a fascinating book . . .fantastic!" —Paula Henderson, curator, WOMAD Festival (UK)

"Author Ian Brennan has innocently become the new Alan Lomax, boldly going where no one has gone before in search of the truth in music and the source of human expression, without filter, nor artifice. He offers a 'how to' guide for setting your ears and your instruments on a righteous path, as well as a journal of his adventures on these sound-safaris. We are lucky to have him as our guide."—Matt Chessé, Academy Award-nominated film-editor (Monster's Ball, Finding Neverland, James Bond series)

"A hefty, bracing tome overstuffed with trenchant observations and anecdotes on the homogenization of music and the democratization of art." —Booklist

"In a time when popular music may sound sonically filling, but leaves your ears feeling spiritually undernourished, How Music Dies (or Lives) shines some much-needed light on where things have gone wrong." —Joe Lally (Fugazi)

"A sometimes funny, often perplexing, highly original treatise on the outer edges of music acceptability. . . . I loved it!" —John Waters, filmmaker and author (Pink Flamingos, Hairspray, Serial Mom)

"Insightful and provocative. Ian Brennan has truly 'been there' and has now written a fascinating book . . .fantastic!" —Paula Henderson, curator, WOMAD Festival (UK)

"Author Ian Brennan has innocently become the new Alan Lomax, boldly going where no one has gone before in search of the truth in music and the source of human expression, without filter, nor artifice. He offers a 'how to' guide for setting your ears and your instruments on a righteous path, as well as a journal of his adventures on these sound-safaris. We are lucky to have him as our guide."—Matt Chessé, Academy Award-nominated film-editor (Monster's Ball, Finding Neverland, James Bond series)