Blood on the River: A Chronicle of Mutiny and Freedom on the Wild Coast (Paperback)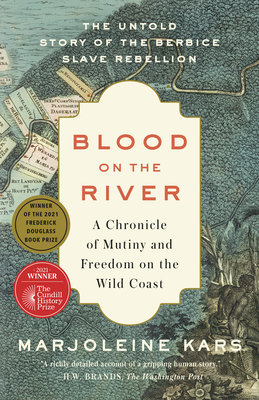 Description
---
The winner of the 2021 Cundill History Prize and the 2021 Frederick Douglass Book Prize
Named one of the best books of the year by NPR, Blood on the River also won two of the highest honors for works of history, capturing both the Frederick Douglass Prize and the Cundill History Prize in 2021. A book with profound relevance for our own time, Blood on the River "fundamentally alters what we know about revolutionary change" according to Cundill Prize juror and NYU history professor Jennifer Morgan.
Nearly two hundred sixty years ago, on Sunday, February 27, 1763, thousands of slaves in the Dutch colony of Berbice--in present-day Guyana--launched a rebellion that came amazingly close to succeeding. Blood on the River is the explosive story of this little-known revolution, one that almost changed the face of the Americas. Michael Ignatieff, chair of the Cundill Prize jury, declared that Blood on the River "tells a story so dramatic, so compelling that no reader will be able to put the book down."
Drawing on nine hundred interrogation transcripts collected by the Dutch when the rebellion collapsed, and which were subsequently buried in Dutch archives, historian Marjoleine Kars has constructed what Pulitzer Prize-winning historian Eric Foner calls "a gripping narrative that brings to life a forgotten world."
About the Author
---
Marjoleine Kars is a professor of history at MIT. A noted historian of slavery, she is the author of Blood on the River: A Chronicle of Mutiny and Freedom on the Wild Coast (The New Press) and Breaking Loose Together. She lives in Cambridge, Massachusetts.