States of Neglect: How Red-State Leaders Have Failed Their Citizens and Undermined America (Hardcover)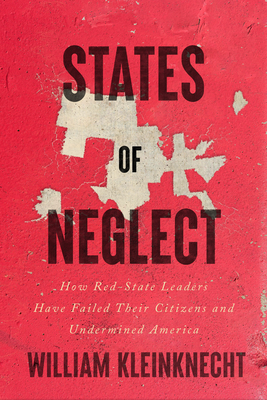 Description
---
As America continues down its path of polarization, a celebrated journalist tells us the deep story of the red-state/blue-state divide
In the wake of Trump's presidency, Republican-led states have joined in an alarming assault on our democratic system. But the drift toward authoritarianism in red states has far deeper roots. We now have a country where tens of millions of people live under regimes that have spent years starving education and health care, empowering polluters, engaging in voter suppression, and neglecting their citizens' well-being in the interest of cutting taxes for the wealthy.
In States of Neglect, journalist William Kleinknecht surveys the landscape of neglect in states including Texas, Florida, and Arizona through the experiences of a rich cast of characters. He visits environmental dead zones in the Texas Gulf region. He investigates Arizona's abandonment of public education and its corrupt charter school industry. He shows how Mississippi's denuded health care system has made the Magnolia State the sickest in the nation. And he explains how North Carolina allows its people to sink into poverty while catering to the needs of corporations.
As a postscript, Kleinknecht proposes how progressive states on either coast might join in a compact of "progressive federalism" that uses their superior economic and cultural resources to counter the influence of the far right.
About the Author
---
William Kleinknecht is a longtime newspaper reporter who covered politics, government, criminal justice, and the environment for the Detroit Free Press, New York Daily News, and Newark Star-Ledger. The author of The Man Who Sold the World: Ronald Reagan and the Betrayal of Main Street America, The New Ethnic Mobs: The Changing Face of Organized Crime in America, and States of Neglect: How Red-State Leaders Have Failed Their Citizens and Undermined America (The New Press), he lives in Ridgewood, New Jersey.