Thick: And Other Essays (Paperback)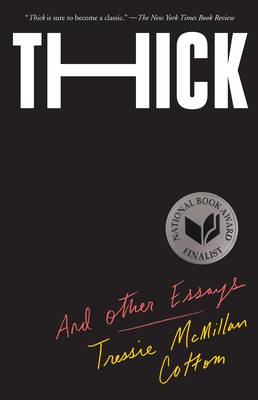 $16.99

Available from our distributor; usually Ships in 1-5 Days
Description
---
Enviable Sales Track: nearly 20,000 copies sold in hardcover and over 4,200 e-books.
Expanding media profile: author has 88,000 Twitter followers; she co-hosts a popular podcast, Hear to Slay, with bestselling author Roxane Gay featuring celebrity interviews with Gabrielle Union, Stacey Abrams, and others; All In with Chris Hayes guest expert on college admissions scandal; author's guest-host interview of Trevor Noah on WNYC's Death, Sex, and Money was widely circulated and praised.
Excellent Publicity for Previous Books: Thick and Lower Ed were reviewed in the New York Times Book Review; the first edition of Thick was serialized in Time, reviewed by LARB, WBUR, San Francisco Chronicle, Book Riot, Chicago Tribune, BuzzFeed, The Millions, and was the March 2019 Well-Read Black Girl pick; author has been interviewed on The Daily Show, multiple NPR shows, Amanpour & Company, WITH (Chris Hayes), Slate, and iHeart Radio, among other radio shows and podcasts.
Academic celebrity: The American Sociological Association has awarded her the 2019 Doris Entwisle Early Career Award.
Political firebrand: Her congressional testimony, for which she was invited and questioned by Elizabeth Warren, has been heavily publicized.
About the Author
---
Tressie McMillan Cottom is an associate professor of sociology at Virginia Commonwealth University and the author of Lower Ed. Her work has been featured by The Daily Show, the New York Times, the Washington Post, PBS, NPR, Fresh Air, and The Atlantic, among others. In 2020, McMillan Cottom was awarded a MacArthur Fellowship. She lives in Richmond, Virginia.