Hopeless Savages: Break (Paperback)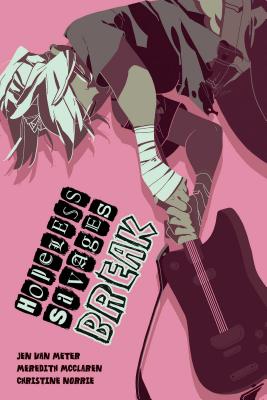 This item is currently unavailable and can not be ordered.
Description
---
All the Hopeless-Savages are back in this fourth volume of the critically-acclaimed series! Zero's in college (and hating it), though a tour with the Dusted Bunnies promises to rejuvenate her spirits—at least, that's what she's telling her therapist. But a rival band threatens to end the tour early, and without her family, Zero's in no position to fight back. Meanwhile, the rest of the Hopeless-Savages are dealing with their own problems, including babies, contracts, and drug addictions. But if there's one family who can pull it all off, it's this one. Stunningly illustrated by Meredith McClaren (HINGES), with flashbacks by original series artist Christine Norrie, this is one volume fans won't want to miss out on!
About the Author
---
Meredith McClaren is tired. When not safely atop her bed, cocooned in a burrito of comfort, she has worked on stories like HINGES, HEART IN A BOX, HOPELESS SAVAGES, and SUPER FUN SEXY TIMES. Possibly while also in bed. You can find her website at: meredithmcclaren.tumblr.com Her Patreon at: https://www.patreon.com/meredithmcclaren And her twitter at: @IniquitousFish But you might have to get out of bed to check those websites. Best not risk it.