Legacy of Atlantis (Hardcover)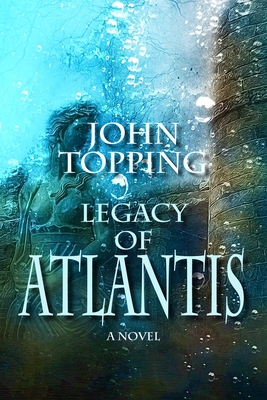 $26.95

Coming Soon - Available for Pre-Order Now
Description
---
The quest for the secrets of Atlantis begins on the Moon.
Uprooted after the disappearance of his parents, Charlie Thomas moves to the Moon to live with his Uncle Merl--only to discover that "Merl" is actually Merlin the Magician . . . and that Charlie is an heir to Atlantis. Reeling, Charlie must adjust to his new environs, make some friends, and connect with Rhea, a girl he really likes.
But it could never be that easy for Charlie.
On a field trip to the Lunar surface, Charlie, Rhea, and his new best friend, Jamie, uncover the body of an ancient Atlantean astronaut. And when agents from the lost land of Lemuria discover who Charlie is, he is forced to flee the Moon.
The chase takes Charlie and Merl back to Earth. There, an attack on their ship leaves Charlie alone in an old growth forest in the Pacific Northwest. Lost and not sure what to do, Charlie is rescued by AB, a pipe-smoking sasquatch whose perspective on the world is unlike any Charlie has ever encountered. But Charlie is going to need much more if he is going to fulfill a destiny he has only recently discovered.
Threats are everywhere, but Charlie must learn to control his nascent Atlantean abilities with no time to spare. For he has discovered a Lemurian plan to use an ancient Atlantean artifact to destroy most of the Earth and enslave the remnants of humanity--and Charlie and his team are the only ones with a hope of stopping them.
Bursting with adventure, spirit, and comradery, Legacy of Atlantis is a utterly new take on a legendary tale, a story both timeless and as fresh as today.
About the Author
---
A lawyer and entrepreneur, John Topping and his wife, Laura, are residents of Atlanta, Georgia. They have three adult children. An avid reader, John dabbled with writing while in high school at The Lawrenceville School and at the University of Virginia. He published an article on The Strategic Defense Initiative while at the University of Georgia School of Law. He began writing in his free time in the '90s. Longstreet Press published his first novel, Runaway, a technothriller about global warming, in 2001. John enjoys golf, fishing, tennis, and kayaking. He is a member of Northside United Methodist Church, Broadleaf Writers Association, and the Bonefish Tarpon Trust. One of nine children, John grew up with an appreciation of family and an avid interest in sports. John's father, the late Dan Topping, owned the New York Yankees for 22 years, winning 15 pennants and 10 World Series. His stepfather, the late Rankin Smith, owned the Atlanta Falcons.