Slowspoke: A Unicyclist's Guide to America (Paperback)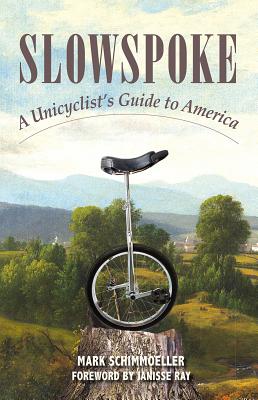 This item is currently unavailable and can not be ordered.
Description
---
Why a unicycle? Why a cross-country trip? Why leave a prominent New York magazine and return to the simple life in Kentucky?
Reminiscent of classic literary travelogues, Mark Schimmoeller's Slowspoke: A Unicyclist's Guide to America takes readers on an inward, emotional journey as he inches across landscapes and communities from North Carolina to Arizona.
Schimmoeller became inspired by his unicycle as an adolescent. It taught him that rushing--whether down the driveway or toward adulthood--would cause a fall, and so, instead of accepting the speeding, straight line that de-fines modern American life, he adopted his single wheel's wayward rhythms.
Written with poise and humor, Slowspoke is more than a cross-country trip on a unicycle; it's a meditation on a playful, recalcitrant slowness that is increasingly rare in a culture obsessed with acceleration. At times ach-ing and other times joyful, Schimmoeller intersperses recollections of his journey with vignettes of his present-day, off-the-grid homesteading with his wife in Kentucky and their efforts to save an old-growth forest.
Schimmoeller's personal journey will resonate with anyone who has slowed down to experience life at a unicycle's speed or who longs to do so, who has fallen in love or searched for it, or who has treasured tall trees or mourned their loss.