The Haunting of Sunshine Girl: Book One (The Haunting of Sunshine Girl Series #1) (Hardcover)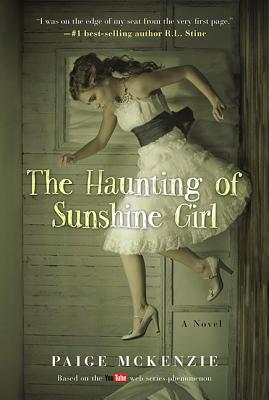 Other Books in Series
This is book number 1 in the The Haunting of Sunshine Girl Series series.
Staff Reviews
---
A pretty great light horror book when you're in the mood for a good ghost story. When I picked this up I mostly knew about the Youtube show. While I thought it would be a bit weak for me, the story had some twists I didn't expect, and I found myself really enjoying it by the end. (Will)
— From
Will
Description
---
A New York Times bestseller

The Haunting of Sunshine Girl,in active development for television by The Weinstein Company, a hit paranomal YA series based on the wildly popular YouTube channel about an "adorkable" teenager living in a haunted house.

Shortly after her sixteenth birthday, Sunshine Griffith and her mother Kat move from sunny Austin, Texas, to the rain-drenched town of Ridgemont, Washington. Though Sunshine is adopted, she and her mother have always been close, sharing a special bond filled with laughter and inside jokes. But from the moment they arrive, Sunshine feels her world darken with an eeriness she cannot place. And even if Kat doesn't recognize it, Sunshine knows that something about their new house is just ... creepy.

In the days that follow, things only get stranger. Sunshine is followed around the house by an icy breeze, phantom wind slams her bedroom door shut, and eventually, the laughter Sunshine hears on her first night evolves into sobs. She can hardly believe it, but as the spirits haunting her house become more frightening-and it becomes clear that Kat is in danger-Sunshine must accept what she is, pass the test before her, and save her mother from a fate worse than death.
About the Author
---
Paige McKenzie, the irresistible face of The Haunting of Sunshine Girl, began playing Sunshine as a high school junior. Today, the YouTube series boasts a viewership over 230 million views and has also been adapted into film.
Praise For…
---
"Sunshine's adventure is filled with bumps in the night and shadowy figures, alluding to a larger mystery and larger world that has plenty to offer imaginative readers who grew up on Goosebumps and the like. Suspenseful, exciting and endlessly entertaining."
— Kirkus Review

"Sunshine's story started as a YouTube series, and this creepy, suspenseful story condenses the plot of the original and offers a more polished voice than the videos. Existing fans won't be the only ones eager for more of this strong but vulnerable heroine just awakening to her potential."
— Booklist (Grades 7–10)

"This sometimes frightening tale and series opener is based on a YouTube channel of the same name, so transmedia fans can enjoy both formats. Readers who appreciated Holly Black's Doll Bones (2013) or Cassandra Clare's City of Bones series ... should consider picking up this creepy debut."
— Julie Zimmerman, School Library Journal

"The plot moves along smoothly and rapidly, and the writing is graceful and wonderfully polished... It's hard not to finish The Haunting of Sunshine Girl."
— Lev Grossman, Time Magazine

"When teen prodigy Paige McKenzie sets her mind to do something, she does it big time. 200,000 active YouTube subscribers on her site and over 100 million views, for instance. Not bad for a kid who still gets carded and can't vote. So when she decided to write a scary book, she nailed that one too. By the end of the first chapter I turned on all the lights in the house, even though it was noon. And it wasn't long before I'd retreated into that last-resort safe room buried deep beneath my brain's Fear Center, praying the lock would hold. No such luck. Before I knew McKenzie was out there she'd hacked the door and let all manner of frightening things slither in to get me. ... Things that go bump in the night are afraid to read this book. Things that lurk beneath the bed cry for their mothers by page ten. McKenzie's skill telling the story of a young girl who inadvertently moves into a haunted house with her clueless mother is a thing that slips up behind and puts a cold white hand right down your spine and just won't let go. The book is called The Haunting of Sunshine Girl. Read it if you dare, but don't say I didn't warn you."
— Wes Craven, Filmmaker

"The Haunting of Sunshine Girl starts with mysterious ghostly laughter late one night. The laughter quickly turns to horror. It seems Sunshine Griffith has moved into a house haunted by many evil spirits. Trust me - these spirits will haunt YOU, too. I was on the edge of my seat from the very first page."
— R.L. Stine, author of Goosebumps and Fear Street

"Enthralling! Shivers of anticipation creep up and terrifying, ancient revelations come thick and fast. Sunshine Girl is a winner for fans of teen horror!"
— Anya Allyn, author of The Dark Carousel series