MOTHERCARE: On Obligation, Love, Death, and Ambivalence (Hardcover)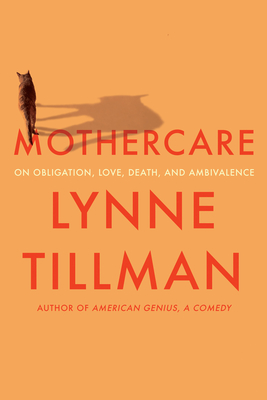 $23.00

Available from our distributor; usually Ships in 1-5 Days
Description
---
"Masterfully-wrought . . . [A] stunning story of caregiving, with its questions of obligation and ethics and what it means to care for someone who, perhaps, didn't care for you." —The Boston Globe

From the brilliantly original novelist and cultural critic Lynne Tillman comes MOTHERCARE, an honest and beautifully written account of a sudden, drastically changed relationship to one's mother, and of the time and labor spent navigating the American healthcare system.

When a mother's unusual health condition, normal pressure hydrocephalus, renders her entirely dependent on you, your sisters, caregivers, and companions, the unthinkable becomes daily life. In MOTHERCARE, Tillman describes doing what seems impossible: handling her mother as if she were a child and coping with a longtime ambivalence toward her.

In Tillman's celebrated style and as a "rich noticer of strange things" (Colm Tóibín), she describes, without flinching, the unexpected, heartbreaking, and anxious eleven years of caring for a sick parent.

MOTHERCARE is both a cautionary tale and sympathetic guidance for anyone who suddenly becomes a caregiver. This story may be helpful, informative, consoling, or upsetting, but it never fails to underscore how impossible it is to get the job done completely right.
About the Author
---
Lynne Tillman is a novelist, short story writer, and cultural critic. Her novels are Haunted Houses; Motion Sickness; Cast in Doubt; No Lease on Life, a finalist for the National Book Critics Circle Award; American Genius, A Comedy, and Men and Apparitions. Her nonfiction books include The Velvet Years: Warhol's Factory 1965–1967, with photographs by Stephen Shore; Bookstore: The Life and Times of Jeannette Watson and Books & Co.; and What Would Lynne Tillman Do?, a finalist for the National Book Critics Circle Award in Criticism. She is the recipient of a Guggenheim Foundation Fellowship and The Andy Warhol Foundation Arts Writers Grant. Tillman is Professor/Writer-in-Residence in the Department of English at The University of Albany, and lives in New York with bass player David Hofstra.
Praise For…
---
A NPR Best Book of the Year
A Slate Best Book of the Year

"Tillman has in this slim memoir of the final years of her mother's life zeroed in on an underrepresented facet of the universal contract: our queasy anxiety that the relationship might, in the end, be transactional . . . MOTHERCARE is practical, not sentimental. It flirts with being analytical. It's even useful, as Tillman runs through her and her sisters' travails dealing with doctors and home care. Though it is memoir and not a novel, only Tillman the novelist could have produced it." —Jeremy M. Davies, The New York Times Book Review

"What happens when the parent-child relationship is inverted? Tillman, a novelist and critic, cared for her mother as she neared death, and in this book she captures her shifting feelings and responsibilities in unsparing detail." —The New York Times

"MOTHERCARE represents an investigation of the question of duty, or conscience, what we owe or want to provide to the people in our lives . . . For a reader, there's something bracing about Tillman's honesty, which transforms MOTHERCARE from a record or a logbook into a work of art." —David Ulin, Los Angeles Times

"A masterfully-wrought story of ambivalence that is both heartbreaking and exasperating . . . [A] stunning story of caregiving." —Elissa Altman, The Boston Globe

"This is a well written, memorably unsentimental account of one family's medical struggles and the ill feelings they released. Tillman's goal was to tell a 'cautionary tale' that 'may be helpful, informative, consoling, or upsetting.' She was right on all counts." —Michael Magras, Star Tribune (Minneapolis)

"The prose of MOTHERCARE is in line with Tillman's criticism and novels: chatty, quick and devoid of pretentiousness. Her sentences are simple and stuffed with blunt declarations. The pace is fast—Tillman is constantly moving, letting her mind wander and join dots haphazardly. As she explores the intricacies of care, the failures of doctors, the rituals of death and the web of resentments, one wishes Tillman would slow down and zero in on a topic for longer. Yet this unrestrained quality of Tillman's work is also her greatest strength. She lets it all out, no matter how uncomfortable or miserable, in order to leave ugliness and indignity behind." —Isabella Trimboli, The Saturday Paper

"As Tillman expresses at the outset, each story of caregiving will be defined by the particulars: the medical conditions, the geography, the insurance, the budget, and the people involved, with their pasts and predispositions. Caring for her mother showed Tillman how much she herself had wanted to be cared for, how hard it is to share the burden with anyone else . . . Caring reveals, too, the threadbare nature of the support networks we have to cobble together when, predictably, inevitably, someone needs care; in this country, family obligations remain intensely personal. It is the reason, perhaps, why these common problems remains so uncommonly discussed." —Anna Altman, The New Republic

"Electrifying." —Vulture, A Best Book of the Year

"The book's great service is to disentangle love from care, or at least complicate their relationship—a radical proposition for women especially . . . As Tillman shows, caregiving is not intrinsically virtuous, a sacred act to be reified; sometimes it is simply necessity." —Kate Wolf, N+1

"Tillman captures such complexities around the human condition without sentimentality and, as always, makes vital our deepest flaws—she is as unsparing of her mother as she is herself, and is incredibly frank about loving and living with a difficult parent. Realistic and imbued with her familiar candour, I'm grateful for the strength and presence she packs on the page." —Anna Cafolla, The Face

"Lynne Tillman has a way of perceiving and writing that's both nuanced and incisive." —Anne Yoder, The Millions, A Most Anticipated Book of the Year

"Both a treatise on the 'grueling obligation' of caregiving and an ineffectual American healthcare system, as well as the frank recounting of loving and living with a difficult parent, MOTHERCARE feels particularly apt for an era in which caregivers are more burnt than out than ever (or, perhaps more accurately, an era in which we're finally paying attention." —Eliza Smith, A Literary Hub Most Anticipated Book of the Year

"Unflinching . . . It offers an unsparing account of the American health-care system and a starkly unsentimental portrait of the mechanics of looking after a person who is dying very slowly. Drawing on skills she's honed as a novelist and cultural critic, she crafts an account at once formally restrained and emotionally weighty. The result is a distinctive and, in Hardwick's terms, useful demolition of the sentimentally larded stories our culture tends to tell about families and illness. . . With economy and lacerating brio, Tillman makes you feel the family's despair and frustration, and captures the messy reality of medical care . . . MOTHERCARE is an invigorating page-turner of a book, propelled by Tillman's wit and incisiveness . . . An urgent piece of nonfiction." —Meghan O'Rourke, Bookforum

"[An] unvarnished, bracing, at times funny memoir." —Booklist

"An unsparing and heart-wrenching exploration of serious illness and its impact on everyone it touches." —Kirkus Reviews (starred review)

"Discerning . . . Tillman's frank insights on love and loss are cannily original." —Publishers Weekly

"MOTHERCARE is a close examination of the American healthcare system, the constraints of family, and the complexities of care. Tillman's writing is devastating--unsentimental, honest, full of sharp intelligence, and irrepressible wit. MOTHERCARE resonates." —Katie Kitamura, author of Intimacies