Hunger of Memory: The Education of Richard Rodriguez (Paperback)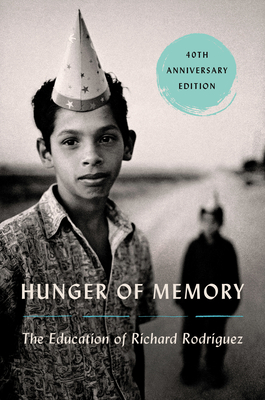 $24.95

Available from our distributor; usually Ships in 1-5 Days
Description
---
"Superb."--The New York Times
The 40th anniversary edition of an American classic: a "minority student" pays the cost of social assimilation and academic success with a painful alienation from his past, his parents, his culture. Exquisitely written, poignant and powerful, unsettling, and controversial,
Hunger of Memory
is both a profound study of the importance of language and an intimate portrait of a Mexican-American boy struggling to become a man.
Forty years ago, readers met the extraordinary writer Richard Rodriguez through the story of his own education.
Hunger of Memory
traces the journey of a young boy, the son of Mexican immigrants, who began school in California knowing just fifty words of English but concluded his university studies in the lonely grandeur of the British Museum. In between, he fought a dramatic struggle between his public and private self.
A longtime resident of San Francisco, and an ardent opponent of easy labels and limited self-conceptions, Rodriguez describes himself as a "queer Catholic Indian Spaniard at home in a temperate Chinese city in a fading blond state in a post-Protestant nation." Resisting the easy way of following received dogmatic and conventional thought, Rodriguez has encountered kneejerk hostility for his provocative positions on issues such as affirmative action and bilingual education. But the extraordinary clarity of his iconoclastic writing--the surprising twists in his thinking, the view of public policy as it limits individual lives, and the story he tells of an American education--have made this book endure for four decades and counting.
This new edition includes an introduction by Phillip Lopate and an afterword by Richard Rodriguez. Still as provocative as the year it was first published,
Hunger of Memory
is both a profound meditation on the price of education the working class must pay for its great benefit and a poetic self-portrait of a "scholarship boy." Any reader moved by the power of words, including their power to change lives, needs to discover--or re-discover--
Hunger of Memory
.