A Traveller's History of Scotland (Interlink Traveller's Histories) (Paperback)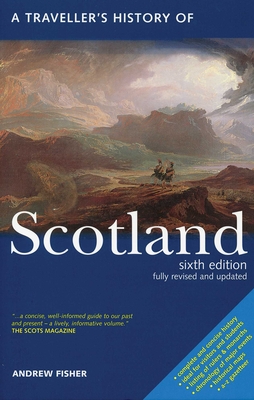 $14.95
Out of Stock - Not Available
Description
---
The broad sweep of Scotland's story, both past and present, is chronicled by one of the country's best historians. Andrew Fisher begins with Scotland's first people and their culture and ends with Devolution and the setting up of the first Scottish parliament since 1707. Before the arrival of the Vikings in 900, Scotland was a land of romantic kingdoms and saints, gradually overtaken by more pragmatic struggles for power. Centuries of bloody strife lead up to the turbulent years of Mary Queen of Scots, the Calvinistic legacy of John Knox, and the bitterness of final defeat. The dreams of the Jacobites are contrasted with the cruel reality of the end of the Stewarts and the Act of Union with England. Scotland now saw an age of industry and despoliation. The result was much emigration and obsession with the nation's past, which glorified the legends of the Highlander and the Clans. In this century, the loss of identity and drift to the south have perhaps been checked at last by a new step forward for Scotland as a result of its Devolution, the setting up of a Scottish parliament, and the symbolic return of the Stone of Destiny. This handy paperback is fully indexed with a chronology of major events and a gazetteer cross-referenced to the main text. It is illustrated with line drawings and historical maps.
About the Author
---
Andrew Fisher was born in Scotland and now works and lives there as archivist to the Duke of Buccleuch and Queensberry, KT, and as administrator of Drumlanrig Castle. He is the author of the biography of William Wallace ("the best of Sir William's many biographers"—Dr. Fiona Watson, University of Stirling) and is a regular contributor to magazines, radio, and television on Scottish history.
Praise For…
---
"A concise, well-informed guide to our past and present... A lively, informative volume."

"A Traveller's History of Scotland is clear, fascinating, and comprehensive...An ideal guide for travelers wanting to survey the ancient, noble, varied, and beautiful kingdom of North Britain...Whether as an armchair traveler or an onsite visitor, this book will significantly enhance the trip."