Hotbed: Bohemian Greenwich Village and the Secret Club that Sparked Modern Feminism (Hardcover)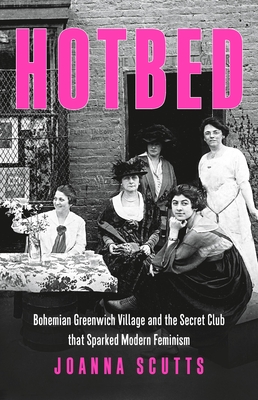 Description
---
The dazzling story of the Greenwich Village feminists who blazed the trail for the movement's most radical ideas
On a Saturday in New York City in 1912, around the wooden tables of a popular Greenwich Village restaurant, a group of women gathered, all of them convinced that they were going to change the world.
It was the first meeting of "Heterodoxy," a secret social club. Its members were passionate advocates of free love, equal marriage, and easier divorce. They were socialites and socialists; reformers and revolutionaries; artists, writers, and scientists. Their club, at the heart of America's bohemia, was a springboard for parties, performances, and radical politics. But it was the women's extraordinary friendships that made their unconventional lives possible, as they supported each other in pushing for a better world.
Hotbed is the never-before-told story of the bold women whose audacious ideas and unruly acts transformed a feminist agenda into a modern way of life.
About the Author
---
Joanna Scutts is a literary critic, historian, and author of The Extra Woman. She has written for the New York Times, Washington Post, New Yorker, and the Paris Review series "Feminize Your Canon." She holds a PhD from Columbia University. She lives in New York.
Praise For…
---
"A deeply researched and kinetic historical telling"—Washington Post

"Rigorous social history is enlivened by brio and belief throughout."—The Guardian

"Meticulously researched."—Wall Street Journal

"Scutts has created a narrative in which the subjects come alive as fully developed beings. This is an important work for understanding the history of feminism as well as contextualizing the current state of modern-day feminism and its potential future."—Bust

"In this sweeping survey the British historian Joanna Scutts sets out to recover these forgotten activists, women who were engaged in some of the most important campaigns of the twentieth century... A series of illuminating vignettes that remind us how far feminism has come over the past century, but also how much remains familiar and yet to be achieved." —Sunday Times

"[A] lively and absorbing new social history… it was only after I read Hotbed that I realized the type of feminist friendship from which I am more directly descended was that of the Heterodites." —Vivian Gornick, New York Review of Books

"An enlightening contribution to the history of feminism."—Kirkus

"Revolutions often begin in unlikely places, and Joanna Scutts, with verve and a historian's eye, captures the moment that gave birth to modern feminism...No records of the meetings were kept, to allow folks to speak their mind, which makes Scutts's achievement in piecing together Heterodoxy and its impact even more remarkable. Hotbed is its own landmark of a struggle that persists today, whether it be about abortion or sexual harassment or workplace inequities."—Air Mail

"A vibrant tale of the radical political and social activism swirling through New York City's Greenwich Village in the early 20th century.... Scutts's comprehensive account skillfully situates Heterodoxy's members at the forefront of the era's most important movements for change and renders lively portraits of suffrage parades, labor strikes, and birth control advocacy. This feminist history shines."—Publishers Weekly

"A fascinating view of feminist activism at the beginning of the 20th century."—Library Journal

"In Joanna Scutts's capable hands, the individual lives of the members of the Heterodoxy Club become a prism through which to examine the defining issues of New York City in the early 1900s, from suffrage to workers' rights, from racism to sexism. Incredibly resonant in today's times, and a profound read."—Fiona Davis, New York Times–bestselling author of The Lions of Fifth Avenue

"Scutts treats these world-changing feminists and activists as they treated each other: with clarity, candor, and warmth. Hotbed is both a formidable work of scholarship and a transporting tour de force of storytelling. The women of the secret club known as Heterodoxy would surely have recruited Scutts as one of their own."—Janice P. Nimura, author of The Doctors Blackwell

"Hotbed: Bohemian Greenwich Village and the Secret Club that Sparked Modern Feminism is a spirited, inspiring history of a little-known enclave of feminist movers and shakers in an expertly evoked early twentieth-century Greenwich Village. How I long to visit! But then, reading Scutts's book, I almost feel as if I have. Deeply researched and deftly rendered, Hotbed is a must-read for anyone seriously interested in feminism, feminist history, and the power of the city to help women change their lives."—Lauren Elkin, author of Flâneuse

"With spirit and panache, Scutts's lively Hotbed tells the little-known story of Heterodoxy, an early twentieth-century society of women that set the gears in motion for the revolution that soon followed. Catnip for anyone interested in the history of feminism, friendship, or New York City."—Ruth Franklin, author of Shirley Jackson

"In this fascinating book, Scutts introduces us to the women behind some of the early twentieth century's most radical and important movements: suffragism, prison reform, free love, organized labor, antiracism, pacifism, and, of course, feminism. Scutts is an able guide to this historical milieu, one made up of doctors and writers, psychoanalysts and journalists, organizers and hostesses, mothers and wives. Hotbed is a wonderful tribute to the 'restless audacious [and] creative spirit' that pushes a culture beyond convention and complacency and toward something new."—Maggie Doherty, author of The Equivalents