Dark Succession (previously published as The Marriage Contract) (The O'Malleys #1) (Paperback)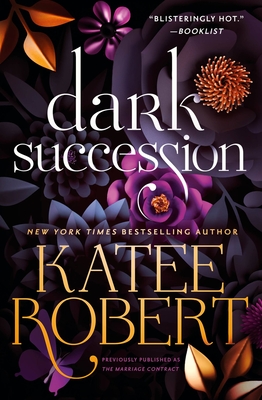 Description
---
The New York Times bestselling author of Radiant Sin delivers a smoking hot series about the O'Malley family—wealthy, powerful, dangerous and seething with scandal.

Teague O'Malley hates everything associated with his family's name. And when his father orders him to marry Callista Sheridan to create a "business" alliance, Teague's ready to cut ties once and for all. But then Teague actually meets Callista, sees the bruises on her neck and the trauma in her eyes and vows he will do everything in his power to avenge her.

Everyone knows the O'Malleys are dangerous. But Callie wasn't prepared for his brand of lethal grace and coiled power. His slightest touch scorches through her. But the closer they get, the more trouble they're in. Because Callie's keeping a dark secret—and what Teague doesn't know could get him killed.
 
About the Author
---
Katee Robert is a New York Times and USA Today bestselling author of contemporary romance and romantic suspense. Entertainment Weekly calls her writing "unspeakably hot." Her books have sold over a million copies. She lives in the Pacific Northwest with her husband, children, a cat who thinks he's a dog, and two Great Danes who think they're lap dogs.
Praise For…
---
"Dark, dirty, and dead sexy."—Tiffany Reisz, bestselling author of the Original Sinners series

"Roberts easily pulls off the modern marriage-of-convenience trope...This is a compulsively readable book! It's more than just sexy times, too, though they are plentiful and hot! It's also the gangster politics, familial responsibility and just the right amount of suspense that makes this a yummy read and an excellent start to a new series."

—Romantic Times

"Romeo and Juliet meets The Godfather... Unpredictable, emotionally gripping, sensual and action-packed, The Marriage Contract has everything you could possibly need or want in a story to grab and hold your attention."

—Nose Stuck in a Book

"Sexy, suspenseful and flat-out fun.... I seriously loved The Marriage Contract. Full of heart and love to suspense and intrigue, the story of two warring families coming together will be sure to make you fall in love with the characters as they fall in love with each other."

—Books by Mig

"Teague O'Malley - can I get a swoon?!? I adored him from the first time he was on the page, and he just got better and better."

—BJ's Book Blog

"A definite roller coaster of intrigue, drama, pain, heartache, romance and more. The steamy parts were super steamy, the dramatic parts delivered with a perfect amount of flare."

—A Love Affair with Books

"This series is a hit all around, and I'm already loving it."

—The Book Cellar