Feral Creatures (Hardcover)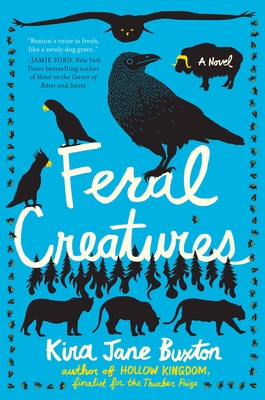 $28.00

Available from our distributor; usually Ships in 1-5 Days
Staff Reviews
---
As someone who loved Hollow Kingdom I couldn't wait to get my hands on this sequel. A great mix of apocalypse horror and adventure with really memorable characters.
— Will
September 2021 Indie Next List
---
"Feral Creatures is dark, hilarious, and apocalyptic. It has all the same heart, tenderness, bizarre humor, and hilarity as Hollow Kingdom. This is a follow-up not to be missed!"
— Michelle Malonzo, Changing Hands, Tempe, AZ
Description
---
MOST ANTICIPATED by Bustle • "Sci-Fi Thriller" recommendation from Buzzfeed • An Indie Next Pick

In this stunning follow-up to Hollow Kingdom and Seattle Times/Pacific Northwest Booksellers Association bestseller​, the animal kingdom's "favorite apocalyptic hero"is back with a renewed sense of hope for humanity, ready to take on a world ravaged by a viral pandemic (Helen Macdonald).

Once upon an apocalypse, there lived an obscenely handsome American crow named S.T. . . .
 
When the world last checked-in with its favorite Cheeto addict, the planet had been overrun by flesh-hungry beasts, and nature had started re-claiming her territory from humankind. S.T., the intrepid crow, alongside his bloodhound-bestie Dennis, had set about saving pets that had become trapped in their homes after humanity went the way of the dodo.
 
That is, dear reader, until S.T. stumbled upon something so rare—and so precious—that he vowed to do everything in his power to safeguard what could, quite literally, be humanity's last hope for survival. But in a wild world plagued by prejudiced animals, feather-raising environments, new threats so terrifying they make zombies look like baby bunnies, and a horrendous dearth of cheesy snacks, what's a crow to do?
 
Why, wing it on another big-hearted, death-defying adventure, that's what! Joined by a fabulous new cast of animal characters, S.T. faces many new challenges plus his biggest one yet: parenthood.
About the Author
---
Kira Jane Buxton's debut novel, Hollow Kingdom, was a finalist for the Thurber Prize for American Humor, the Audie Awards, and the Washington State Book Awards, and was named a best book of 2019 by NPR, Book Riot, and Good Housekeeping. She spends her time with three cats, a dog, two crows, a charm of hummingbirds, five Steller's jays, two dark-eyed juncos, two squirrels, and a husband.
Praise For…
---
"Readers who fell in love with Hollow Kingdom will not be disappointed by book two . . . S.T.'s struggles [are] both humorous and heart-wrenching in this powerful follow-up."—Buzzfeed

"Kira Jane Buxton's Hollow Kingdom introduced an unforgettable crowtagonist in S.T., a human-raised crow fond of pop-culture allusions and relentless animal puns. In Feral Creatures, S.T. carries on his hilariously narrated postapocalyptic adventures in a sequel that expands and evolves Buxton's post-human world. As in her first book, Buxton excels at managing tone, quickly shifting from outrageously silly jokes to darker meditations on humanity's destructive impact on nature . . . hilarious and heartbreaking." —Shelf Awareness, Starred Review

"Brilliant humor, clever characters, and an intriguing look at the relationship between parents and the children who don't conform to their expectations."—Kirkus

"Buxton balances the snarky humor and moving tenderness of her delightful protagonist with genuine tension. Fans of postapocalyptic dangers and witty narration will eat up this charming story."—Publishers Weekly

"More sardonic, sassier, and stronger than ever . . . If you're looking to be entertained, look no further. Start reading this series, especially if you're an animal lover, and if you like fast-paced stories filled with humorous quips and comebacks from witty animals."—Nerd Daily

"Buxton continues her genre-melding tale with sizzling wit and a deep knowledge of pop culture."—Seattle Times

"Buxton combines dad joke-level humor with powerful and lyrical writing in a way I've never seen before. My eyes will be peeled for her next release!"—Book Riot

"Digs even deeper into S.T.'s world and, let me tell you, reading about an entire planet succumbing to a deadly virus hits differently in 2021. Suddenly S.T.'s universe feels pretty familiar."—Chicago Review of Books

"Long-awaited."—Bustle

"Heartfelt, hilarious, and terrifying . . . connects us even more deeply to the natural world and its marvels with humor, horror, and complex and engaging characters. Environmentally conscious dystopian literature has never been so much fun!" —Eat Sleep Pop

"S.T., the irrepressible, cursing crow is my new favorite apocalyptic hero."—Helen Macdonald, New York Times bestselling author of H Is for Hawk, Praise for Hollow Kingdom

"Kira Jane Buxton's voice is fresh, like a newly dug grave, but so joyful and honest you'll laugh out loud, and then check to make sure you haven't lost an eyeball."—Jamie Ford, New York Times bestselling author of Hotel on the Corner of Bitter and Sweet, Praise for Hollow Kingdom

"With infinite heart and humor, Kira Jane Buxton's fine-feathered narrator guides us through richly imagined animal realms while braving the terrifying collapse of the human world."—Mona Awad, author of 13 Ways of Looking at a Fat Girl and Bunny, Praise for Hollow Kingdom

"Kira Jane Buxton has created a crow so full of personality you won't even miss the company of humans."—Zoe Zolbrod, author of The Telling and Currency and former editor at The Rumpus, Praise for Hollow Kingdom

"Buxton's quirky ideas and compelling nonhuman characters will satisfy literary fiction and zombie genre enthusiasts alike who are looking for something beguilingly different."—Booklist, Starred Review for Hollow Kingdom