Parable of the Talents (Paperback)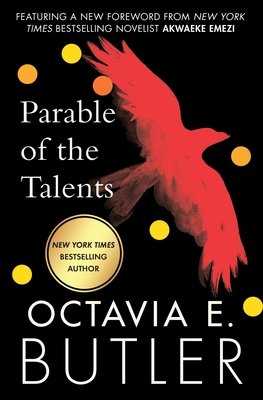 Other Books in Series
This is book number 2 in the Parable series.
Description
---
Originally published in 1998, this shockingly prescient novel's timely message of hope and resistance in the face of fanaticism is more relevant than ever.

In 2032, Lauren Olamina has survived the destruction of her home and family, and realized her vision of a peaceful community in northern California based on her newly founded faith, Earthseed. The fledgling community provides refuge for outcasts facing persecution after the election of an ultra-conservative president who vows to "make America great again." In an increasingly divided and dangerous nation, Lauren's subversive colony--a minority religious faction led by a young black woman--becomes a target for President Jarret's reign of terror and oppression.

Years later, Asha Vere reads the journals of a mother she never knew, Lauren Olamina. As she searches for answers about her own past, she also struggles to reconcile with the legacy of a mother caught between her duty to her chosen family and her calling to lead humankind into a better future.



About the Author
---
OCTAVIA E. BUTLERwas a renowned writer who received a MacArthur "Genius" Grant and PEN West Lifetime Achievement Award for her body of work. She was the author of several award-winning novels including Parable of the Sower, which was a New York Times Notable Book of the Year, and was acclaimed for her lean prose, strong protagonists, and social observations in stories that range from the distant past to the far future. Sales of her books have increased enormously since her death as the issues she addressed in her Afrofuturistic, feminist novels and short fiction have only become more relevant. She passed away on February 24, 2006.
Praise For…
---
"A brilliant, endlessly rich dystopian novel that pairs well with 1984 or The Handmaid's Tale, and it's also a fascinating exploration of how crises can fuel new religious and ideological movements."—John Green, #1 New York Times bestselling author of Turtles All the Way Down (praise for Parable of the Sower)

"In the ongoing contest over which dystopian
classic is most applicable to our time, Octavia Butler's 'Parable' books may be
unmatched."—New Yorker

"One of the finest voices in fiction-period . . . A master storyteller,
Butler casts an unflinching eye on racism, sexism, poverty, and ignorance and
lets the reader see the terror and beauty of human nature."—Washington Post Book World

"If we're talking must-read authors like Maya Angelou, James Baldwin, and Toni Morrison, the one-and-only Octavia Butler needs be a part of the conversation. The groundbreaking sci-fi and speculative fiction author was a master of spinning imaginative tales that introduced you to both the possibilities -- and dangers -- of the human race, all while offering lessons on tribalism, race, gender, and sexuality."—O, The Oprah Magazine

"The story of three generations of Olamina women . . . Most touching in
the novel are the friction between
generations, the kinds of faith each generation indulges in, and the new
families that form when traditional ones are splintered."—Los Angeles Times

"Continues and deepens the story [Butler] began five years ago in Parable of the Sower. . . Butler's narrative skills are impressive."—New York Times Book Review

"Enthralling...compelling and truly original."—Denver Post

"Impassioned . . . stands out as a testament to the author's enormous
talent."—Publishers Weekly (starred review)

"Brilliant . . . powerful, moving, and beautifully written."—Library Journal (starred review)

"Splendid . . . provocative . . . a parable that deserves to be
pondered."—The Plain Dealer

"[Butler] wrote powerfully, imaginatively, and creatively. The worlds
she built were beautiful, harsh, and grim. Her protagonists were stoic and
inspiring. Despite tackling multiple issues-politics, environment, segregation,
religion, social injustices-her prose was concise. Her stories were powerful
and believable."—SFF World

"The Earthseed books are instructional in a way that other apocalypse fictions are not . . . they offer something beyond practical preparations: a blueprint for adjusting to uncertainty."—Slate