Verity (Paperback)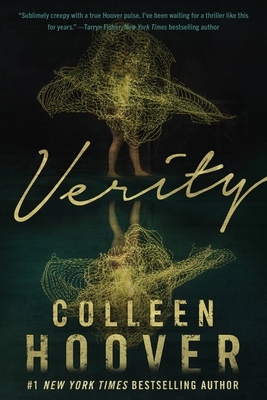 Description
---
Whose truth is the lie? Stay up all night reading the sensational psychological thriller that has readers obsessed, from the #1 New York Times bestselling author of Too Late and It Ends With Us.

#1 New York Times Bestseller · USA Today Bestseller · Globe and Mail Bestseller · Publishers Weekly Bestseller

Lowen Ashleigh is a struggling writer on the brink of financial ruin when she accepts the job offer of a lifetime. Jeremy Crawford, husband of bestselling author Verity Crawford, has hired Lowen to complete the remaining books in a successful series his injured wife is unable to finish.
 
Lowen arrives at the Crawford home, ready to sort through years of Verity's notes and outlines, hoping to find enough material to get her started. What Lowen doesn't expect to uncover in the chaotic office is an unfinished autobiography Verity never intended for anyone to read. Page after page of bone-chilling admissions, including Verity's recollection of the night her family was forever altered.
 
Lowen decides to keep the manuscript hidden from Jeremy, knowing its contents could devastate the already grieving father. But as Lowen's feelings for Jeremy begin to intensify, she recognizes all the ways she could benefit if he were to read his wife's words. After all, no matter how devoted Jeremy is to his injured wife, a truth this horrifying would make it impossible for him to continue loving her.
About the Author
---
Colleen Hoover is the #1 New York Times bestselling author of the Hopeless series, the Maybe Someday series, Ugly Love, Confess, It Ends with Us, All Your Perfects, and many more. She lives in Texas with her husband and their three boys. Please visit www.ColleenHoover.com.
Praise For…
---
"Sublimely creepy with a true Hoover pulse. I've been waiting for a thriller like this for years."—Tarryn Fisher, New York Times bestselling author

"Riveting and unexpected. Impossible to put down."—Claire Contreras, New York Times bestselling author

"This isn't a book, it's a visceral experience."—B.B. Easton, bestselling author

"Verity delivers the grand slam of thriller twists—the holy grail of'what the…?!' moments . . . It lit up my brain."—Washington Post

"If you came here to find a mystery romance book that'll have you on the edge of your seat (and keep you up at night), add Verity by Colleen Hoover to your cart."—Cosmopolitan

"Unravels a picture-perfect couple's courtship and marriage in truly twisted—and jaw-dropping—fashion."—Elle magazine

"If you've yet to experience the delight that is reading one of Hoover's novels, we suggest starting with this . . . Prepare for your pulse to race and palms to sweat."—E! News

"The energy and pace in this book are like a fun house at a carnival. It's ever-changing, and just when you think you know what to expect next, Hoover hits you with another turn. Up until the very final page, readers are mining for clues. Just when you thought you figured out the who, what, when, where, and why, it completely changes, leaving you gobsmacked."—BuzzFeed

"The perfect choice if you're after a gripping read but be warned, its twists and turns may very well keep you up at night."—Refinery29

"Colleen Hoover's romances and contemporary fiction novels . . . grip readers with emotionally charged storylines, unique plotlines, and twists that leave us reeling." —Business Insider

"Talk about a word-of-mouth of page-turner we're still not over . . . Cue the seductive mystery that has one of our all-time fave twists. Run, don't walk."—The Skimm

"An explosive, sexy thriller full of chilling admissions, incredible twists and turns, and some seriously creepy plotlines. I can honestly say that I've never read another thriller quite like it."—BookReporter.com

"Seamlessly blends romance and horror."—New York Post

"Full of suspense with steamy scenes and creepy undertones."—Plymouth Magazine

"Hoover always tells her stories so beautifully . . . [An] ideal holiday gift."—Houstonia magazine

"Emotionally charged, sinister, evocative, fascinating and very addictive. We read Verity with a knot in our stomachs from the first to last page! What a brilliant read!"—TotallyBooked Blog

"Wow I'm speechless, I don't know where to start with this one. Verity was a captivating, fast paced, twisted, and addictive story."—Read More Sleep Less Blog

"If you've read any of our recent book round-ups here on The Everygirl, you know how much our editors love this book. It created quite the chain reaction, and now, those who have not yet read it are in the minority. Obviously, this means it is a great book, but the real reason we can't stop talking about it is because of the story—it is truly the most shocking book I have ever read. It also started a huge internet book debate about what really happened, so you'll be wrapped up in this world even after you finish reading."—The EveryGirl

"I recommend this book to everyone I come across!"—Her Campus

"Solidified my love for romantic suspense."—She Reads

"There are genuinely spooky moments that had me squirming, and all sorts of twists and turns."—Business Insider

"If you're a book lover drawn to dark thrillers, start with the stand-alone page-turner Verity."—Reader's Digest

"You'll stay up all night reading this . . . Hoover expertly combines thriller with romance to test the boundaries of who is telling the truth, and who is lying."—Woman's Day

"What makes Verity so good is that it is both a steamy romance novel as well as a deeply twisted and disturbing psychological thriller, flawlessly wrapped into one story . . .  steamy, disturbing, and surprising."—The Mary Sue

"Twisted . . . a thrilling deviation from her typical romance books." —HelloGiggles