Red Sauce: How Italian Food Became American (Hardcover)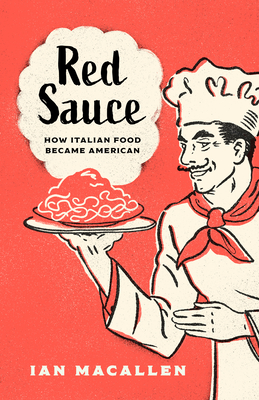 $32.00

Available from our distributor; usually Ships in 1-5 Days
Description
---
Tells the story of Italian food arriving in the United States and how your favorite red sauce recipes evolved into American staples.
In Red Sauce, Ian MacAllentraces the evolution of traditional Italian-American cuisine, often referred to as "red sauce Italian," from its origins in Italy to its transformation in America into a new, distinct cuisine. It is a fascinating social and culinary history exploring the integration of red sauce food into mainstream America alongside the blending of Italian immigrant otherness into a national American identity. The story follows the small parlor restaurants immigrants launched from their homes to large, popular destinations, and eventually to commodified fast food and casual dining restaurants. Some dishes like fettuccine Alfredo and spaghetti alla Caruso owe their success to celebrities, and Italian-American cuisine generally has benefited from a rich history in popular culture.
Drawing on inspiration from Southern Italian cuisine, early Italian immigrants to America developed new recipes and modified old ones. Ethnic Italians invented dishes like lobster fra Diavolo, spaghetti and meatballs, and veal parmigiana, and popularized foods like pizza and baked lasagna that had once been seen as overly foreign. Eventually, the classic red-checkered-table-cloth Italian restaurant would be replaced by a new idea of what it means for food to be Italian, even as 'red sauce' became entrenched in American culture. This booklooks at how and why these foods became part of the national American diet, and focuses on the stories, myths, and facts behind classic (and some not so classic) dishes within Italian-American cuisine.
About the Author
---
Ian MacAllen is a writer and book critic. He has written reviews and interviews for Chicago Review of Books, Southern Review of Books, The Rumpus, Trampset, Electric Literature, and Fiction Advocate, with other nonfiction in The Billfold, Thought Catalog, and io9. His short fiction has appeared in The Offing, 45th Parallel Magazine, Little Fiction, Vol 1. Brooklyn, Joyland Magazine, and elsewhere. His maternal grandfather was born in Bagnoli del Trigno in Molise, Italy and his maternal grandmother's family was from Naples and Sicily. He is descended from a line of Sicilian Strega. He lives in Brooklyn with his wife and son.