Different for Boys (Hardcover)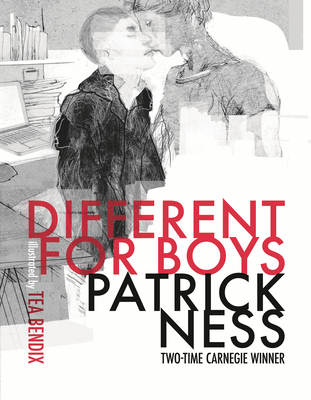 Description
---
Friendship, masculinity, sex—Anthony Stevenson has a lot of questions. Is it different for boys who like boys? A poignant and frank story filled with meta-humor by renowned author Patrick Ness.

Anthony "Ant" Stevenson isn't sure when he stopped being a virgin. Or even if he has. The rules aren't always very clear when it comes to boys who like boys. In fact, relationships of all kinds feel complicated, even with Ant's oldest friends. There's Charlie, who's both virulently homophobic and in a secret physical relationship with Ant. Then there's drama kid Jack, who may be gay and has become the target of Charlie's rage. And, of course, there's big, beautiful Freddie, who wants Ant to ditch soccer, Charlie's sport, and try out for the rugby team instead. Ant's story of loneliness and intimacy, of unexpected support and heart-ripping betrayal, is told forthrightly with tongue-in-cheek black-bar redactions over the language that teenagers would actually use if, you know, they weren't in a story. Award-winning author Patrick Ness explores teen sexuality, friendship, and romance with a deft hand in this structurally daring, illustrated short novel.
About the Author
---
Patrick Ness is the author of the critically acclaimed and best-selling Chaos Walking trilogy, which inspired a major motion picture. His other novels include the Carnegie Medal winner A Monster Calls (inspired by an idea from Siobhan Dowd), More Than This, Release, The Rest of Us Just Live Here, and Burn. He has won numerous awards, including two Carnegie Medals, the Guardian Children's Fiction Prize, the Book Trust Teenage Prize, and the Costa Children's Book Award. He also wrote the screenplay for the film version of A Monster Calls as well as the BBC's Doctor Who spinoff Class. Patrick Ness lives in Los Angeles.

Tea Bendix is an award-winning illustrator, graphic designer, author, and performer. She works across different media, including picture books, nonfiction, apps, children's radio, and drawings for TV. Tea Bendix lives in Denmark.
Praise For…
---
Rough pencil sketches add to the heightened emotion, reflecting the jagged, difficult emotional realities… The brevity of this story adds to its power, distilling the plot to its most necessary, brutal, loving elements. [Blanking] masterful.
—Kirkus Reviews (starred review)

Ness delivers an authentic-feeling story that interrogates the idea that teens are "too young to read about the stuff we actually do." Black-and-white pencil illustrations by Bendix provide an expressive complement to concise, sensitive, and thought-provoking text in this un-put-downable, easily devoured read.
—Publishers Weekly (starred review)

This spare, affecting novella takes place over the first week of eleventh grade, zeroing in on the dynamics between Ant, Charlie, Jack, and Josh. . . Ant's first-person narration moves between the present day, his history with Charlie and Jack, and his reflections on love, sex, and friendship with appealing raw-edged frankness and humor, complemented by Tea Bendix's sketch and collage artwork. . . . Ness takes on the often underexplored social dynamics among teenage boys with nuance and subtlety that will leave readers thinking long after they turn the final page.
—The Bulletin of the Center for Children's Books (starred review)

Ness superbly blends Ant's philosophical musings with realistically voiced teen thoughts and dialogue, where expletives and sexual content are curtained by heavy black rectangles yet blatantly present. The near-melancholy tone is beautifully matched by Bendix's inspired artwork. . . Within this beautifully crafted package lies a poignant story of a boy reaching out in loneliness to another boy and grasping unvarnished truth.
—Booklist (starred review)

Ness's postmodern short story (a version of which was previously published in an anthology), intermittently illustrated with Bendix's striking pencil drawings and digital collage, candidly depicts the relationships among several teenage boys in eastern Washington. . . . The lean narrative moves briskly with a focus on dialogue, dry humor, and Ant's wonderings.
—The Horn Book

This spare story by Carnegie Medal-winner Patrick Ness says a great deal within a limited number of pages. . . . The best quality of this narrative is its brutal honesty. . . Young adults will recognize the feeling of being alone as they process their own inner monologues.
—School Library Connection

Debut illustrator Tea Bendix's striking unpolished pencil and digital collage art depicts the characters and setting both realistically and through visual metaphor. . . . Grayscale hallways and classrooms, faces in profile layered one on top of the other, figures with half their body erased all echo the brutal honesty and the imperfect realities laid bare in the text. Ness's forceful storytelling fused with Bendix's rich sketches result in an achingly beautiful reflection of the multiple, messy realities and experiences of young queerness. . . . compelling.
—Shelf Awareness

This book? A scant 104 pages of spare text, much of which is literally redacted with a black box over it, and tons of large, sketched illustrations? It's daring. As usual with Ness, I laughed at so many of the quips and the tone (at times), but also was gutted by what the characters go through. I felt for all of them. Ness tells a tale of toxic masculinity, homophobia, sexuality, and loneliness. And he does it by redacting all of the 'bad' stuff. . . Damn, Patrick Ness. Damn. Or maybe I mean [Redacted], Patrick Ness. [Redacted.] Tell it like it is!
—Teen Librarian Toolbox