DPS Only! (Paperback)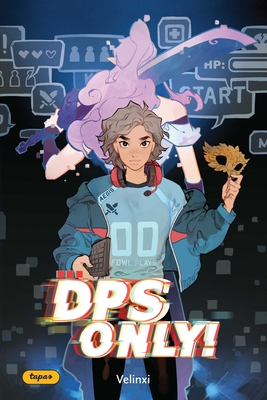 $18.99

Available from our distributor; usually Ships in 1-5 Days
Description
---
This captivating coming-of-age story set in the world of e-sports will have readers cheering for girl gamer Vicky Tan as she overcomes social anxiety, self-doubt, and an overprotective big brother to pursue her dream of becoming a competitive gamer. From the Tapas webcomic, a 2021 Eisner Award nominee.

High school student Vicky lives a secret life. To most, she is a meek pushover, often in the shadow of her e-sports superstar of a brother, Virgil. Unknown to anyone, however, she dons a secret identity when she logs on to play Xenith Orion, the multiplayer game dominating the e-sports scene. She knows firsthand the harassment female gamers often experience, but when an opportunity arises in a local tournament, Vicky—mask in hand—cannot resist the challenge. Sneaking around and hiding only works for so long, and once the truth comes out, what will it mean for Vicky and those who trusted her?
About the Author
---
Xiao Tong Kong (@Velinxi) is a webcomic artist and illustrator living in New York City.
Praise For…
---
Publishers Weekly STARRED REVIEW

Velnixi's bold lines, striking shadows, dynamic paneling, and vibrant, textured palettes stunningly illustrate Vicky's cloud-nine highs and subterranean lows. This powerfully emotional graphic novel, set against a bombastic technicolor e-sports backdrop, tenderly navigates tumultuous, nuanced relationships and necessary conversations regarding toxic bro culture and being one's authentic self. Vicky and Virgil cue as East Asian. Ages 13–17. (Oct.) (Publishers Weekly, Publishers Weekly)

A talented gamer hides her identity and competes in an e-sports tournament.

Sixteen-year-old Vicky Tan lives in the shadow of her older brother, Virgil, an e-sports champion and her legal guardian. Virgil always speaks for her, believes she hates video games, and chooses food she doesn't like, making it hard to communicate with him. Little does he know, Vicky has a secret: She not only loves playing Xenith Orion, the game he also plays, she's extremely talented and dreams of one day playing on stage and winning a tournament. Between her brother's unpredictability and the harassment and scrutiny women face in the male-dominated field, Vicky prefers playing as Aegis, her powerful alter ego. When the game developers announce an open tournament, Vicky and some new friends have the chance to realize their dreams. This is an emotion-filled story of family, friendship, growth, and identity based on a popular webcomic. Even readers unfamiliar with gaming will be able to enjoy it, as it includes enough explanation and background information. As the story develops, the misogynistic tendencies of the e-sports world are exposed, bringing awareness to the issue. Virgil and Vicky's sibling relationship also portrays the fine line between being protective and overbearingly toxic. Vicky and Virgil are cued Chinese American; there is a diverse cast of secondary characters.

A captivating read for teens, especially those who enjoy e-sports. (Graphic fiction. 13-18)
(Kirkus Reviews, Kirkus Reviews)