Bolla: A Novel (Hardcover)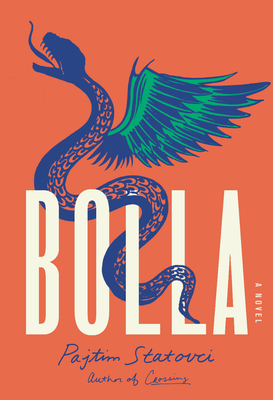 $26.00
Out of Stock - Not Available
Description
---
From the author of National Book Award finalist Crossing comes an unlikely love story in Kosovo with unpredictable consequences that reverberates throughout a young man's life—a dazzling tale full of fury, tenderness, longing, and lust.

"Devastating in the most beautiful ways. From the first pages you realize that you are in the hands of an absolute artist." —Torrey Peters, author of Detransition, Baby

April 1995. Arsim is a twenty-four-year-old, recently married student at the University of Pristina, in Kosovo, keeping his head down to gain a university degree in a time and place deeply hostile to Albanians. In a café he meets a young man named Miloš, a Serb. Before the day is out, everything has changed for both of them, and within a week two milestones erupt in Arsim's married life: his wife announces her first pregnancy and he begins a life in secret.
 
After these fevered beginnings, Arsim and Miloš's unlikely affair is derailed by the outbreak of war, which sends Arsim's fledgling family abroad and timid Miloš spiraling down a dark path, as depicted through chaotic journal entries. Years later, deported back to Pristina after a spell in prison and now alone and hopeless, Arsim finds himself in a broken reality that makes him completely question his past. What happened to him, to them, exactly? How much can you endure, and forgive?
 
Entwined with their story is a re-created legend of a demonic serpent, Bolla; it's an unearthly tale that gives Arsim and Miloš a language through which to reflect on what they once had. With luminous prose and a delicate eye, Pajtim Statovci delivers a relentless novel of desire, destruction, intimacy, and the different fronts of war.
About the Author
---
PAJTIM STATOVCI was born in Kosovo to Albanian parents in 1990. His family fled the Yugoslav wars and moved to Finland when he was two years old. He holds an MA in comparative literature and is a PhD candidate at the University of Helsinki. His first book, My Cat Yugoslavia, won the Helsingin Sanomat Literature Prize for best debut novel; his second novel, Crossing, was a finalist for the National Book Award; and Bolla was awarded Finland's highest literary honor, the Finlandia Prize. In 2018, he received the Helsinki Writer of the Year Award.
Praise For…
---
*Shortlisted for the James Tait Black Prize*
A Finalist for the Kirkus Prize in Fiction
Longlisted for the Dublin Literary Award
One of Kirkus's Best Fiction Books of the Year
A Library Journal Best Book of the Year
One of Los Angeles Times' Critic Bethanne Patrick's Best Books of the Year

"Superb . . . Bolla is a splendid achievement and Statovci a major talent."
—Steve Heighton, The New York Times Book Review

"Devastating . . . Statovci considers the horrors of the Balkan conflicts as he recounts the lovers' diverging paths in a story of loss and thwarted opportunities."
—The New York Times Book Review

"Devastating in the most beautiful ways. From the first pages you realize that you are in the hands of an absolute artist."
—Torrey Peters, author of Detransition, Baby

"Pajtim Statovci's Bolla abounds with harrowing situations, from its narrator's struggles with a homophobic and repressive society to the longstanding effects of conflict in the Balkans at the end of the twentieth century. The incorporation of mythic elements contrasts with the specificity of the main plotline, but neither aspect of this novel winds up where you expect it to."
—Tobias Carroll, Words Without Borders

"The only thing more impressive than the historical and emotional range of these works is the way they center their storytelling in elegantly and movingly rendered characters."
—Benjamin Bateman, Fiction Judge

"Bolla is a haunting, lyrical meditation on loss that manages, through the alchemy of Statovci's impeccable writing, to be a surprisingly hopeful book. There is also in these pages a deeply humane lens which asks the reader to understand and identify with the mistakes we often make as flawed humans. I loved this book for its deep, burning wisdom, and will return to it again and again."
—Garrard Conley, author of Boy Erased

"Astounding writing distinguishes this portrait of love, loss, and war . . . [Bolla is] an eloquent story of desire and displacement, a melancholy symphony in a heartbreaking minor key. Statovci is a master."
—Publishers Weekly, starred

"Engrossing . . . Statovci lets little sunlight into the narrative, the better to emphasize just how powerful homophobia and self-loathing can be . . . An unflinching consideration of the long aftereffects of an affair cut short."
—Kirkus Reviews, starred