God, Right Here: Meeting God in the Changing Seasons (Hardcover)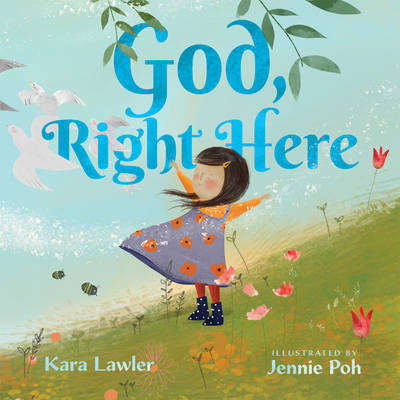 $18.00

Available from our distributor; usually Ships in 1-5 Days
Description
---
GOLD MOM'S CHOICE AWARD


God, right here.
God, right there.
God's handiwork is everywhere.
Yellow daffodils, flying seagulls, bright orange pumpkins, and swirling snowflakes--God's handiwork can be found all throughout nature, and every season is full of beauty and wonder. Everywhere we look, no matter the time of year, the wonders of creation remind us that God is always with us, always right here.
Written by Kara Lawler and beautifully illustrated by Jennie Poh, this celebration of God's creation and the changing seasons can be enjoyed by children and the adults who read with them. Also included is a note from the author to encourage further conversation about the content.
Discover IVP Kids and share with children the things that matter to God
About the Author
---
Kara Lawler is the author of Everywhere Holy: Seeing Beauty, Remembering Your Identity, and Finding God Right Where You Are and A Letter for Every Mother, but she has wanted to publish a children's book since she was a little girl! As a contributor to several magazines and websites, some of her essays have been read and shared millions of times. Kara loves the outdoors, and she especially enjoys the Allegheny Mountains of Pennsylvania where she lives with her husband, her two children, and their many dogs. Jennie Poh fell in love with the countryside at a very young age, developing a deep connection to nature and conservation. As an illustrator, she still loves to connect with nature--namely through making her own paintbrushes and textures with leaves, bark, flowers, and anything else she may find while walking outside. She also enjoys using watercolor and inks, which make wonderful splatters and splodges on the page. Jennie lives with her two daughters and a mischievous marmalade cat.