The Island of Sea Women: A Novel (CD-Audio)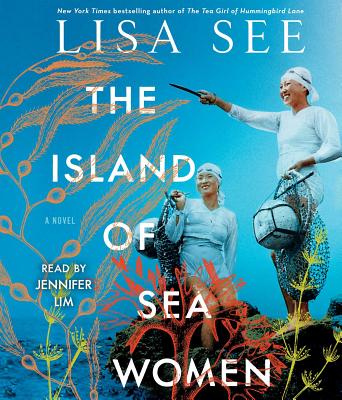 $39.99
Out of Stock - Not Available
March 2019 Indie Next List
---
"Off the southern coast of the Korean Peninsula, Jeju Island is home to generations of haenyo—women who take their living from both land and sea and call the shots in their matriarchal society. Young-sook and Mi-ja are best friends in the 1930s, learning to dive with their all-female collective while their island suffers under Japanese colonialism. Lisa See follows them as they grow up under Japanese rule, into WWII, to the Korean War and its devastating aftermath, and into the 21st century. The Island of Sea Women is not only a story of friendship found, lost, and found again, but also a richly detailed picture of a unique culture of women in a world spinning out of control. Amazing detail and presence."
— Janet Rhodes, BookPeople of Moscow, Moscow, ID
Description
---
THE NEW YORK TIMES BESTSELLER

"A mesmerizing new historical novel" (O, The Oprah Magazine) from Lisa See, the bestselling author of The Tea Girl of Hummingbird Lane, about female friendship and devastating family secrets on a small Korean island.

Mi-ja and Young-sook, two girls living on the Korean island of Jeju, are best friends who come from very different backgrounds. When they are old enough, they begin working in the sea with their village's all-female diving collective, led by Young-sook's mother. As the girls take up their positions as baby divers, they know they are beginning a life of excitement and responsibility—but also danger.

Despite their love for each other, Mi-ja and Young-sook find it impossible to ignore their differences. The Island of Sea Women takes place over many decades, beginning during a period of Japanese colonialism in the 1930s and 1940s, followed by World War II, the Korean War, through the era of cell phones and wet suits for the women divers. Throughout this time, the residents of Jeju find themselves caught between warring empires. Mi-ja is the daughter of a Japanese collaborator. Young-sook was born into a long line of haenyeo and will inherit her mother's position leading the divers in their village. Little do the two friends know that forces outside their control will push their friendship to the breaking point.

"This vivid…thoughtful and empathetic" novel (The New York Times Book Review) illuminates a world turned upside down, one where the women are in charge and the men take care of the children. "A wonderful ode to a truly singular group of women" (Publishers Weekly), The Island of Sea Women is a "beautiful story…about the endurance of friendship when it's pushed to its limits, and you…will love it" (Cosmopolitan).
About the Author
---
Lisa See is the New York Times bestselling author of The Island of Sea Women, The Tea Girl of Hummingbird Lane, Snow Flower and the Secret Fan, Peony in Love, Shanghai Girls, China Dolls, and Dreams of Joy, which debuted at #1. She is also the author of On Gold Mountain, which tells the story of her Chinese American family's settlement in Los Angeles. See was the recipient of the Golden Spike Award from the Chinese Historical Association of Southern California and the Historymaker's Award from the Chinese American Museum. She was also named National Woman of the Year by the Organization of Chinese American Women.
Praise For…
---
"This multigenerational tale of women living on an island off the coast of Korea details a world in which women have power and authority and work hard as deep-sea divers. Two women and their friendship are at the heart of a tale in which war and disruption, including American occupation, destroy some lives and alter others. Jennifer Lim . . . is an appropriate narrator who understands the correct pronunciation of local names and locales. The novel is a beautifully written, sublime piece of fiction."
— The Christian Science Monitor