Women Food and God: An Unexpected Path to Almost Everything (CD-Audio)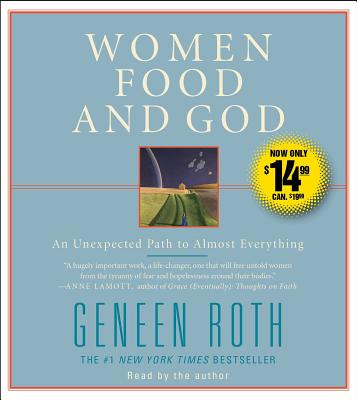 $14.99
Out of Stock - Not Available
Description
---
Embraced by Oprah, the #1 New York Times bestselling guide that explains the connection between eating and emotion from Geneen Roth—noted authority on mindful eating.

No matter how sophisticated or wealthy or broke or enlightened you are, how you eat tells all.

After three decades of studying, teaching, and writing about our compulsions with food, bestselling author Geneen Roth adds a powerful new dimension to her work in Women Food and God. She begins with her most basic concept: the way you eat is inseparable from your core beliefs about being alive. Your relationship with food is an exact mirror of your feelings about love, fear, anger, meaning, transformation and, yes, even God.

A timeless and seminal work, Women Food and God shows how going beyond the food and the feelings takes you deeper into realms of spirit and soul—to the bright center of your own life.
About the Author
---
Geneen Roth is the author of ten books, including the New York Times bestsellers When Food Is Love, Lost and Found, and Women Food and God, as well as The Craggy Hole in My Heart and the Cat Who Fixed It. She has been speaking, teaching groundbreaking workshops, and offering retreats for over thirty years and has appeared on numerous national shows, including The Oprah Winfrey Show, 20/20, the Today show, Good Morning America, and The View. For more information about her work, please visit GeneenRoth.com



Geneen Roth is the author of ten books, including the New York Times bestsellers When Food Is Love, Lost and Found, and Women Food and God, as well as The Craggy Hole in My Heart and the Cat Who Fixed It. She has been speaking, teaching groundbreaking workshops, and offering retreats for over thirty years and has appeared on numerous national shows, including The Oprah Winfrey Show, 20/20, the Today show, Good Morning America, and The View. For more information about her work, please visit GeneenRoth.com