Eleanor in the Village: Eleanor Roosevelt's Search for Freedom and Identity in New York's Greenwich Village (Paperback)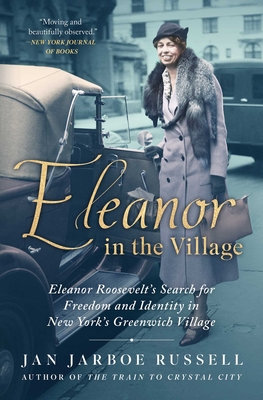 $17.99

Available from our distributor; usually Ships in 1-5 Days
Description
---
A "riveting and enlightening account" (Bookreporter) of a mostly unknown chapter in the life of Eleanor Roosevelt—when she moved to New York's Greenwich Village, shed her high-born conformity, and became the progressive leader who pushed for change as America's First Lady.

Hundreds of books have been written about FDR and Eleanor, both together and separately, but yet she remains a compelling and elusive figure. And, not much is known about why in 1920, Eleanor suddenly abandoned her duties as a mother of five and moved to Greenwich Village, then the symbol of all forms of transgressive freedom—communism, homosexuality, interracial relationships, and subversive political activity. Now, in this "immersive…original look at an iconic figure of American politics" (Publishers Weekly), Jan Russell pulls back the curtain on Eleanor's life to reveal the motivations and desires that drew her to the Village and how her time there changed her political outlook.

A captivating blend of personal history detailing Eleanor's struggle with issues of marriage, motherhood, financial independence, and femininity, and a vibrant portrait of one of the most famous neighborhoods in the world, this unique work examines the ways that the sensibility, mood, and various inhabitants of the neighborhood influenced the First Lady's perception of herself and shaped her political views over four decades, up to her death in 1962.

When Eleanor moved there, the Village was a zone of Bohemians, misfits, and artists, but there was also freedom there, a miniature society where personal idiosyncrasy could flourish. Eleanor joined the cohort of what then was called "The New Women" in Greenwich Village. Unlike the flappers in the 1920s, the New Women had a much more serious agenda, organizing for social change—unions for workers, equal pay, protection for child workers—and they insisted on their own sexual freedom. These women often disagreed about politics—some, like Eleanor, were Democrats, others Republicans, Socialists, and Communists. Even after moving into the White House, Eleanor retained connections to the Village, ultimately purchasing an apartment in Washington Square where she lived during World War II and in the aftermath of Roosevelt's death in 1945.

Including the major historical moments that served as a backdrop for Eleanor's time in the Village, this remarkable work offers new insights into Eleanor's transformation—emotionally, politically, and sexually—and provides us with the missing chapter in an extraordinary life.
About the Author
---
Jan Jarboe Russell is the author of the New York Times bestseller The Train to Crystal City: FDR's Secret Prisoner Exchange Program and America's Only Family Internment Camp During World War II, winner of the Texas Institute of Letters Prize for Best Book of Nonfiction. She is a Neiman Fellow, a contributing editor for Texas Monthly, and has written for the San Antonio Express-News, The New York Times, Slate, and other magazines. She also compiled and edited They Lived to Tell the Tale. She lives in San Antonio, Texas, with her husband, Dr. Lewis F. Russell, Jr.
Praise For…
---
"Eleanor in the Village puts the focus on Eleanor as an individual separate from her roles as wife, mother and first lady. . . . [Russell] explores how life in the Village—with its radicals, artists, early feminists and lesbians—made an impact on Roosevelt's personal and political convictions, and by extension on her husband's liberalism. . . . a worthy addition to the library on her life." —Washington Post

"Engrossing. . . . a stimulating read." —Women's Review of Books

"The story of [Roosevelt's] liberation. . . . a complete portrait of a pioneering feminist and pivotal political figure." —New York Daily News

"Moving and beautifully observed." —New York Journal of Books

"A sympathetic portrait of Roosevelt, highlighting her long connection to Greenwich Village society and politics. . . . An admiring profile of an estimable woman." —Kirkus Reviews

"Immersive. . . . an original look at an iconic figure of American politics." —Publishers Weekly

"A riveting and enlightening account of Eleanor Roosevelt's fascinating life. . . . A terrible irony jumps off the pages of Russell's work here: We are still waging the same wars for equality and justice that Eleanor Roosevelt waged starting a century ago." —Bookreporter.com