Why Fish Don't Exist: A Story of Loss, Love, and the Hidden Order of Life (Hardcover)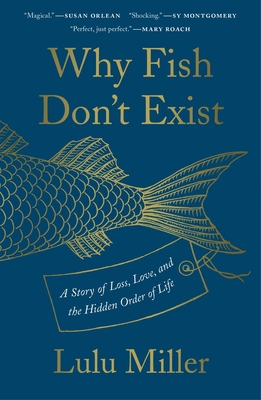 $26.00
Out of Stock - Not Available
Staff Reviews
---
"I fell in love with this poetic, honest, and deeply personal book from the beginning for its immediate resonant confession: knowing that life is meaningless and we can joyously create our own meaning doesn't always impart real joy. Miller, desperate for meaning, places her hopes in the star-naming, flower-collecting hands of the wildly resilient taxonomist David Starr Jordan. At first, Miller writes rosily, even seeming to brush past some unsettling details, but the story twists in incredible ways. Jordan's chaotic biography takes Miller down a branching rabbit hole of taxonomy, philosophy, psychology, and finally, to her great heartbreak, eugenics. Writing transparently about the pain of losing an idol and everything he'd held for her, Miller bravely and vulnerably follows the story along the new path her pain opened up. That second story is a raw and beautiful gift, and I hope you read it. This is my favorite book I've read all year."
— From
Aly
Description
---
A Best Book of 2020: The Washington Post * NPR * Chicago Tribune * Smithsonian

A "remarkable" (Los Angeles Times), "seductive" (The Wall Street Journal) debut from the new cohost of Radiolab, Why Fish Don't Exist is a dark and astonishing tale of love, chaos, scientific obsession, and—possibly—even murder.​

"At one point, Miller dives into the ocean into a school of fish…comes up for air, and realizes she's in love. That's how I felt: Her book took me to strange depths I never imagined, and I was smitten." —The New York Times Book Review

David Starr Jordan was a taxonomist, a man possessed with bringing order to the natural world. In time, he would be credited with discovering nearly a fifth of the fish known to humans in his day. But the more of the hidden blueprint of life he uncovered, the harder the universe seemed to try to thwart him. His specimen collections were demolished by lightning, by fire, and eventually by the 1906 San Francisco earthquake—which sent more than a thousand discoveries, housed in fragile glass jars, plummeting to the floor. In an instant, his life's work was shattered.

Many might have given up, given in to despair. But Jordan? He surveyed the wreckage at his feet, found the first fish that he recognized, and confidently began to rebuild his collection. And this time, he introduced one clever innovation that he believed would at last protect his work against the chaos of the world.

When NPR reporter Lulu Miller first heard this anecdote in passing, she took Jordan for a fool—a cautionary tale in hubris, or denial. But as her own life slowly unraveled, she began to wonder about him. Perhaps instead he was a model for how to go on when all seemed lost. What she would unearth about his life would transform her understanding of history, morality, and the world beneath her feet.

Part biography, part memoir, part scientific adventure, Why Fish Don't Exist is a wondrous fable about how to persevere in a world where chaos will always prevail.
About the Author
---
Lulu Miller is the cohost of Radiolab, cofounder of NPR's Invisibilia, and a Peabody Award–winning science journalist. Her writing has been published in The New Yorker, VQR, Orion, Electric Literature, Catapult, and beyond. Her favorite spot on earth is Humpback Rocks.
Praise For…
---
"What a delightful book... Ms. Miller [spins] a tale so seductive that I read her book in one sitting."
— The Wall Street Journal

"Some years back, Lulu Miller disappeared down a very strange rabbit hole that led her to places neither she nor you would ever be able to anticipate. I highly recommend you follow her down the hole, because of her singular and gigantic gifts as a writer and storyteller, but also because of what's down there: love, chaos, strychnine, a gun, dangerous delusions, heroic dandelions, a cow, a snorkel mask through which grander truths are revealed... This book is perfect, just perfect. It's both lyrical and learned, personal and political, small and huge, quirky and profound."
— Mary Roach, New York Times bestselling author of Stiff

"Completely entrancing."
— O, The Oprah Magazine

"Riveting and rollicking… total magic."
— Garden & Gun

"I want to live at this book's address: the intersection of history and biology and wonder and failure and sheer human stubbornness. What a sumptuous, surprising, dark delight."
— Carmen Maria Machado, author of Her Body and Other Parties

"A great escape… [and] an extended reflection on how to weather the storm during trying times."
— Outside

"Unconventional… What initially seems like an homage to an indomitable scientist [turns] into a philosophical tale about the limitations of tidy narratives and the dangers of unyielding belief."
— Undark

"Riveting. Surprising. Shocking, even! Why Fish Don't Exist begins with a mesmerizing account of the life of distinguished biologist David Starr Jordan—and then, quite unexpectedly, turns into so much more. Narrated in Lulu Miller's intimate, quirky voice, this is a story of science and struggle, of heartbreak and chaos. This book will capture your heart, seize your imagination, smash your preconceptions, and rock your world."
— Sy Montgomery, New York Times bestselling author of The Soul of an Octopus

"Lulu Miller moves gracefully between reporting and meditation, big questions and small moments. This book is a magical hybrid of science, portraiture, and memoir — and a delight to read."
— Susan Orlean, New York Times bestselling author of The Library Book

"Stunning and brilliant and completely un-sum-up-able… I love this book so much!"
— John Green, New York Times bestselling author of Turtles All the Way Down
Coverage from NPR