Limetown: The Prequel to the #1 Podcast (Hardcover)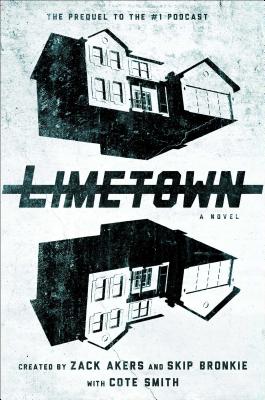 $26.00
Out of Stock - Not Available
Staff Reviews
---
When I first came upon Limetown, it was in a list of top horror podcasts. While a little hard to pin down into a genre, it didn't disappoint. There are elements of sci-fi and horror mixed with conspiracy on epic levels. This prequel helps draw you into the deeper mysteries involved in how everyone ended up where they are when the podcast starts, and it prepares you for Season 2 perfectly.
— From
Will
Description
---
From the creators of the #1 podcast Limetown, an explosive prequel about a teenager who learns of a mysterious research facility where over three hundred people have disappeared—including her uncle—with clues that become the key to discovering the secrets of this strange town.

On a seemingly ordinary day, seventeen-year-old Lia Haddock hears news that will change her life forever: three hundred men, women, and children living at a research facility in Limetown, Tennessee, have disappeared without a trace. Among the missing is Emile Haddock, Lia's uncle.

What happened to the people of Limetown? It's all anyone can talk about. Except Lia's parents, who refuse to discuss what might have happened there. They refuse, even, to discuss anything to do with Emile.

As a student journalist, Lia begins an investigation that will take her far from her home, discovering clues about Emile's past that lead to a shocking secret—one with unimaginable implications not only for the people of Limetown, but for Lia and her family. The only problem is…she's not the only one looking for answers.

Zack Akers and Skip Bronkie are first-rate storytellers, in every medium. Critics called their podcast Limetown "creepy and otherworldly" (The New York Times) and "endlessly fun" (Vox), and their novel goes back to where it all began. Working with Cote Smith, a PEN/Robert W. Bingham Prize Finalist, they've crafted an exhilarating mystery that asks big questions about what we owe to our families and what we owe to ourselves, about loss, discovery, and growth. Threaded throughout is Emile's story—told in these pages for the first time ever.
About the Author
---
Cote Smith grew up in Leavenworth, Kansas, and on various army bases around the country. He earned his MFA from the University of Kansas, and his stories have been featured in One Story, Crazyhorse, and Third Coast, among other publications. His first novel, Hurt People, was a Finalist for the 2017 PEN/Robert W. Bingham Prize for Debut Fiction.

Zack Akers is the cocreator (with Skip Bronkie) of the podcast Limetown and the Two-Up podcast channel. He graduated from Tisch School of the Arts in 2008 with degrees in Film & Television and became a documentary producer with Flagstaff Films whose work has appeared on HBO, ESPN, CBS, and NBC. Limetown (written with Cote Smith) is his first novel.

Skip Bronkie was raised on a farm outside of Buffalo, NY. He graduated from Tisch School of the Arts in 2008 with a degree in Film & Television and worked as a creative director at Facebook and Pinterest. He went on to cofound Two-Up with Zack Akers, producing Limetown and 36 Questions. He lives in Brooklyn and can be found in Prospect Park any given day.
Praise For…
---
"Readers will have a hard time putting this story down, even as it pulls them deeper into the rabbit hole that is Limetown. The book is appropriate for listeners and nonlisteners alike, and its publication is timed to the Halloween launch of the podcast's second season, so new fans will have hope that their questions might soon get some answers."


— Publishers Weekly

"Though this book is a prequel to the podcast of the same name, it can be read independently….entertaining….a breezy lead-in to the second season…its family themes come across strongly and at times affectingly."


— Kirkus Reviews