The Island of Sea Women: A Novel (Hardcover)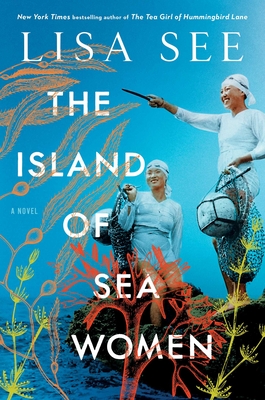 $28.00

Available from our distributor; usually Ships in 1-5 Days
March 2019 Indie Next List
---
"Off the southern coast of the Korean Peninsula, Jeju Island is home to generations of haenyo—women who take their living from both land and sea and call the shots in their matriarchal society. Young-sook and Mi-ja are best friends in the 1930s, learning to dive with their all-female collective while their island suffers under Japanese colonialism. Lisa See follows them as they grow up under Japanese rule, into WWII, to the Korean War and its devastating aftermath, and into the 21st century. The Island of Sea Women is not only a story of friendship found, lost, and found again, but also a richly detailed picture of a unique culture of women in a world spinning out of control. Amazing detail and presence."
— Janet Rhodes, BookPeople of Moscow, Moscow, ID
Description
---
A new novel from Lisa See, the New York Times bestselling author of The Tea Girl of Hummingbird Lane, about female friendship and family secrets on a small Korean island.

Mi-ja and Young-sook, two girls living on the Korean island of Jeju, are best friends that come from very different backgrounds. When they are old enough, they begin working in the sea with their village's all-female diving collective, led by Young-sook's mother. As the girls take up their positions as baby divers, they know they are beginning a life of excitement and responsibility but also danger.

Despite their love for each other, Mi-ja and Young-sook's differences are impossible to ignore. The Island of Sea Women is an epoch set over many decades, beginning during a period of Japanese colonialism in the 1930s and 1940s, followed by World War II, the Korean War and its aftermath, through the era of cell phones and wet suits for the women divers. Throughout this time, the residents of Jeju find themselves caught between warring empires. Mi-ja is the daughter of a Japanese collaborator, and she will forever be marked by this association. Young-sook was born into a long line of haenyeo and will inherit her mother's position leading the divers in their village. Little do the two friends know that after surviving hundreds of dives and developing the closest of bonds, forces outside their control will push their friendship to the breaking point.

This beautiful, thoughtful novel illuminates a world turned upside down, one where the women are in charge, engaging in dangerous physical work, and the men take care of the children. A classic Lisa See story—one of women's friendships and the larger forces that shape them—The Island of Sea Women introduces readers to the fierce and unforgettable female divers of Jeju Island and the dramatic history that shaped their lives.
About the Author
---
Lisa See is the New York Times bestselling author of The Island of Sea Women, The Tea Girl of Hummingbird Lane, Snow Flower and the Secret Fan, Peony in Love, Shanghai Girls, China Dolls, and Dreams of Joy, which debuted at #1. She is also the author of On Gold Mountain, which tells the story of her Chinese American family's settlement in Los Angeles. See was the recipient of the Golden Spike Award from the Chinese Historical Association of Southern California and the Historymaker's Award from the Chinese American Museum. She was also named National Woman of the Year by the Organization of Chinese American Women.
Praise For…
---
"Vivid ... thoughtful and empathetic ... necessary."
—New York Times Book Review

"Lisa See's mesmerizing new historical novel…celebrates women's strengths—and the strength of their friendships."
—O, The Oprah Magazine

"Painstakingly researched…deft…a powerful and essential story of humanity."
—The Los Angeles Review of Books

"Compelling ... takes readers on a journey spanning generations — in this case 1938 to 2008 — as moments of cherished friendship, unspeakable tragedy and, in the end, a plot twist worthy of Raymond Chandler unfold."
—Associated Press

"Lisa See is a New York Times bestselling author, a thorough researcher and a wonderful storyteller. In this novel, she seamlessly weaves history, tradition and culture into a heartfelt story about love and forgiveness. It's an unforgettable read."
—Toronto Star

"I fell in love with the writing of bestselling and award-winning author Lisa See more than 10 years ago ... This novel introduces readers to the unforgettable female divers of Jeju Island and the dramatic history that shaped their lives."
—Winston-Salem Journal

"The most intriguing parts of the book are those that describe the lives of the haenyeo ... See reveals how perilous the work can be: One diver is almost killed by an octopus, and another drowns because of an abalone. Yet the women love the sense of freedom, competence and strength they find in the water."
—Tampa Bay Times

"Fascinating ... Readers will witness the fortitude of these women to transcend tragedy and find forgiveness."
—Christian Science Monitor, The Best Fiction Books of 2019

"In this bittersweet novel that spans more than 50 years, Lisa See tells the story of Mi-ja and Young-sook, two best friends who live in a kind of feminist utopia on a Korean island."
—Marie Claire

"For centuries on the Korean island of Jeju, Haenyeo women were trained to expand their lungs and go diving on the ocean floor to harvest seafood ... Mi-ja and Young-sook are best friends and Haenyeo divers, set to follow in their mothers' footsteps. But as they come of age during a tumultuous period in Korea's history, certain deep-rooted differences may tear them apart."
—Refinery29, Best Books of March 2019

"This beautiful story follows Mi-ja and Young-sook, friends from very different backgrounds who are members of an all-female diving group in Korea. Really, though, the book is about the endurance of friendship when it's pushed to its limits, and you (+ your BFF, when you lend it to her) will love it."
—Cosmopolitan, 15 Best Books of March 2019

"Compelling…[a] story of two best friends who come from very different families, and whose bond will be tested time and time again over the years."
—LitHub.com, Most Anticipated Books of 2019

"A stupendous multigenerational family saga, See's latest also provides an enthralling cultural anthropology highlighting the soon-to-be-lost, matriarchal haenyeo phenomenon and an engrossing history of violently tumultuous twentieth-century Korea. A mesmerizing achievement. See's accomplishment, acclaim, and readership continue to rise with each book, and interest in this stellar novel will be well stoked."
—Booklist, starred review

"See perceptively depicts challenges faced by Koreans over the course of the 20th century, particularly homing in on the ways the haenyeo have struggled to maintain their way of life. Exposing the depths of human cruelty and resilience, See's lush tale is a wonderful ode to a truly singular group of women."
—Publishers Weekly

"On an island off the South Korean coast, an ancient guild of women divers reckons with the depredations of modernity from 1938 to 2008 in See's (The Tea Girl of Hummingbird Lane, 2017, etc.) latest novel…. See did extensive research with primary sources to detail not only the haenyeo traditions, but the mass murders on Jeju beginning in 1948, which were covered up for decades by the South Korean government… It is a necessary book."
—Kirkus Reviews

"Lisa See excels at mining the intersection of family, friendship and history, and in her newest novel, she reaches new depths exploring the matrifocal haenyeo society in Korea, caught between tradition and modernization. This novel spans wars and generations, but at its heart is a beautifully rendered story of two women whose individual choices become inextricably tangled."
—Jodi Picoult, New York Times bestselling author of A Spark of Light and Small Great Things

"I was spellbound the moment I entered the vivid and little-known world of the diving women of Jeju. Set amid sweeping historical events, The Island of Sea Women is the extraordinary story of Young-sook and Mi-ja, of women's daring, heartbreak, strength, and forgiveness. No one writes about female friendship, the dark and the light of it, with more insight and depth than Lisa See."
—Sue Monk Kidd, author of The Secret Life of Bees and The Invention of Wings

"I loved The Island of Sea Women from the very first page. Lisa See has created an enthralling, compelling portrait of a unique culture and a turbulent time in history, but what's really remarkable about this novel is the characters—two women whose lifelong friendship is tested during impossibly difficult times. Compelling, heart-wrenching, and beautifully written, The Island of Sea Women will plunge you into a world and a story you've never read before and remind you how powerful women can and must be to survive."
—Kristin Hannah, author of The Nightingale and The Great Alone