Lightning Men: A Novel (The Darktown Series #2) (Paperback)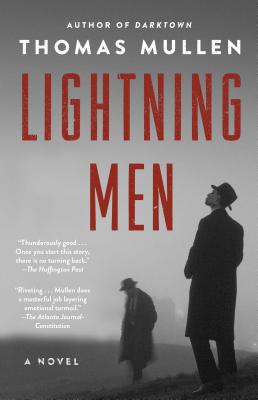 $17.00
Out of Stock - Not Available
Other Books in Series
This is book number 2 in the The Darktown Series series.
Description
---
From the acclaimed author of "the most compelling new series in crime fiction" (Michael Koryta, New York Times bestselling author) comes "a sharply observed novel" (New York Times) that explores race, law enforcement, and justice in mid-century Atlanta.

Officer Denny Rakestraw and "Negro Officers" Lucius Boggs and Tommy Smith have their hands full in an overcrowded and rapidly changing Atlanta. It's 1950 and racial tensions are simmering as black families, including Smith's sister, begin moving into formerly all-white neighborhoods. When Rake's brother-in-law launches a scheme to rally the Ku Klux Klan to "save" their neighborhood, his efforts spiral out of control, forcing Rake to choose between loyalty to family or the law.

Across town, Boggs and Smith try to shut down the supply of white lightning and drugs into their territory, finding themselves up against more powerful foes than they'd expected. Battling corrupt cops and ex-cons, Nazi brown shirts and rogue Klansmen, the officers are drawn closer to the fires that threaten to consume the city once again.

With echoes of Walter Mosley and Dennis Lehane, Mullen "expands the boundaries of crime fiction, weaving in eye-opening details from our checkered history" (Chicago Tribune).
About the Author
---
Thomas Mullen is the author of The Lightning Men, Darktown, and The Last Town on Earth, which was named Best Debut Novel of 2006 by USA TODAY. He was also awarded the James Fenimore Cooper Prize for excellence in historical fiction for The Many Deaths of the Firefly Brothers and The Revisionists. His works have been named to Year's Best lists by The Chicago Tribune and USA TODAY, among others. His stories and essays have been published in Grantland, Paste, and the Huffington Post, and his Atlanta Magazine true crime story about a novelist/con man won the City and Regional Magazine Award for Best Feature. He lives in Atlanta with his wife and sons.
Praise For…
---
"Thunderously good. There is a pace to this story, a beating pulse that drives it forward with every word and every page. Once you start this story there is no turning back."
— Huffington Post

"Mullen unfolds his multifaceted plot with a sure hands and lively characterization. Lightning Men is far from predictable and rich with sociological and emotional detail."
— The Wall Street Journal

"Black vs. white doesn't begin to cover the complexity of the diverse relationships in this sharply observed novel."
— New York Times Book Review

"Mullen expands the boundaries of crime fiction, weaving in eye-opening details drawn from our checkered history."
— Chicago Tribune

"Morally complex and boasting more finely drawn characters, this outstanding follow-up to Darktown deepens Mullen's portrait of pre-civil rights America and deserves a place on every suspense reader's list."
— Library Journal

"Mullen again brilliantly combines a suspenseful plot with a searing look at a racist south,"
— Publishers Weekly

Tense and heated suspense envelop Thomas Mullen's second in his Darktown series. Lightning Men is a lit fuse about to go off at any time.
— Mystery Scene Magazine

"a keen reminder that American racism has a long, ugly, hateful tradition and that we still have a lot of work to do rooting it out and destroying it."
— A Bookish Type

"strikes a frighteningly current note,"
— Literary Hub (lithub.com)

"Certain books have the ability to crawl deep inside of a reader, to force one to live in that place amongst the author's vibrant characters, and occasionally to even inhabit one's dreams. Lightening Men is one of those novels - do not miss reading this book, trust me."
— LAURIE'S LIT PICKS

"For readers who loved the first installment in Thomas Mullen's critically acclaimed Darktown series, September 12 is your lucky day. The second installment, Lightning Men, is here."
— Bookish

"Mullen does a masterful job layering emotional turmoil."
— Atlanta Journal Constitution

"The story was ever moving and kept me on my toes. I was rarely bored."


— UP ALL NIGHT BOOK ADDICT BLOG

"Not only is this story a good one, but it is highly recommended!'
— Char's Horror Corner

"Hard-boiled. Explosive. Riveting. Timely! "
— JUDITH COLLINS BLOG

"This is an impressive series."
— THE BOWED BOOKSHELF

"The world Mullen so carefully creates in these pages will be familiar the readers of Jim Thompson, P.D. James and, especially James Ellroy, a world full of compromises for where there's nevertheless a wide, almost evangelical divide between good and evil. Lightning Men is even more engrossing but it's terrific predecessor."
— Open Letters

Best Crime Novels of 2017
— New York Times Book Review

"Lightning Men [is] even better than Darktown, which is saying something."
— Sarah Weinman