Robert Williams: Conversations (Conversations with Comic Artists) (Paperback)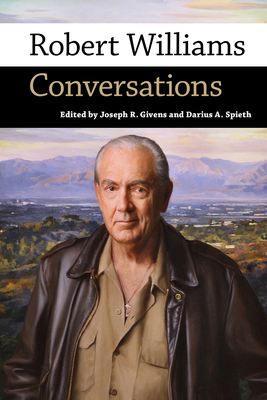 This item is currently unavailable and can not be ordered.
Description
---
A legendary figure of underground comix, Robert Williams (b. 1943) is an important social chronicler of American popular culture. The interviews assembled in Robert Williams: Conversations attest to his rhetorical powers, which match the high level of energy evident in his underground comix and action-filled canvases. The public perception of Williams was largely defined by two events. In 1987, Guns N' Roses licensed a Williams painting for the cover of their best-selling album Appetite for Destruction. However, Williams's cover art stirred controversies and was moved to the inside of the album. The second defining event was Williams's participation in the Helter Skelter exhibition at the Los Angeles Museum of Contemporary Art in 1992. Protests ensued when a room was set aside to feature his work. Uncovering long-forgotten and hard-to-find interviews, this collection serves as a social chronicle of counterculture from the 1960s through the early 2000s. One of the founders of the original ZAP Comix collective in the 1960s, Williams drew inspiration from pulp fiction, hot rod culture, pin-up girls, and traditional academic art. He invented the comics character Cootchy Cooty and worked for the studios of Ed "Big Daddy" Roth. He rubbed shoulders with outlaw motorcycle gangs and tested the legal limits of what was permissible comic book art during his day. He has often been described as a figure courting scandal and controversy, a reputation he discusses repeatedly in some of the interviews here. Since the 1980s, Williams has emerged as a force in the fine art world, raising interesting questions about how painting and comic art interrelate.
About the Author
---
Joseph R. Givens specializes in the scholarly investigation of overlooked and neglected art movements. He has presented papers at the International Comics Art Conference in conjunction with Comic Con International and is a contributing author to Oxford Art Online's Grove Dictionary of Art. Darius A. Spieth is an art historian and San Diego Alumni Association Chapter Alumni Professor in the School of Art at Louisiana State University. His books include Revolutionary Paris and the Market for Netherlandish Art and Napoleon's Sorcerers: The Sophisians.