The Madman of Black Bear Mountain (Hardy Boys Adventures #12) (Hardcover)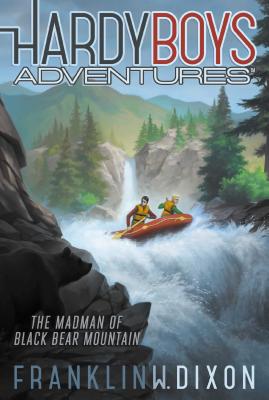 Other Books in Series
This is book number 12 in the Hardy Boys Adventures series.
Description
---
Brother detectives Frank and Joe face perils in the wilderness as they try to track down their missing teacher in this thrilling Hardy Boys adventure.

As part of a research unit, Bayport High's Green Environment Conservation Club (GECO) is taking a field trip—camping on nearby Black Bear Mountain, where the students will help field biologist Dr. Max Kroopnik investigate local flora. Frank's there to geek out about nature while Joe's along for the thrills. Not only does Black Bear Mountain live up to its name—the fierce furry animals are everywhere—but rumor has it that a madman lurks in the forest, and the crazy dude has a penchant for feasting on human flesh. The Hardys scoff at the urban legend, but the rest of their class isn't so convinced.

When the campers wake up, however, not only do they find a bear roaming the campsite, but their teacher is missing…and blood is streaked across the front of his tent. The GECOs are stranded alone in the wilderness with no technology, no way to call for help, and, quite possibly, a madman on the loose.

Luckily, Frank and Joe have a good amount of survival skills under their belt. But when they venture in search of their teacher, they find themselves hunted by a mysterious axe-wielding man in face paint and bearskins, falling into dangerous rapids, and perched on the edge of a precarious waterfall. Will the Hardys be able to find their teacher and make it back to the campsite alive?
About the Author
---
Franklin W. Dixon is the author of the ever-popular Hardy Boys books.