Comic Book Women: Characters, Creators, and Culture in the Golden Age (World Comics and Graphic Nonfiction Series) (Paperback)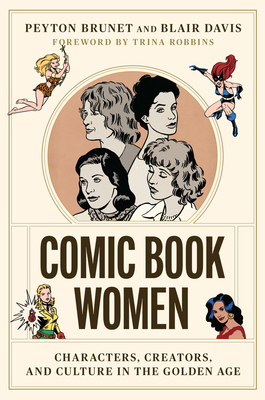 $32.95

Available from our distributor; usually Ships in 1-5 Days
Description
---
2023 Ray and Pat Browne Best Single Work by One or More Authors in Popular and American Culture, Popular and American Culture Association (PACA) / Popular Culture Association (PCA)
2023 Ray and Pat Browne Best Edited Reference/Primary Source Work in Popular Culture Award (Honorable Mention), Popular and American Culture Association (PACA) / Popular Culture Association (PCA)
2023 Peter C. Rollins Book Award, Southwest Texas Popular Culture and American Culture Associations (SWPACA)

A revisionist history of women's pivotal roles as creators of and characters in comic books.

The history of comics has centered almost exclusively on men. Comics historians largely describe the medium as one built by men telling tales about male protagonists, neglecting the many ways in which women fought for legitimacy on the page and in publishers' studios. Despite this male-dominated focus, women played vital roles in the early history of comics. The story of how comic books were born and how they evolved changes dramatically when women like June Tarpé Mills and Lily Renée are placed at the center rather than at the margins of this history, and when characters such as the Black Cat, Patsy Walker, and Señorita Rio are analyzed.
Comic Book Women offers a feminist history of the golden age of comics, revising our understanding of how numerous genres emerged and upending narratives of how male auteurs built their careers. Considering issues of race, gender, and sexuality, the authors examine crime, horror, jungle, romance, science fiction, superhero, and Western comics to unpack the cultural and industrial consequences of how women were represented across a wide range of titles by publishers like DC, Timely, Fiction House, and others. This revisionist history reclaims the forgotten work done by women in the comics industry and reinserts female creators and characters into the canon of comics history.
About the Author
---
Peyton Brunet is a graduate of DePaul University's communication and media master's program.
Blair Davis is an associate professor of media and cinema studies at DePaul University. He is the author of Movie Comics: Page to Screen/Screen to Page, Comic Book Movies, and The Battle for the Bs: 1950s Hollywood and the Rebirth of Low-Budget Cinema.
Praise For…
---
Comic Book Women is a necessary counterweight to...male-centric [comic book creator] biographies...Brunet and Davis take a fresh look at the early days of comics, focusing on the women who helped to build up the industry—and who were subsequently erased from the history books.
— Book Riot

A comprehensive look at the important role female creators played in the production of the media in the Golden Age of Comics...Comic Book Women is thoughtful and well-researched, guiding us to not only reexamine comics history but also to push for more accountability and intersectionality in the modern canon.
— ANTIGRAVITY Magazine

Comic Book Women recognizes the often-unremembered women characters and creators of the industry while recognizing their sometimes problematic roles.
— Technical Communication

The depth and breadth of this heavily illustrated book is stunning. This is a groundbreaking contribution to the field…Essential.
— CHOICE

An ambitious, exhaustive work that works to change how women have been perceived in the field of comics and document their contributions to the medium. . . the book serves as a foundational work in comics scholarship and brings women's work into the mainstream research. Covering all possible genres, it is comprehensive and a must-read for any comics fans.
— Journal of Popular Culture