Comics and Pop Culture: Adaptation from Panel to Frame (Hardcover)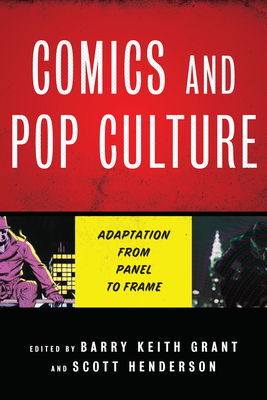 $105.00

Available from our distributor; usually Ships in 1-5 Days
Description
---
It is hard to discuss the current film industry without acknowledging the impact of comic book adaptations, especially considering the blockbuster success of recent superhero movies. Yet transmedial adaptations are part of an evolution that can be traced to the turn of the last century, when comic strips such as "Little Nemo in Slumberland" and "Felix the Cat" were animated for the silver screen. Representing diverse academic fields, including technoculture, film studies, theater, feminist studies, popular culture, and queer studies, Comics and Pop Culture presents more than a dozen perspectives on this rich history and the effects of such adaptations.
Examining current debates and the questions raised by comics adaptations, including those around authorship, style, and textual fidelity, the contributors consider the topic from an array of approaches that take into account representations of sexuality, gender, and race as well as concepts of world-building and cultural appropriation in comics from Modesty Blaise to Black Panther. The result is a fascinating re-imagination of the texts that continue to push the boundaries of panel, frame, and popular culture.
About the Author
---
Barry Keith Grant is an emeritus professor of film studies and popular culture, is the author or editor of many books on film and popular culture, including Film Genre Reader.
Scott Henderson Dean and Head of Trent University Durham GTA, is coeditor of Canadian Television: Text and Context.
Praise For…
---
"This is an indispensable contribution to scholarship on comic books, film, and the synergetic nature of adaptation."
— CHOICE

"A rich group of essays that represent diverse academic fields, including technoculture, film studies, theater, feminist studies, popular culture, and queer studies."
— New Books in Film

"[Comics and Pop Culture's] 19 contributors deftly sidestep the 'Are superhero movies cinema?' debate – which usually leads to pointless semantic hair-splitting – and instead focus on diverse examples (from American Splendor, to Modesty Blaise and Scott Pilgrim) to illustrate the two mediums' complex intersections."
— Film International

"Grant and Henderson have collected a fascinating and novel group of essays that challenge conventional notions of adaptation and raise interesting questions for the future of adaptation studies...The variety of subject matter makes this a wonderful read for those interested in comics, film, pop culture, or adaptation theory."
— Journal of Graphic Novels and Comics

"Comics and Pop Culture is an unapologetic celebration of the historical, cultural, and processual affect of comics and film by academics who are fans of the subjects of which they write…it provides a wonderful start to a conversation that other scholars may pick up to investigate in other ways. In that aspect, it proves itself to be a valuable resource for the ongoing scholarship around the things we love to study: comics, film, and pop culture."
— Popular Culture Studies Journal