Go Ahead in the Rain: Notes to A Tribe Called Quest (American Music Series) (Paperback)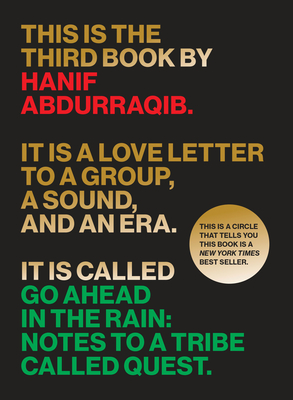 $16.95

In stock at Brooklyn or Jersey City -- click for more details
Staff Reviews
---
"Hanif is your brilliant friend who knows more about music than you but instead of lording it over you he brings you into his world with passionate and authoritative language. Within the frame of a love letter to A Tribe Called Quest lies a deeply personal examination of otherness, Black Excellence, art, and an era that feels distinct and important. I passed this by this book dozens of times thinking I didn't know enough about A Tribe Called Quest to really enjoy it, but I was so wrong. Hanif's knowledge and love for the group speak to novices and hip hop heads alike. A beautiful work that greatly surpasses simple music writing and steps boldly into poetry."
— Ryan
A Tribe Called Quest spent thirty years exploring the instinctive rhythm of consciousness, swimming through the low end up to the boom, the bip, the boom bip. Now Hanif Abdurraqib has written a love letter to that same, subconscious beat of life. But how do you write a letter to a feeling? You address it to the ones who make you feel it, the ones who make you feel like you can kick it. This is the finest piece of literary criticism ever put into writing.
— From
Steven
February 2019 Indie Next List
---
"This monument to A Tribe Called Quest is constructed with the perfect combination of history, memoir, and sentiment. Go Ahead in the Rain is an accurate, honest documentation of the band, their music, and the time. Abdurraqib describes one particular lyrical style as 'the words bleeding into each other until the language itself becomes an instrument.' These words could also be said of his book. Brilliantly entertaining, informative, and self-reflective. This is essential reading."
— Mary Goree, Green Apple Books, San Francisco, CA
Description
---
A New York Times Best Seller
A February IndieNext Pick
Named A Most Anticipated Book of 2019 by Buzzfeed, Nylon, The A. V. Club, CBC Books, and The Rumpus, and a Winter's Most Anticipated Book by Vanity Fair and The Week
Starred Reviews: Kirkus and Booklist
"Warm, immediate and intensely personal."—New York Times
How does one pay homage to A Tribe Called Quest? The seminal rap group brought jazz into the genre, resurrecting timeless rhythms to create masterpieces such as The Low End Theory and Midnight Marauders. Seventeen years after their last album, they resurrected themselves with an intense, socially conscious record, We Got It from Here . . . Thank You 4 Your Service, which arrived when fans needed it most, in the aftermath of the 2016 election. Poet and essayist Hanif Abdurraqib digs into the group's history and draws from his own experience to reflect on how its distinctive sound resonated among fans like himself. The result is as ambitious and genre-bending as the rap group itself.
Abdurraqib traces the Tribe's creative career, from their early days as part of the Afrocentric rap collective known as the Native Tongues, through their first three classic albums, to their eventual breakup and long hiatus. Their work is placed in the context of the broader rap landscape of the 1990s, one upended by sampling laws that forced a reinvention in production methods, the East Coast–West Coast rivalry that threatened to destroy the genre, and some record labels' shift from focusing on groups to individual MCs. Throughout the narrative Abdurraqib connects the music and cultural history to their street-level impact. Whether he's remembering The Source magazine cover announcing the Tribe's 1998 breakup or writing personal letters to the group after bandmate Phife Dawg's death, Abdurraqib seeks the deeper truths of A Tribe Called Quest; truths that—like the low end, the bass—are not simply heard in the head, but felt in the chest.
About the Author
---
A New York Times best-selling author and visiting writer in the MFA program at Butler University, Abdurraqib is an acclaimed poet and cultural critic whose work has appeared in the New York Times, MTV News, and other outlets.
Praise For…
---
Riveting and poetic…Abdurraqib's gift is his ability to flip from a wide angle to a zoom with ease. He is a five-tool writer, slipping out of the timeline to deliver vivid, memoiristic splashes as well as letters he's crafted to directly address the central players, dead and living.
— Washington Post

Warm, immediate, and intensely personal...This lush and generous book is a call to pay proper respects not just to a sound but to a feeling.
— New York Times

Abdurraqib is a poet, and he writes with a precise, gorgeous rhythm that makes a reader want to linger on each line. (My copy of the book is dog-eared and highlighted into oblivion.) But what kills me the most is Abdurraqib's empathy—for the people who make the music that sustains us, and also for us, for being sustained.
— The New Yorker, "Our Favorite Nonfiction Books of 2019"

Go Ahead in the Rain isn't just a love letter to one of the greatest hip-hop groups ever—it's also a brilliant poet unpacking his formative connections to the beats, the wordplay, and the jazz that set Tribe apart...Go Ahead in the Rain examines how young fandom evolves into something more like true adoration.
— Pitchfork, "Best Music Books of 2019"

The poet and critic's love letter to his favorite hip-hop crew is a deeply moving journal of fandom, death, grief, and growing up.
— Rolling Stone, "Best Music Books of 2019"

Abdurraqib's book doesn't attempt an arm's length, scholarly approach to analyzing the group and its music; instead, Abdurraqib speaks from his own experiences, often in the form of questioning or appreciative open letters to members of the band. It's a bold conceit, but if the book loses a bit of reserved objectivity in the process, it gains much more: an emotional grounding for why the group was so important to the author, and, by extension, why their music should matter to readers, too.
— Foreword Reviews

Even those who know little about the music will learn much of significance here, perhaps learning how to love it in the process.
— Kirkus, Starred Review

Go Ahead in the Rain is more than just an homage to A Tribe Called Quest…it's more like a reckoning. The result is a critical examination of the group—their message and history—as well as a musical memoir of sorts, and an exploration of the lasting impact music can have on the soul.
— Vanity Fair

Abdurraqib explores and exposes the power of music, of art, to not just connect with people, but to connect people, to make movements, to inspire change and revolution, on levels both large and small. In powerful, poetic language, Abdurraqib makes clear the legacy of ATCQ, both the one the group called upon for their own creation and the one they left behind.
— Nylon

Go Ahead in the Rain is an accurate, honest documentation of the band, their music, and the time…Brilliantly entertaining, informative, and self-reflective. This is essential reading.
— February Indie Next List

[Abdurraqib] allows us into his own history alongside the groundbreaking group, blending personal, musical, and cultural insights into something that truly resonates.
— Buzzfeed News

The book comes to life when [Abdurraqib] speaks from his own experiences…Although Go Ahead in the Rain is a no-brainer for devoted hip-hop heads (even those who think they've read all there is to know about the group), Abdurraqib's poetic homage to ATCQ (and hip-hop in general) will captivate casual music fans as well.
— Booklist, Starred Review

Go Ahead in the Rain is a literary hybrid: part academic monograph on the group and its music, part pocket history of hip-hop, part memoir, and part epistolary elegy. It is a book that conveys the wonder of being a fan and the visceral impact of experiencing the feeling of having oneself reflected back in music and pop culture.
— Publishers Weekly

If you're a hip-hop fan, you need to get it…a brilliant piece of music writing.
— Nikesh Shukla

Abdurraqib...manages to write about music by making his language a type of music. He pays homage to A Tribe Called Quest in the only way fitting, with flow and charm and emotional rawness.
— Mancunion

Fans of Abdurraqib's writing will recognize his ability to seamlessly weave together stories about multiple, often disparate topics. Whether he's reminiscing about his failed attempt to master the trumpet as a child, or geeking out over the history of sampling in hip-hop, or dissecting a 2011 Tribe documentary, each story serves the larger purpose: recounting the life of A Tribe Called Quest through a fan's eyes.
— Columbus Alive

In his personalized approach to the group's musical legacy, Abdurraqib articulates how the group helped to define his personal growth, helping readers appreciate the power that our favorite acts have in helping us create a durable sense of identity.
— Nylon

[T]his is a writerly talent worthy of our awe. One could argue writers are at their best when they use their insight to make sense of the world they observe. In a book about A Tribe Called Quest specifically—a group that attracted fans across race, gender, and generation gaps—Abdurraqib's penchant for holding and showing so much simultaneously is a perfect fit.
— Barrelhouse

[Abdurraqib] has a seemingly limitless capacity to share what moves him, which means that to read Go Ahead in the Rain, you don't need to be a Tribe Called Quest fan: Abdurraqib will make you one. His love for the group is infectious, even when it breaks his heart...[Abdurraqib writes] about music so beautifully and intelligently that readers are moved to love it, or reminded to love it more.
— NPR

[Abdurraqib's] exploration of A Tribe Called Quest uses his love for the group to leverage remarkably sharp insights about the band and himself. Forthright without being solipsistic, the book is a marvel of criticism and self-examination.
— Pitchfork

It's a dazzling act, watching Abdurraqib weave in and out of Tribe's fabled history, working outside of their historical narrative to more clearly contextualize it.
— Passion of the Weiss

Go Ahead in the Rain is both the promised love letter of its cover image and a remarkably helpful guide to Tribe neophytes. Those who know nothing will know slightly more, and will find a place to start. Those who grew up listening to these records...are likely to find joy and connection in Abdurraqib's memories.
— Rock & Roll Globe

[T]his book is like an all-night hangout session with a really smart friend. Abdurraqib writes about A Tribe Called Quest as a fan, but also as a thinker with a finely tuned sense of what's at stake in their music. Brilliant.
— Parnassus Musing

Abdurraqib mixes observations about the group with passages of personal retrospective and a rich description of Tribe's musical context.
— The Current

The book pays attention to the larger changes in the culture, but its overall tenor is warm, immediate and intensely personal.
— New York Times, Editor's Choice

[Abdurraqib] weaves an astoundingly compelling narrative…[Go Ahead in the Rain] is, without a doubt, an artistic statement of beauty.
— Anhedonic Headphones

The vantage from which [Abdurraqib] dissects Tribe's legacy is rooted in the heritage of black music and delivered from the present cultural moment, making Go Ahead in the Rain, much like Tribe's music, capable of remaining relevant for decades to come.
— PopMatters

Abdurraqib…makes an implicit argument for a criticism that works toward connection. At the heart of Go Ahead in the Rain are questions about ourselves; it asks how and why we love artists, and what we can do with that love.
— The Nation

Go Ahead in the Rain is a fan's narrative on A Tribe Called Quest that gives readers the language to imagine a better world.
— Electric Literature

[Aburraqib is] a lovely curator and chronicler of all things A Tribe Called Quest. We are reminded that the soul of the group was always one to be shared, then and now, between Hanif and me, through speakers in art rooms and headphones on bus rides, to anyone willing to hear.
— The Michigan Daily

Go Ahead in the Rain is not just for fans of A Tribe Called Quest, but for anyone who has ever felt deeply understood by a band, or found comfort in the solitude of putting on a pair of headphones.
— Washington City Paper

Abdurraqib's writing is so generously thoughtful...He makes everything feel relevant, and he doesn't swerve into the more self-congratulatory music writing that dives so far into the weeds without reserving room for the joy and heartache that springs from the music.
— Paste Magazine

[Go Ahead in the Rain is] illuminating for fans of the group, but even hip-hop novices will be moved by Abdurraqib's book. It's a tribute to A Tribe Called Quest and a tribute to the power music has to grow with the listener. It's a book for anyone who has secluded themselves in headphones, pressed play, and heard themselves singing back in someone else's voice.
— Vibe

[A] memoir of listening and feeling, a deeply personal book unafraid to pair music criticism with intimate reflections.
— Longreads

Go Ahead in the Rain…cunningly and lovingly weaves memoir and eloquently told music history into a compelling and absorbing tribute to the transformative power of music.
— No Depression

[A] searing, thoughtful coming-of-age story about hip-hop, race, and the beloved Native Tongues jazz rap luminaries fronted by Q-Tip and the late Phife Dog.
— Philadelphia Inquirer

Abdurraqib offers a level of historical understanding that only a passionate fan could deliver.
— Pittsburgh Post-Gazette

Few writers explore their subjects as lovingly as Hanif Abdurarqib, whose thoughtful, lyrical, insightful new book…should be required reading for everybody.
— Chicago Reader

Abdurraqib deftly weaves the biographical, autobiographical and his own elegiac letter writing into just over 200 pages that not only chronicle Tribe's beats and rhymes, but their place and meaning both in his own life and the larger cultural sphere. The result is at once a comprehensive career overview and a riveting personal reflection.
— Exclaim!

[Go Ahead in the Rain] evokes the sensation listeners get at the end of the last track of a wonderful recording, that recognition of having just heard something remarkable.
— Library Journal

By looking at the short, brilliant, stop-and-go existence of the ensemble A Tribe Called Quest, Abdurraqib has written one of the great books about hip-hop, opening up its genesis, its construction, its evolution and one particular group's history with the clarity of the hold Visible V-8 toy.
— Houston Chronicle

Go Ahead in the Rain transcends the usual fan book for its poetic prose as well as its insights into the wider context of the music.
— Shepherd Express

Abdurraqib can tell better stories about music than sometimes the music can tell about itself…He can take one note and extrapolate an entire psychic history, both of his own wolrd and the world of the musician.
— Full Stop

At this book's heart lurks a brilliantly vivid portrayal of a certain type of obsessive fandom: not the spectacular kind that leads people to camp outside artists' houses, turn up to greet them at airports and harass them on social media, but a more subtle, internalised variety, where an artist's music ceases to be something you merely love and gradually infects you to the point that it becomes a prism through which you view almost everything...in writing a book that could make even a naysayer whant to hear [Tribe's] music as a matter of urgency, Abdurraqib has provided a perfect epitaph.
— The Guardian

Go Ahead in the Rain might appeal most to the music-obsessed, but its audience is wider than its title suggests. At its heart, the book looks at the constant conversation between life and art: how music changes the way we understand and interact with the world, and alters the culture at large.
— Seattle Times

Hanif has a way of making you care deeply for the artists he's writing about…Drawing from his own experiences and peppered with personal letters to the members themselves, Hanif creates an immersive experience for readers to forge a connection to and love for hip-hop.
— The Rumpus

Abdurraqib brings specificity to what being a Tribe fan means by threading the path of the East Coast rap group with his own.
— Bookforum

Abdurraqib achingly, beautifully illustrates the evolution of Phife's role [in A Tribe Called Quest].
— Slate

Reading [Go Ahead in the Rain] is like listening to The Low End Theory with a good friend, and confiding in each other all the feelings and thoughts the music brings up…For anyone who's listened to Tribe so many times that their music feels commonplace, part of the air, invisible, Abdurraqib brings it back to vivid presence through context and beautiful, poetic description.
— KQED Arts

Easily one of the year's best books about music, a smart, thoughtful, deeply felt look at one of the best acts (not just hip-hop, but pop music in general) of all time.
— austin360

Perhaps the first notable hip-hop book…to seamlessly blend memoir with sociocultural history…[Abdurraqib's] is a moving and wide-spanning vision, each story providing a kaleidoscopic view of one of the greatest acts to ever exist.
— Athenaeum Review

A stunning work.
— Kenyon Review

The writing throughout this book is so sharp that I found myself reading and then immediately re-reading lines, amazed at their beauty and precision…Go Ahead in the Rain's tangential, hybrid form is a more accurate representation of the way memories attached to music often feel: non-linear, disjointed, but altogether emotionally vivid.
— JMWW

Intimate and expansive…Abdurraqib has a stunning ability to break apart the meaning of music and move it beyond an aesthetic. It is a way of existing, of surviving.
— The Adroit Journal

Love letters to musicians are best kept private, one person's fandom being another's boredom. But Hanif Abdurraqib's tribute to rap group A Tribe Called Quest is an exception: the poet and critic loops discursively around rap history, racial politics and memoir in the manner of the band's easy-going but incisive songs.
— Financial Times

In lining up his own story with that of A Tribe Called Quest, Abdurraqib lovingly pays the group the highest tribute possible. Part memoir, part biography, all heart and all great.
— InsideHook

The core pleasure [of reading Go Ahead in the Rain] is watching Abdurraqib watch Tribe work. When Phife is distracted during the recording of Tribe's debut album, sneaking away from the studio to catch nearby Knicks games, Abdurraqib is right there with him. Us too.
— Vanity Fair, "The Best Books of 2019, So Far"

By trying to explain why he has always loved A Tribe Called Quest, Abdurraqib manages to give us insights not just about himself but about the evolution of hip-hop, its place in the world today, and the very nature of fandom.
— Rogues Portal

One need not be a fan of Tribe in order for [Go Ahead in the Rain] to do its work, and this is because Abdurraqib elegantly underpins his personal investment in Tribe with the long history of race, culture, and aesthetics in American life.
— Public Books

Beyond the glorious trivia to be found in these pages—great fun for all people instinctively traveling—Abdurraqib invites a more general readership. Particularly when he explores why we love the sounds we love.
— Longreads

[Abdurraqib] lyrically unspools the band's history. Hip-hop fans and non-hip-hop fans alike will find humor, wit, and astounding lyricism in this collection.
— PEN America

Abdurraqib…is one of the most exciting and empathetic writers we've got…[<i>Go Ahead in the Rain</i> is] a full book of trenchant and highly personal essays about [A Tribe Called Quest].
— The Ringer

Abdurraqib's stunning essays – especially his book-length homage Go Ahead in the Rain: Notes to A Tribe Called Quest – have proven him one of his generation's most essential cultural voices.
— The Boston Globe

This arrestingly personal, sweeping biography explains why A Tribe Called Quest mattered—both as musicians who helped transform the landscape of rap in the 1990s and as artists whose albums changed the author's life.
— Library Journal, "Best Arts Books 2019"

If you're a hip-hop head, you've got to get Hanif Abdurraqib's Go Ahead in the Rain…it's a beautiful meditation on the pioneering rap group and one of the rare books about hip-hop to be long-listed for a National Book Award.
— BuzzFeed News, "68 Books For Every Person On Your Holiday List"

I loved Go Ahead in the Rain because it's about what it means to take refuge in music and also what it means to break out of that refuge through music.
— NPR's Favorite Books of 2019

Part history and part love letter, [Go Ahead in the Rain is] a unique kind of music book that will have you revisiting Midnight Marauders ASAP.
— GQ, "The Best Books of 2019"

[Go Ahead in the Rain] reads like a well-researched journal entry meets hip-hop history lesson.
— Alternative Press, "Top 10 Music-Related Books of 2019"

Abdurraqib…fills this book with jazz and memories of the great rap magazine The Source, childhood crushes and, of course, a warm history of a legendary group. It's that rare vivisection, the kind that cuts cleanly and deeply, but leaves the subject more alive than when we found him.
— Chicago Tribune, "The 10 Best Books of 2019"

<i>Go Ahead in the Rain</i> is a Tribe song of positivity and persistence, an excellent illustration of the way that Abdurraqib both describes and mirrors the impact of his subject.
— Hudson Booksellers, "Best of 2019"

[Go Ahead in the Rain] is yet another essential for your reading list, part music criticism, part appreciation and something else entirely.
— Treble Zine

Go Ahead in the Rain…seems to push the whole genre of music writing forward.
— Garth Risk Hallberg, The Millions

[Go Ahead in the Rain] could create a lifelong fan of a book-lover who's never even heard of 'Bonita Applebum.'
— Creative Loafing Tampa

[A] provocative commentary…Abdurraqib uses his fandom of this influential and jazzy 1990s-launched hip-hop group to come to grips with his own life, thoughtfully reflecting on everything from African drums and American slavery to the deaths of Leonard Cohen and Minnesota's own Philando Castile to provide context and perspective.
— Minneapolis Star-Tribune

Abdurraqib explores fandom, artistry, love, and pretty much everything else there is, with remarkable skill and generosity…there are a lot of great books on this list; this is my favorite.
— Powell's Books Blog, "Best Nonfiction of 2019"

A poetic salute to what Abdurraqib considers to be the greatest rap group of all-time.
— Paste Magazine, "2019 Gift Guide for Music Lovers"

The beauty of Hanif Abdurraqib's trim volume is that it doesn't try to be definitive. Instead, Abdurraqib embraces the subjectivity of his fandom, putting the seminal hip-hop duo into context via his own experiences coming of age along with the genre. There's a lot of critical insight into this first great book about ATCQ, one that hopefully won't be the last but will endure regardless.
— The Current, "Best music books of 2019"

With [Go Ahead in the Rain], Abdurraqib creates a lasting work with an ambitious scope. He obscures the line between social commentary, memoir, and biography. Most importantly, Abdurraqib constructs a worthy homage to one of hip-hops most innovative artists.
— Labour/Le Travail

Booklength criticism masquerading as memoir, an account of growing up as boho youth whose ears and brains get opened, Hanif Abdurraqib's fond exegesis chews over A Tribe Called Quest like even the most meticulous 33 1/3 entry doesn't.
— Humanizing the Vacuum, "The best books of 2019"

Go Ahead in the Rain is a sparkling tribute to A Tribe Called Quest...Abdurraqib is an excellent guide through the cultural landscape that made (and unmade) Tribe, effortlessly weaving socio-cultural history, music criticism and personal anecdote in an accessible manner, to remind you if you had forgotten and convince you if you had been unaware of the band's art and impact beyond their Lou Reed-sampling hit 'Can I Kick It'.
— Times Literary Supplement

Abdurraqib identifies with Phife Dawg, and his letter to the late rapper is particularly moving. Go Ahead in the Rain is not comprehensive, but at times it is as moving as the music itself.
— Irish Examiner, "Noteworthy music books of the year"

Abdurraqib's erudite ode to A Tribe Called Quest walks readers through their unique formation, but also easily freewheels across late 80s and 90s pop and hip hop culture…His depiction of a singular time in America (which he grounds in his own reflections of high school), when technology was changing everything rapidly and music felt less stratified, and his exploration of sample culture before the tightening effects of copyright laws, are particularly precise and just right.
— Publishers Weekly, "The Best Books We Read in 2019"

A must-read for Tribe fans, Go Ahead in the Rain is also a love letter to the music of our youth, and how our relationship with those musicians can become such a vital part of ourselves as we move through life.
— Bad Feeling Magazine, "Best of 2019: The best pop culture books"

[Go Ahead in the Rain] manages to be both a vivid history of early hip-hop and an extended elegy for a rap group that defined the author's sensibility.
— Guernica

An encompassing, engrossing look at one influential group's fomentation and legacy.
— Bustle

The beauty of Go Ahead in the Rain, of its engagement with Tribe Called Quest's jazz-influenced hip-hop, is how Abdurraqib discards well-trodden assumptions about what criticism is: that it must relegate the critic to a position of detached, passionless analysis, or that it must proceed in orderly, logical fashion in order to prove a point. In place of these conventions Abdurraqib presents a work concerned with enmeshment in and with the music, the history that it expresses and alters, and the communities that have given us this music...Go Ahead gives us a glimpse into a criticism that doesn't just subject black music to the conventions of the critical essay. Rather, it allows black music to contort and reinvent those conventions.
— National Book Critics Circle