Guerrilla Girls: The Art of Behaving Badly (Hardcover)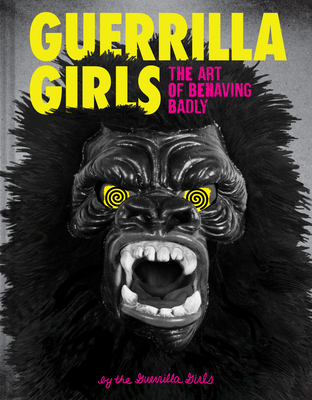 Description
---
Guerrilla Girls: The Art of Behaving Badly is the first book to catalog the entire career of the Guerrilla Girls from 1985 to present.

The Guerrilla girls are a collective of political feminist artists who expose discrimination and corruption in art, film, politics, and pop culture all around the world.

This book explores all their provocative
street campaigns, unforgettable media appearances, and large-scale exhibitions.
Each copy comes with a punch-out gorilla mask that invites readers to step up and join the movement themselves.
Captions by the Guerrilla Girls themselves contextualize the visuals.
Explores their well-researched, intersectional takedown of the patriarchy
In 1985, a group of masked feminist avengers—known as the Guerrilla Girls—papered downtown Manhattan with posters calling out the Museum of Modern Art for its lack of representation of female artists.

They quickly became a global phenomenon, and the fearless activists have produced hundreds of posters, stickers, and billboards ever since.
More than a monograph, this book is a call to arms.
This career-spanning volume is published to coincide with their 35th anniversary.
Perfect for artists, art lovers, feminists, fans of the Guerrilla Girls, students, and activists
Add it to the shelf with books like Wall and Piece by Banksy, Why We March: Signs of Protest and Hope by Artisan, and Graffiti Women: Street Art from Five Continents by Nicholas Ganz
About the Author
---
The Guerrilla Girls are a group of political artists who have been exposing gender biases and discrimination in art and culture for more than 30 years.
Praise For…
---
"Feminist activist artists group Guerrilla Girls documents its campaigns exposing gender and ethnic bias and corruption in arts and politics in this timely and provocative illustrated history. As stated in the introduction: 'No longer can anyone claim that the history of art and culture can be written without including all the diverse voices of that culture.' … This thought-provoking, empowering work will inspire fellow artists and forward thinkers alike." --Publishers Weekly starred review
"Courageous practitioners of the arts of inspiration and instigation, the Guerrilla Girls have mounted 35 years' worth of cunning attacks by holding those entrenched in privilege accountable: in galleries, museums, and the societies these cultural institutions reflect. This brilliant collective is unparalleled, empowering communities by exposing gender and racial inequalities in the art world and beyond--and it's all here, in dozens of indelible works that are some of the most impactful of all time." --Thelma Golden, Director and Chief Curator of The Studio Museum in Harlem
"Graphic punch and irrepressible wit skewer powerful patriarchy at every turn in the pages of Guerrilla Girls: The Art of Behaving Badly." --Los Angeles Times
"You can't understand art history without the Guerrilla Girls, and you can't grasp the Guerrilla Girls' depth and humor without this book. It's an essential resource for thinking and making art." --Nell Irvin Painter, author of Old in Art School: A Memoir of Starting Over and The History of White People
"The collective's indelible visual style transfers beautifully to the printed page. Bonus: if you want to join the movement, each book comes with a punch-out gorilla mask." --artnet News