Broad Strokes: 15 Women Who Made Art and Made History (in That Order) (Gifts for Artists, Inspirational Books, Gifts for Creatives) (Hardcover)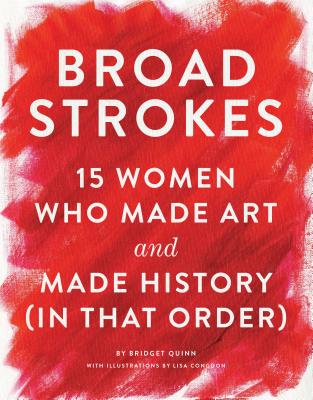 Description
---
Historically, major women artists have been excluded from the mainstream art canon. Aligned with the resurgence of feminism in pop culture, Broad Strokes offers an entertaining corrective to that omission. Art historian Bridget Quinn delves into the lives and careers of 15 brilliant female artists in text that's smart, feisty, educational, and an enjoyable read. Replete with beautiful reproductions of the artists' works and contemporary portraits of each artist by renowned illustrator Lisa Congdon, this is art history from 1600 to the present day for the modern art lover, reader, and feminist.
About the Author
---
BRIDGET QUINN is author of the award-winning Broad Strokes: 15 Women Who Made Art and Made History (in That Order), published by Chronicle Books in 2017. The book has been translated into four languages and selected for the Amelia Bloomer Book List of recommended feminist literature by the American Library Association. A graduate of New York University's Institute of Fine Arts and a regular contributor to online arts magazine Hyperallergic, Quinn is a sought-after speaker on women and art. She is an avid sports fan and Iron(wo)man triathlete, and her Narrative magazine essay "At Swim, Two Girls" was included in The Best American Sports Writing 2013. She lives in San Francisco with her family.

Lisa Congdon is a Portland, Oregon–based artist and author.
Praise For…
---
Named one of the 23 best art history books of all time by Book Authority

"A terrific essay collection with quick and pithy profiles of famous and not-famous women artists—Alice Neel, Louise Bourgeois, Lee Krasner, Kara Walker, etc. Spunky, attitudinal, SMART writing, excellent color reproductions." —Susan Stamberg, NPR

Named one of the 23 best art history books of all time by Book Authority

Named a Top 10 Spring 2017 Book in Memoirs/Biographies by Publishers Weekly

"In her entertaining and accessible debut, Quinn mixes biography, art history, and women's studies to shed light on 15 women artists.… The color reproductions add to this book's appeal, giving readers a chance to appreciate the artists' work as well as Quinn's upbeat writing." —Publishers Weekly

Named a Top 10 Spring 2017 Book in Memoirs/Biographies by Publishers Weekly

"In her entertaining and accessible debut, Quinn mixes biography, art history, and women's studies to shed light on 15 women artists.… The color reproductions add to this book's appeal, giving readers a chance to appreciate the artists' work as well as Quinn's upbeat writing." —Publishers Weekly

"Can you name five women artists? That question, which launched a recent social media campaign, receives a beautiful answer in art historian Quinn and illustrator/writer Congdon's accessible and intimate tour of 15 female artists from the 17th century to the present." —Library Journal

"As its title suggests, Broad Strokes isn't stuffy. There's plenty of scholarship here about women artists over the centuries, but Quinn combines her research with a lively, breezy tone that turns her subjects into more than feminist symbols. They're masters in their own right, bold and brilliant despite the limits they faced." —Christian Science Monitor

"Can you name five women artists? That question, which launched a recent social media campaign, receives a beautiful answer in art historian Quinn and illustrator/writer Congdon's accessible and intimate tour of 15 female artists from the 17th century to the present." —Library Journal

"As its title suggests, Broad Strokes isn't stuffy. There's plenty of scholarship here about women artists over the centuries, but Quinn combines her research with a lively, breezy tone that turns her subjects into more than feminist symbols. They're masters in their own right, bold and brilliant despite the limits they faced." —Christian Science Monitor

"Inspiring, charming, and eye-opening." —The Millions

"Your Art History 101 syllabus just got a lot more fun." —O, the Oprah Magazine

"Inspiring, charming, and eye-opening." —The Millions

"Your Art History 101 syllabus just got a lot more fun." —O, the Oprah Magazine

"A terrific essay collection with quick and pithy profiles of famous and not-famous women artists—Alice Neel, Louise Bourgeois, Lee Krasner, Kara Walker, etc. Spunky, attitudinal, SMART writing, excellent color reproductions." —Susan Stamberg, NPR