Flyers (Paperback)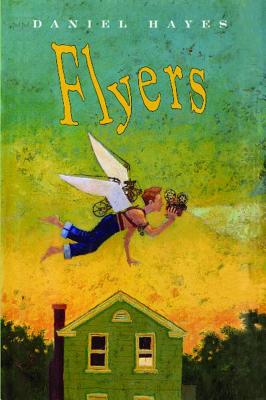 $10.99
Out of Stock - Not Available
Description
---
All his life, Gabe Riley has heard about sightings of ghosts and swamp monsters at Blood Red Pond, but he knows the green, scaly creature that attacks Ray McPherson's old Buick one night isn't real. It's just crazy Rosasharn, getting carried away with his leading role in the horror movie Gabe and his friend Bo are making for their Gifted and Talented project.

But it's not so easy to explain some of the other curious things that start happening in Gabe's neighborhood. Why is his father more melancholy than usual? What secret is his younger brother, Ethan, hiding from him? Why are food and clothes disappearing from their home? And who or what is behind the strange lights in old Mr. Lindstrom's supposedly empty farmhouse?

Gabe is determined to find the answers to these questions. But Gabe discovers there are far deeper questions involved, and he will have to confront more than ghosts before he understands the significance of the mysterious events.

With his trademark humor and flawless ear for the language and concerns of young adults, Daniel Hayes has created an unforgettable cast of characters in a story that is part comedy, part mystery, and part a thought-provoking exploration of friendship, family relationships, love, and death.
About the Author
---
Daniel Hayes is the author of three previous novels for young adults: The Trouble With Lemons (an ALA Best Book for Young Adults and an IRA Young Adults' Choice), Eye of the Beholder, and No Effect (an ALA Best Book for Young Adults). Booklist has hailed Hayes for his "ability to articulate so accurately the inner workings of his adolescent hero's mind." An English teacher at Troy High School in Troy, New York, he lives in Schaghticoke, New York. Visit Daniel's web site at DanielHayes.com.