Migrations (Large Print / Hardcover)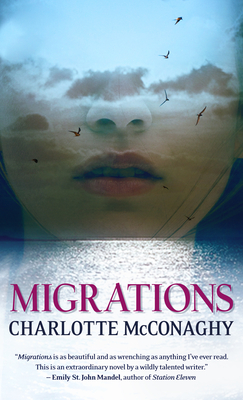 $30.99
Out of Stock - Not Available
Staff Reviews
---
This atmospheric and suspenseful novel centers on Franny Stone as she follows the last migration of Arctic terns south from Greenland in a near-future world where we are deeper into the climate crisis and only a handful of wild animal species remain. To do so, she talks her way onto one of the few remaining commercial fishing vessels and convinces them to track the terns as a last-ditch effort to find whatever fish are left in the sea. McConaghy has crafted an eerie and emotionally charged novel wrapped around an uneasy narrator. Franny's past unspools slowly in flashbacks throughout the book, delivered like a slowly dispersing fog. Her unfettered, willful nature ties the years together as we learn about her unconventional marriage to Niall Lynch, a disarming professor passionate about conservation.
Part of the power of this novel is the way McConaghy's writing evokes the visceral nature of Franny's pull to wander and the depth of her self-condemnation. Her split desires and war with her own body are memorably crafted. There were quite a few excerpts I wrote down because the writing was both beautiful & sharp. Also, the setting is remarkably unsettling, conjuring an ambience of entirely-realistic destruction. 
— Holly
August 2020 Indie Next List
---
"Imagine a world where almost all the animals have disappeared. Imagine a love strong enough to believe it can make a difference. In a fragile, near-future world, author Charlotte McConaghy gives us Franny Stone, a character as wild and broken as the few remaining Arctic terns she is determined to follow on what will most likely be their last migration. Franny's quest is as epic as Captain Ahab's, and while it leaves much destruction in its wake, it is ultimately a quest toward life. Migrations is a book so beautiful it will leave you breathless. Breathless with cold despair, and breathless with pulsating life and hope. This is a truly stunning debut."
— Lisa Swayze, Buffalo Street Books, Ithaca, NY
Description
---
"Migrations is as beautiful and as wrenching as anything I've ever read. This is an extraordinary novel by a wildly talented writer." --Emily St. John Mandel, author of Station Eleven

For readers of Flight Behavior and Station Eleven, a novel set on the brink of catastrophe, as a young woman chases the world's last birds--and her own final chance for redemption.

Franny Stone has always been a wanderer. By following the ocean's tides and the birds that soar above, she can forget the losses that have haunted her life. But when the wild she loves begins to disappear, Franny can no longer wander without a destination. She arrives in remote Greenland with one purpose: to find the world's last flock of Arctic terns and follow them on their final migration. She convinces Ennis Malone, captain of the Saghani, to take her onboard, winning over his eccentric crew with promises that the birds she is tracking will lead them to fish.
As the Saghani fights its way south, Franny's new shipmates begin to realize that she is full of dark secrets: night terrors, an unsent pile of letters, and an obsession with pursuing the terns at any cost. When the story of her past begins to unspool, Ennis and his crew must ask themselves what Franny is really running toward--and running from.
Propelled by a narrator as fierce and fragile as the terns she is following, Migrations is both an ode to our threatened world and a breathtaking page-turner about the lengths we will go for the people we love.
About the Author
---
Charlotte McConaghy is an author and screenwriter based in Sydney, Australia. Migrations is her U.S. debut.