First Strike: A Thriller (A Dewey Andreas Novel #6) (CD-Audio)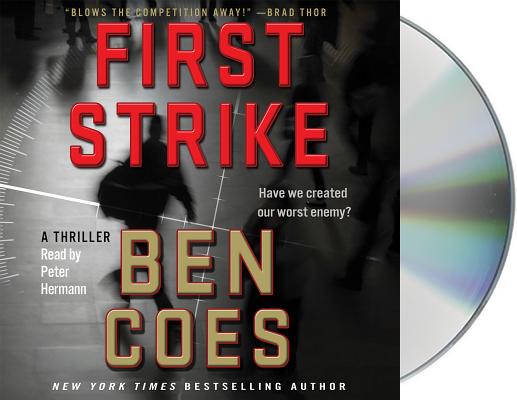 $39.99
Out of Stock - Not Available
Other Books in Series
This is book number 6 in the A Dewey Andreas Novel series.
Description
---
Deep within the Pentagon, a covert, multi-billion arms-for-influence program was created. The objective was to protect the United States and its allies from terrorist acts by secretly enabling a hand-picked man to emerge as the most powerful leader in the Middle East. But the charismatic Tristan Nazir double-crosses America, twisting the program for his own violent ends to create ISIS. Now America is at great risk.

Elite operative Dewey Andreas is sent to Syria to retrieve details about the source of ISIS's funding but his cover is blown mid-operation and chaos erupts in the streets of Damascus. Trapped and outnumbered, Dewey manages to send proof of the awful truth—unknown at even the highest levels in the government—that ISIS's munitions were indeed provided by America itself.

This information arrives in time to for the U.S. to cut off a final arms shipment before it reaches ISIS. But the vicious Nazir, is far from finished. He launches a bold strike into the heart of America, sending a terrorist cell to take over a dorm at Columbia University, capturing hundreds of college students as hostages. For every hour that the shipment of weapons is withheld, the terrorists will publicly execute one student. The potential loss of life is intolerable. A frontal assault is impossible. Releasing the shipment is unthinkable. There is nowhere to turn…

In a situation with no solutions, there remains only one option—Dewey Andreas.
About the Author
---
BEN COES is the author of the critically acclaimed Power Down and Coup d'Etat. He is a former speechwriter for the George H .W. Bush White House, worked for Boone Pickens, was a fellow at the JFK School of Government at Harvard, a campaign manager for Mitt Romney's run for governor in 2002, and is currently a partner in a private equity company out of Boston. He lives in Wellesley, Mass.
Praise For…
---
"Coes' muscular, get-to-the-point prose is perfectly matched by Hermann's deep, muscular narration." Booklist