Master George's People: George Washington, His Slaves, and His Revolutionary Transformation (Hardcover)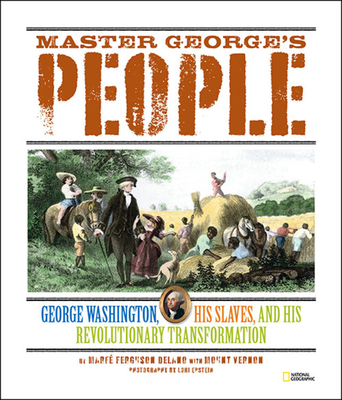 $18.95
Out of Stock - Not Available
Description
---
As the first President of the United States of America and the Commander in Chief who led a rebel army to victory in the Revolutionary War, George Washington was a legendary leader of men. He had high expectations of his soldiers, employees, and associates. At his Virginia plantation, Mount Vernon, his expectations of his workers were no different: "I expect such labor as they ought to render," he wrote.

Except there was a big difference. The workers who kept Mount Vernon operating were enslaved. And although Washington called them "my people," by law they were his property. The Founders birthed a document celebrating "Life, Liberty, and the Pursuit of Happiness" as unalienable rights at the same time people were being bought and sold. But the people of Mount Vernon were so much more, and they each have compelling stories to tell.

In the pages of Master George's People, Marfé Ferguson Delano gives us fascinating portraits of cooks, overseers, valets, farm hands, and more—essential people nearly lost in the shadows of the past—interwoven with an extraordinary examination of the conscience of the Father of Our Country.
About the Author
---
Marfé Ferguson Delano lives within biking distance of George Washington's Mount Vernon and has long been curious about her famous historic neighbor. Her curiosity led to a four-year research project and the discovery of a whole host of less-famous historic neighbors—the enslaved people who lived with George and Martha on their plantation farm and now so richly populate the beautifully written pages of Master George's People. Her previous books for National Geographic include Helen's Eyes: A Photobiography of Annie Sullivan, Helen Keller's Teacher and Earth in the Hot Seat: Bulletins from a Warming World. Visit her web site at www.marfebooks.com.
Praise For…
---
One of Booklist's Top 10 Black History Books for Youth

Named 2014 Notable Social Studies Trade Book for Young People by the NCSS and Children's Book Council

"A revealing portrait of the father of our country as a slave owner....A thoughtful new insight into an iconic American life."  —Kirkus Reviews

"Delano does an excellent job of presenting context for the prevailing attitudes and economic realities of the 18th century…Photographs of costumed interpreters provide visual immediacy and freshness." —School Library Journal

"Colorfully illustrated…well-researched and clearly presented information on the topic makes this a valuable addition to American history collections for young people." —Starred review, Booklist

 "Lori Epstein's photographs help deepen understanding of the day-to-day existence of people trapped in slavery. This important, carefully researched work of nonfiction proves both factual and fascinating." —Washington Parent

"Master George's People is a fascinating portrait of the evolving thinking of our first President on the subject of slavery." —NC Teacher Stuff blog